Proper nutrition for dogs and cats is a relatively new aspect of pet parenthood. But, after seeing the rise in diseases like bone cancer, we are finally applying the old adage, "You Are What You Eat" to our animal friends. Below you will find links to resources and tips to minimize your dog and cat's exposure to disease triggers, by feeding a healthier diet.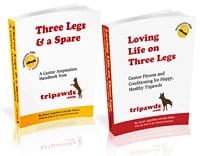 For additional information, search the Tripawds Eating Healthy discussion forum and check out these links:
PET CANCER DIET TIPS
A healthy diet is critical for animals with cancer. According to the acclaimed dog cancer vet Dr. Demian Dressler, "cancers prefer simple carbohydrates as their main fuel source." Avoiding these ingredients – like corn, wheat, potatoes and carrots – is critical. Dog cancer diets cost about the same as commercial food, and even dogs with food allergies can benefit. Follow these links below for details about how to fight canine cancer through better nutrition. Additional helpful canine diet information is available from Aloha Medicinals, the makers of K9 Immunity.
From the Tripawd Discussion Forums:
Save on Huge Selection of Natural Organic Raw Pet Food for Dogs and Cats at Only Natural Pet Store!
CAT AND DOG DIET TIPS FOR BETTER HEALTH
Before the rise of commercial pet food in the 1960s, dogs and cats dined on table scraps. As a result, they rarely went to the vet, and lived healthier lives with less disease. Whether your dog or cat is disease-free or fighting something besides cancer, you can help improve their health through better food ingredients.

From Tripawds Blogs:
From the Tripawd Discussion Forums: