Keeping our pets healthy with good nutrition doesn't have to be hard or complicated. Here at Tripawds we do our best to share reputable and real information that can help our dogs and cats fight disease and minimize their exposure to disease triggers. Below you'll find tips and tricks from veterinarians and the Tripawds community. If you have any to share, contact us today!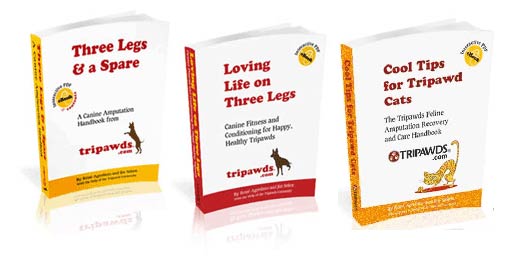 For additional information, search the Tripawds Eating Healthy discussion forum and check out these links:
Visit Tripawds Nutrition Shop for Best Recommendations
PET CANCER DIET TIPS
A healthy diet is critical to help our animals fight cancer. We can start by eliminating what cancer likes to eat: simple carbohydrates and sugars. Veterinarians like Dr. Demian Dressler, the Dog Cancer Vet, tell us that avoiding corn, wheat, potatoes and carrots – is critical to starve cancer cells of their primary fuel source.
And as holistic veterinarian Dr. Judy Morgan tells us, when you change your pet's diet for the better you can achieve a more natural and gentle way of healing the whole pet, not just treating the symptoms of their disease. Follow these links below for details about what vets recommend to fight pet cancer through better nutrition, and how Tripawds community members have done it.
Pet Cancer Nutrition Tips from the Veterinary Community
The Basics of a Good Anti-Cancer Diet
Keto Diet for Pet Cancer: What's Fact? What's Not?
The Risk of Raw Food for Dogs and Cats with Cancer
Does a Low Carb Pet Cancer Diet Make a Difference?
A Non-Toxic Cancer Therapy Overview with 5 Elements Veterinary Care
Pet Cancer Nutrition Tips and Tricks from Tripawds Members
TriKitty Maceo Shares Cat Cancer Supplements, Tips and Ideas
Holistic Vets Help Logan Survive, Thrive After Osteosarcoma
Sheba's Butt-Kickin Cancer Diet Details
PJ's Canine Cancer Diet for Picky Eaters
Tripawds News: Jerry's Diet While Fighting Osteosarcoma
Sir Nesta's Holistic, Grain-Free Diet and Supplements
Bentley's Osteosarcoma Journey and Cancer-Fighting Diet
Two Years and Counting: Eisen Fights Bone Cancer with Homeopathy
Maggie's Journey: Supplements and Diet
Nova: Cancer Diet during Chemo therapy
Maximutt's Homemade Cancer Dog Diet
One Dog Owner's Journey to Feeding Raw
Balanced EFAs Create Optimal Tripawd Diets
Tasty Home Cooking for Dogs with Pegz and Chaz
Osteosarcoma is no Match for Shiva's Anti-Dog Cancer Diet
From the Tripawd Discussion Forums:
Yogurt and whey: Lifesavers for nausea
No Raw Diet During Chemotherapy
Ideas to improve cancer dog diet
Canine dancer diet of Anatolian Shepherd Cemil
Appetite Stimutlation tips for advanced canine cancer care
High Protein Diet and Kidney Problems
Dog food switch complicated by Piroxicam (or vice versa)
Do large breed amputees have to loose weight for success?
Save on Huge Selection of Natural Organic Raw Pet Food for Dogs and Cats at Only Natural Pet Store!
CAT AND DOG DIET TIPS FOR BETTER HEALTH
Before the rise of commercial pet food in the 1960s, dogs and cats dined on table scraps. As a result, they rarely went to the vet, and lived healthier lives with less disease. Whether your dog or cat is disease-free or fighting something besides cancer, you can help improve their health through better food ingredients.

From Tripawds Blogs:
Tripawds Nutrition Blog: Cat Nutrition Basics
Tripawds Nutrition Blog: Grain-free vs. Low Carb: Understanding the Differences in Dry Food
Not Sure If You Have an Overweight Tripawd? Here's How to Tell.
Pet-to-Human Weight Translators Give a Tripawd Reality Check
A Pet Diet Nutrition Spreadsheet for Home Cooking Nerds
Anka's Vet-Approved Home Cooked Dog Food Diet
Two year cancer survivor Trouble loses weight with her Reducing Diet
Tripawds News: What's Really in Your Pet's Food and Why You Need to Know
Wyat Ray Dawg: Home Cooking is Good for My Belly (See comments for recipes)
From the Tripawd Discussion Forums:
Can I have advice on what kibble you feed your dogs please?
Gaining Weight Due to Less Activity
Charliebear and FUD Recommendations
Trying to find a healthy food for my dogs….opinions wanted! ;
Healthy Homemade Dog Food Recipes
Grain-Free Recommendations Please
What do you Feed Your Other Dogs Who Don't Have Cancer?
Which vegetables/fruits are safe for dogs?
Chemo Treatment and Raw Food Diet
Bones and Raw Food (BARF) Dog diet discussion
Hill's Canine n/d diet and the homemade approximation
Pre-amputation weight: a factor in decision?
Raw Food for Pets: Great Article
Natural Balance and Other Allergy Diet Recommendations