Tripawd dogs with cancer have many supplement tips as reference guides, but ideas for cat cancer supplements are harder to find. Thankfully our TriKitty bloggers do a good job of sharing information. Take TriKitty Maceo for instance.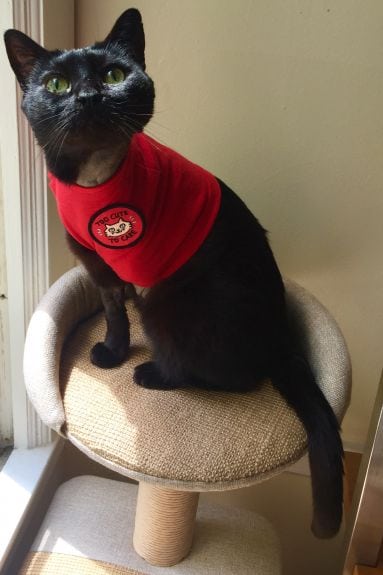 This gorgeous front-leg Tripawd kitty lost his leg earlier this summer to a fibrosarcoma tumor. It was a long and difficult decision for his people to reach, but when he was home from surgery, here's what his momma said:
He is so much happier without his tumor; it really doesn't seem to matter if he has the arm or not. He clearly doesn't feel "disabled" in any way, as evidenced by his territorial chasing of our neighbor's cat (luckily for the neighbor cat, Maceo was on a leash at the time!!), professional-grade eating, and various jumps and runs throughout the house.
Maceo had a head start on his recovery. His humans were following a rigorous cat cancer supplements protocol, which they graciously shared in the Tripawds Eating Healthy discussion forum. In their post they explain helpful details, such which supplements Maceo has been taking, how they get their cat to eat supplements and more.
Maceo's Cat Cancer Supplements
"I am using extensive supplementation to help prevent any potential spread of the cancer. I would love to get more supplements in him, but we are limited by a couple of things:
Have to be careful how much we 'doctor' up his food, for fear of creating a food aversion, which cats can develop very quickly after negative experiences with food. They remember.
He will not take pills OR liquids squirted into his mouth. Yes, we've watched ALL the cat pilling videos on YouTube and even had our expert cat sitter come over and do a lesson… he won't have it. So, everything has to be delivered via edible formats.
While he used to be a VERY food-oriented cat, his appetite has diminished significantly over the past three months so we have to balance supplementation with fundamental food intake. He was an overweight 14 pounds in January, which we got down to 13 pounds by February, and then down to 12.5 pounds in March. He is now at 11.75 pounds, which I believe is too low for his body type. His ideal is right around 12.5.
Here are the supplements we are doing every day"
(These products contain Amazon affiliate links. Shopping via these links helps support the Tripawds Community. Thank you!)
Supports a healthy immune system.
Encourages beneficial microflora for healthy digestion.
Turkey Tail contains cellular nutrients.
Natural health-supporting compounds from the original superfood.
Sustainably cultivated.
Promotes immunity
Multi-species support with 7-mushroom blend completes a daily supplement regimen to support foundational immunity.
Supports respiratory, digestive, circulatory, cellular, lymphatic, and systemic functions.
Helps the body adapt to physical, mental, and environmental stress factors.
Sustainably cultivated.
Supports the immune system's natural ability to recognize, respond to, and remember potential threats
Boosts natural killer (NK) cell activity*
Contains Certified 4Life Transfer Factor with UltraFactor XF®
Contains certified 4Life Transfer Factor® to Raise Your Immune I.Q.®*
Designed specifically for your cat to help support optimal health.
Similar formula as TF Canine Complete with transfer factor except the vitamins, minerals, amino acids and fatty acids are balanced for species variation.
Perna canniculus and glucosamine are also added.
Potent antioxidant
Supports healthy renal function
Promotes heart health
Improves general liver function and detoxification
decreases liver qi stagnation as referenced in Traditional Chinese Medicine (TCM)
CBD — human-grade medical cannabis product
Want to learn how Maceo's people gave him these supplements? Hop over to the Tripawds Eating Healthy Forum topic "Maceo Cat's cancer supplement protocol (and how we get him to eat it all)." You'll find a wealth of information about what they discovered when putting Maceo on cat cancer supplements, and how Maceo reacted to the new feeding routines.
Recommended Reading
How to Hide Pet Medication (and Get Your Tripawd Eating)
Amputation Recovery Supplement Helps Tripawds Get Healthy
Do you have a Tripawd nutrition success story you'd like to share? Let us know and we'll be glad to share it here so others can benefit too.
Please note that we are not vets. The information presented here is not meant to be construed as medical advice or guidance, nor should it be substituted for veterinary assistance. Always discuss any remedies and treatments you wish to pursue with your veterinarian.