Below you will find helpful information and links to resources about recommended cat and dog cancer supplements and other nutraceuticals for pets often discussed in Tripawds Blogs and the Tripawd Discussion Forums.
Nutraceutical – Combining the aspects of nutrition and pharmaceutical, refers to foods or extracts thereof claimed to have a medicinal effect on health.
Visit Tripawds Nutrition Shop for Best Recommendations
Disclaimers: K9  Medicinals is a supporter of the Tripawds Community. Also, many links found on this page and throughout the Tripawds Nutrition blog are affiliate links. The Tripawds Community receives a small commission from the sales of these linked products, which help to offset the costs of keeping us online. Thanks for shopping with us!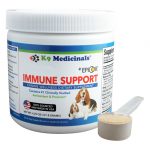 Immune Support is the newest medicinal mushroom immune support product to protect your dog's DNA from damage and fight illness.
This tasty powder blend of medicinal mushrooms means that giving it to a dog is much easier than playing the pill game! In addition Armor-Up is a certified organic, wild-sourced all USA-made product with no immune system suppressing fillers, sugars, starches or maltodextrin.
From the Tripawds Blogs:
How to Support a Dog's Immune System Without Pills
K9 Immunity Plus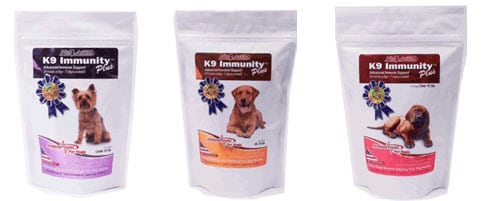 K9 Immunity is an all natural immune system enhancing cancer supplement for dogs. K9 Immunity is distributed by K9 Medicinals and made from the same pharmaceutical grade immuno-modulating compounds as the human grade formula, but it is formulated especially for dogs with cancer.
K9 Immunity was developed from human cancer research, and was first used in treating cancer in guide dogs for the blind. It is now available without prescription in the USA and many other countries. K9 Immunity has been used to help thousands of dogs with cancer, and Immune-Assist Critical Care Formula has been helping human patients for more than seven years.
Follow the links below for more information about K9 Immunity, or call K9 Medicinals for complete details.
From the Tripawds Blogs:
Mushroom Therapy Basics to Fight Dog and Cat Cancer
New and Improved K9 Immunity Plus Immune System Support for Dogs with Cancer
Jerry's K9 Immunity Clinical Trial for Osteosarcoma Metastasis
When Surgery and Chemo Are Not Enough to Fight Dog Cancer
K9 Immunity Clinical Trial Results
K9 Immunity and Metronomic Cancer Therapy
From the Tripawd Discussion Forums:
K9 Immunity and AHCC Cancer Therapies
All Forums Search Results for  "K9 Immunity"
Artemisinin or K9 Immunity: Are You Taking Them?
Apocaps
Apoptosis is the term used to describe the body's process of genetically programmed, healthy cell death. The death of old, used up cells make way for new cells to keep our bodies (and our dogs') healthy and strong.
Apoptosis-inducing substances such as curcumin create the basis of Apocaps CX Apoptogen Formula for Dogs, a new supplement that Dr. Demian Dressler has designed especially for dogs with cancer. For more information about Dr. Dressler's comprehensive canine cancer care, please visit his Dog Cancer Vet website.
From Tripawds Blogs
What is Apocaps Apoptogen Formula For Dogs?
The Impawtance of Apoptosis and Canine Cancer
Apocaps Therapy Included in Human Cancer Study
Maggie's Guide to Fighting Cancer
Dr Dressler's Comprehensive Dog Cancer Survival Guide
From the Tripawd Discussion Forums:
Apocaps and Chemotherapy and Dietary issues
Edible Mushroom Therapy Basics
Edible mushroom supplements vary in price and quality. But it's hard know you're getting what you paid for, and that the mushroom blend is safe for your dog's current state of health. To help with your research, here is a summary of information we've compiled from the Tripawds Discussion Forums and the Tripawds Nutrition blog.
From Tripawds Blogs
Medicinal Mushroom Pet Supplements Quick Start Guide
Dog Immunity Support Supplements Round-Up
How to Support a Dog's Immune System Without Pills
Mushroom Therapy for Canine Hemangiosarcoma
Power Mushrooms Immune Boosting Supplement
Raven's Power Mushrooms Testimonial
From the Tripawd Discussion Forums:
All posts about medicinal mushrooms for pets
AHCC Cancer Therapies: NK-9, K9 Immunity, Power Mushrooms
Artemisinin or K9 Immunity: Are You Taking Them?
Magic Mushroom Recipes for Your Tripawd
Osteosarcoma is No Match for Shiva's Anti-Cancer Diet and Supplements
Mika Shares Her Healthy Cancer Dog Supplements
Immune Stimulant: Health Concerns Power Mushrooms
Find Power Mushrooms Online:
Artemisinin
Artemisinin or Qinghaosu (pronounced: Ching-hao-su) is an extract from the plant Artemisia Annua (Sweet Wormwood) or Qinghao (pronounced: Ching-hao). Scientific research has shown Artemisinin to be particularly beneficial in balancing the microbiology of the GI tract.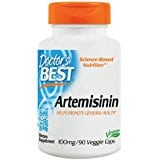 Doctors researching Artemisinin agree that it is safe, and can kill osteosarcoma cells in a petri dish. Whether or not the herb can work to kill cancer in a dog's body or if the oral dose can be absorbed properly is still being studied. The extract Artemisinin has been used for several decades. It is recommended that any Artemisinin used is extracted from plants grown and harvested in accordance with GAP (Good Agricultural Practice) standards.
Good quality Artemisia annua contains 0.3-0.5% Artemisinin, so pure Artemisinin provides hundreds of times more of the active constituent Artemisinin than the whole herb itself. Combining with antioxidants or iron may theoretically decrease effectiveness.
From the Tripawds Nutrition Blog:
Artemisinin FAQs for Dog and Cat Cancer
What's All this Talk About Artemisinin?
From the Tripawd Discussion Forums:
Metronomic chemotherapy for Tazzie: Protocol Details
After chemo or mets: metronomics & other options
Eating Healthy: All posts about Artemisinin
Find Artemisinin Online:
Save on Artemisinin at Amazon!
Glucosamine and Joint Care
Maintaining healthy hips and joints is important for all dogs, but it is a must for canine amputees. Many glucosamine, chondroitin and other healthy joint supplements are available. The following are a few we believe work best, or have heard about others using with success.
From Jerry's Blog:

SynFlex liquid glucosamine for pets was our chosen glucosamine / chondroitin supplement for keeping Jerry's hips healthy after his front leg amputation. It is the same formula as their human blend, with beef flavoring.
Synflex glucosamine eases my arthritis pain.
From the Tripawd Discussion Forums:
All posts about "Glucosamine"
Duralactin & Dasuquin recommended for arthritis pain
Vet Questions (Glucosamine Supplements)
Pet Store Glucosamine and MSM Vet Feedback
Testimonial for Dog Gone Pain Joint Supplement
Cosequin: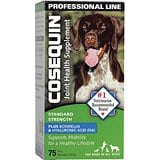 Cosequin is comprised of nutrients that help sustain cartilage cells and provide components to help maintain a healthy cartilage structure and connective tissue to support the joints.
Save on Cosequin Joint Health Supplements at Amazon!
Cosequin DS Chewable Tablest from Entirely Pets
Dasuquin: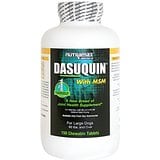 Nutramax Dasuquin is the next generation Cosequin — highly recommended by many veterinarians for relieving joint pain and maintaining healthy hips. Read the Tripawds Nutrition blog review for more Dasuquin ingredients, dosage information and coupons, or compare prices using the following links:
Entirely Pets: Dasuquin for Small/Medium Dogs under 60 lbs. with MSM
Pet Food Express: Nutramax Dasuquin Supplemental Soft Chews for Dogs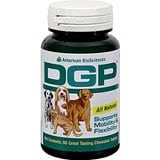 Dog Gone Pain™, an all natural formula, was developed to help support a pet's joint mobility and flexibility. DGP helps ease aches and discomfort caused by daily exercise, activity, and training. Developed by master herbalists and scientists in Australia, this unique, proprietary combination of natural compounds helps support mobility, even into a pet's golden years. Made with a proprietary blend of Marine Collagen Extract, Mucopolysaccharide Complex, Malt Extract, Wild Rosella, Capsicum, Aniseed Myrtle, Mountain Pepper, Bromelain 2400GDU and Papain 6000.
Vitamins & Herbs
Other natural treatments like Organic Flax Seed Oil, vitamin C, powdered kelp and alfalfa leaf powder were integral components of Jerry's canine cancer diet. You can buy hard to find nutraceuticals and save money by comparing prices and shopping at these online vitamin superstores: