Recently Simon's Dad (aka luke4275 ) asked excellent questions about the dog immunity support supplements many Tripawds members have tried. Specifically he wanted to know the differences between Immune Support, K9 Immunity and Apocaps. Today we'll do our best to explain how they differ (and how they are similar).
Tripawds Canine Immune Support Supplements Round-Up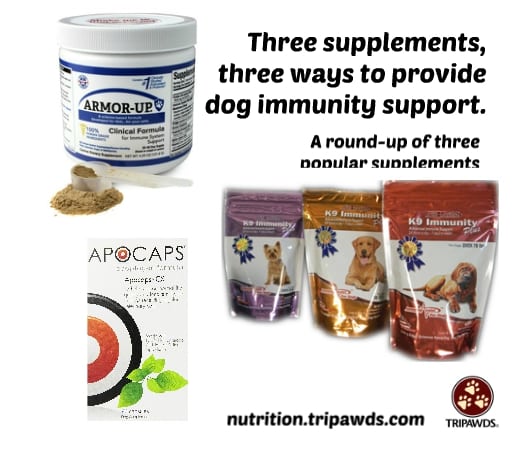 When you start researching nutritional support supplements that can strengthen a dog's immune system, it's likely that you've discovered the three most popular products include the power of medicinal mushrooms in their ingredients. There's a good reason for that.
What Medicinal Mushrooms Can Do for Your Dog (And You!)
Strengthen and stimulate the immune system
Protetct the kidney and liver during chemotherapy
Give the body more energy to fight disease
Help patients rebound from the effects of conventional cancer treatments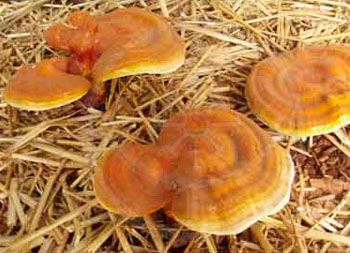 People have embraced the power of several types of medicinal mushrooms because of their anti-cancer, anti-tumor and immune regulating beta-glucans compounds. The University of Pennsylvania studied a compound derived from mushrooms and found that dogs with hemangiosarcoma that were treated with a compound derived from the Coriolus versicolor mushroom had the longest survival times ever reported for dogs with the disease. The study was funded by a grant from Chinese Medicine Holdings LTD, however it was one of the few studies (so far) that tested medicinal mushrooms in a tightly controlled clinical setting.
In short, medicinal mushrooms can help a body fighting serious illness, and most veterinary oncologists agree that they are not likely to do harm to the patient. If you're interested in pursuing them as a complimentary therapy, you'll want to check out this canine immune support supplements review to learn the main differences between Armor-Up, K9 Immunity and Apocaps.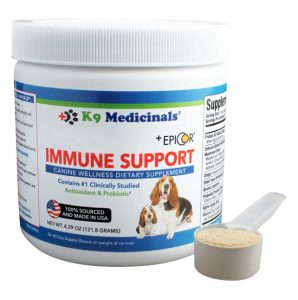 Immune Support is the newest medicinal mushroom immune support product to protect your dog's DNA from damage and fight illness.
This tasty powder blend means that giving it to a dog is much easier than playing the pill game! In addition Immune Support is a certified organic, wild-sourced all USA-made product with no immune system suppressing fillers, sugars, starches or maltodextrin.  Immune Support contains the following ingredients:
Chaga Mushrooms (400mg)
Immune Support Mushrooms Blend (600 mg) of: Certified organic mycelliu, and fruiting bodies of Lentina edodes, Grifola frondusa, Corlolus versicolor, Agaricus blazei, Cordyceps, Ganoderma lucidium, Ganderma applanatum, and Ganoderma tsugae.
Bovine Colostrum (160 mg)
Prebiotic and Probiotic Blend (30 mg)
Alpha-Lipoic Acid (30 mg)
Vitamin E (as d-alpha tocopheryl succinate and d-alpha tocopheryl acetate) (30 IU)
All natural protein blend of whole egg and beef, liver
The monthly cost for Armor-Up is $59.95 for dogs over 10 pounds.
Disclaimer: K9 Medicinals, is a supporter of the Tripawds community.
K9 Immunity™ made by Aloha Medicinals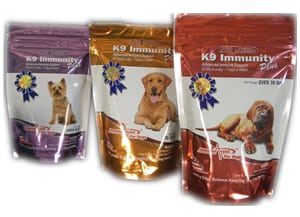 Available as a chew or in pills, K9 Immunity is a 3-way approach to boost a dog's immune system. The K9 Immunity Chews are the most popular way to give it, because instead of having three types of pills to give, dogs on K9 Immunity Plus get just one tasty wafer of support with:
K9 Immunity™ — activates ALL 260 different classes of immune cells
K9 Transfer Factor™ — maximizes recovery results by enhancing K9 Immunity's effectiveness
K9 Omega™ — powerful fish oil to inhibit tumor growth and supports overall health during cancer treatment
K9 Immunity chews are also certified organic and made in America, but here's how their ingredients differ from Immune Support:
Certified Organic K9 Immunity™ Immune-activating Polysaccharide Blend 600 mg
Aps 40™ Beef derived Immuno-protein concentrate 160 mg
Omega 3 Concentrate from Fish Oil 400 mg
yielding Eicosapentaenoic Acid (EPA) 66 mg & Docosahexaenoic Acid (DHA) 44 mg
Inactive Ingredients for wafering: chicken liver, fish meal, glycerin, lecithin, maltodextrin, potato flour, potato starch, flaxseed meal, calcium propionate, mixed tocopherols, phosphoric acid.
The monthly cost of K9 Immunity is: $108.90 for dogs 70 pounds and up. It is sold through K9 Medicinals.
Apocaps, made by Functional Nutriments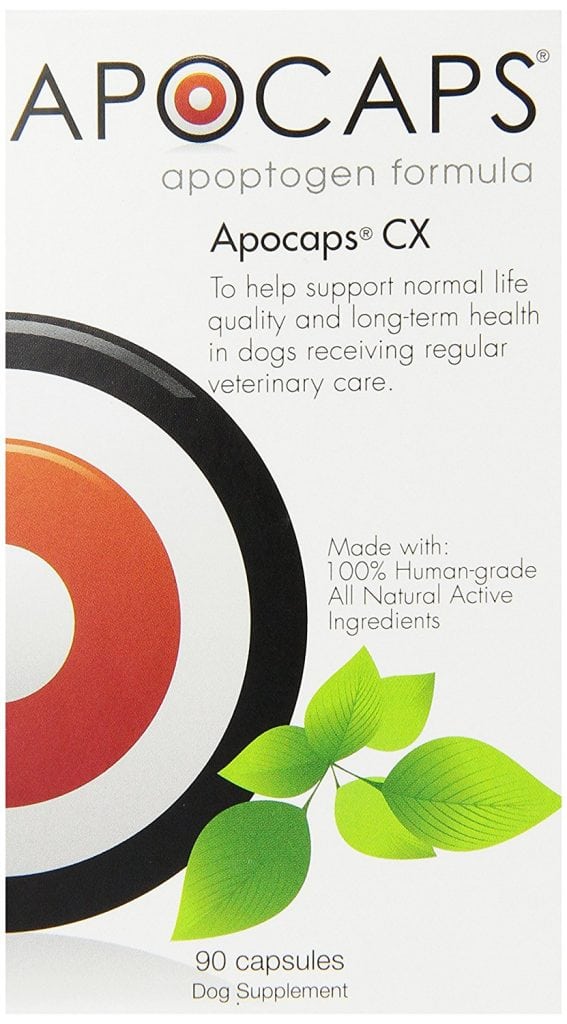 Apocaps is a dog immunity booster created in a USA human-grade lab facility by Functional Nutriments, LLC. This formula was designed by Dr. Demian Dressler, DVM, author of The Dog Cancer Survival Guide. It can enhance the effects of mushroom-based products.
The goal of this supplement is to trick the body into circulating the apoptogens throughout the bloodstream. Apoptosis is a healthy process that safely eliminates old and damaged cells from the body, which weakened immune systems have a difficult time doing.
Like Immune Support and K9 Immunity, Apocaps also includes powerful medicinal mushroom ingredients known as beta-glucans. However it also includes a blend of other dog immunity boosting ingredients such as:
Luteolin
Apigenin
Curcumin
Silymarin
Gingerols
L-glutamine
The monthly cost of Apopcaps is $179.90 for dogs 60 pounds and over. It is sold on Amazon as well as through K9 Medicinals.
Are All Three Supplements Necessary?
According to K9 Medicinals, mushroom supplements such as K9 Immunity Plus™ and Immune Support®, are not meant to be taken together. They are similar supplements so there is no need to purchase all three.
Because Apocaps includes many additional ingredients that enhance the power medicinal mushrooms, it can be given with Immune Support or K9 Immunity Plus.