Dog cancer is no longer an instant death sentence. From immunotherapy vaccines to nutrition therapy, today we have more ways than ever to manage the disease and possibly avoid a diagnosis in the first place. One of the most powerful nutritional tools now in reach is Immune Support®, a clinically studied, organic medicinal mushroom powder to help support a dog's immune system and fight back from DNA damage caused by toxins and environmental stress.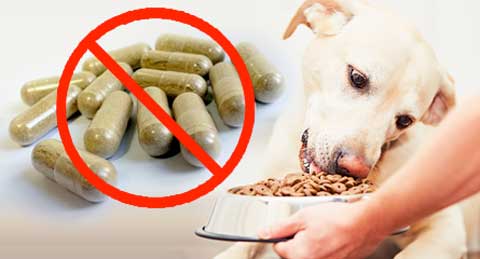 We love sharing information about proven holistic veterinary supplements like Immune Support®. We are being compensated for creating awareness around it, but we only share information that's relevant to the Tripawds Community. K9 Medicinals is not responsible for the content of this article.
You Don't Need Pills to Support a Dog's Immune System
When you're trying to help your dog bounce back from disease with supplements, the pill game is no fun. Eventually the most enthusiastic eater snubs the disguises. We are left frustrated, sad and asking "What now?"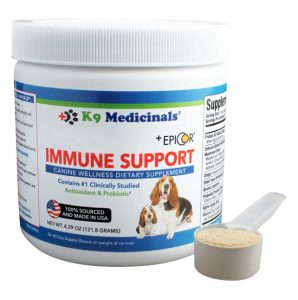 K9 Medicinals' new proprietary immune system support formula is a beef-flavored powdered supplement that you sprinkle onto meals. Now there's no more begging them to eat, dogs love the taste!
"Bought this for my 11 year old golden diagnosed with leukemia. We tried chemo but it made her way too sick so I did my research and started her on this. We are a year post diagnosis and still acting the same as she did a year ago! You wouldn't know she was terminally ill and she doesn't know it either." – Armor-Up buyer
Standing Up for Better Taste with Healthier Ingredients
Ironically, most makers of canine immune support formulas rely on immune-suppressing sugars and fillers to mask the flavor of their product. Isn't that crazy? But not K9 Medicinals. With Immune Support, they took a stand on this old-school way of doing things and said "No more!"
Now pet parents can support a dog's immune system with a medicinal mushrooms blend that tastes so good, it's doesn't need harmful disguises.
No immune system suppressing fillers to raise glucose levels

No sugars, starches or maltodextrin

And nothing made in China!
Formulated in a USDA-approved facility by K9 Medicinals — a family whose own dog beat cancer with medicinal mushroom therapy — Immune Support contains nothing artificial or detrimental to the body.
Totally Clean Ingredients Fight Disease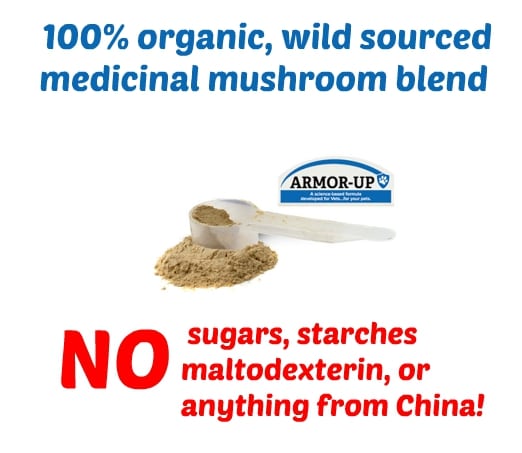 Immune Support contains a proprietary blend of clinically researched medicinal mushrooms that are well-studied because of their anti-tumor, immune support properties. The formula is designed to:
Strengthen and stimulate the immune system
Give the body more energy to fight disease
Help patients rebound from the effects of chemotherapy.
The powerful ingredients in Immune Support include:
Chaga Mushrooms (400mg)
Immune Support Mushrooms Blend (600 mg) of: Certified organic mycelliu, and fruiting bodies of Lentina edodes, Grifola frondusa, Corlolus versicolor, Agaricus blazei, Cordyceps, Ganoderma lucidium, Ganderma applanatum, and Ganoderma tsugae.
Bovine Colostrum (160 mg)
Prebiotic and Probiotic Blend (30 mg)
Alpha-Lipoic Acid (30 mg)
Vitamin E (as d-alpha tocopheryl succinate and d-alpha tocopheryl acetate) (30 IU)
All natural protein blend of whole egg and beef, liver
Immune Support Shows Results in Weeks
Immune Support pet parents report that many dogs given the supplement show more vigor and energy within a week, while other dogs may take up to four weeks to show improvement depending on their overall health. It works over time by supporting each dog's body processes responsible for reducing damage to cells, inflammation, DNA damage and other vital body systems.
It's a new day for canine immune support. Gone are the fist-fulls of pills and bottles cluttering up your counter top. This is all you need for a powerful, economical alternative to pills. One jar lasts medium to large dogs approximately one month, while lasting smaller dogs six weeks to two months.
It's time to forget the pill masking tricks of the past. Whether your vet has just dropped the diagnosis bomb or you're looking for the best way to prevent disease, Immune Support is the better way to support a dog's immune system.
DISCLAIMER: The information contained here is intended as education/information only. It is not intended to replace a veterinarian's advice. Please use your own good judgment and always discuss any therapies for your pet with your veterinary team.