Many Tripawds members feed a raw meat diet to their cancer fighting dog or cat. Most pets do well on this unconventional menu but many veterinarians and the American Veterinary Medical Association discourage raw feeding. They argue against it not because they're part of the pet food industrial complex, but because of pathogens and germs that live on meat. And it's those bugs that are a serious problem when choosing raw food for dogs and cats with cancer.
The Perils of Raw Food for Dogs and Cats with Cancer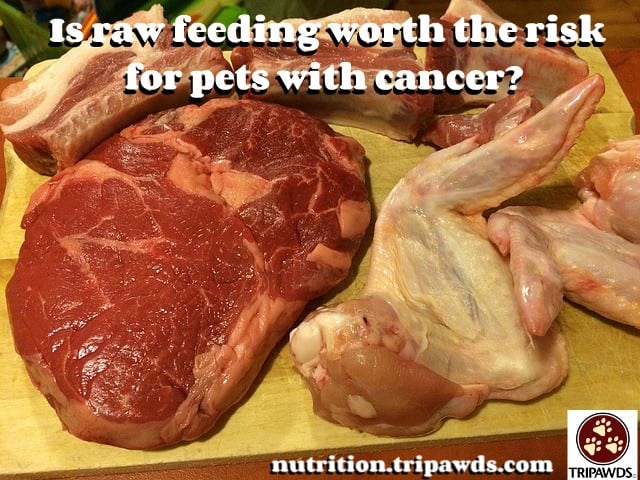 It's a controversial discussion, but when the forward thinking dog cancer expert Dr. Demian Dressler, author of The Dog Cancer Survival Guide, writes that raw food for pets with cancer is usually a bad idea, it's good to pay attention. Here's why he discourages it:
"You probably have heard of microbes like E. coli (sometimes found in ground red meat). This and other microbes grow over time on the surface of just about any red meat, chicken, pork or fish product, even when it is sealed in plastic and then refrigerated for prolonged periods. The longer the time between killing the animal and eating it, the more likely these foods are to have large populations of surface microbes.

There's a second place that germs can hide out and multiply: inside the flesh of chicken, pork and fish. Salmonella and trichinella, as well as other parasites, can be found within the flesh of these foods (interestingly, beef carries very few microbes within it). 

As you probably know, if these microbes are not killed during cooking, they can make dogs very sick. In healthy dogs, the immune system might be able to fend off the microbes; infections are more likely in dogs with cancer. This is why I recommend cooking your dog's food long enough to destroy microbes and minimize carcinogens." 

— pg. 196, The Dog Cancer Survival Guide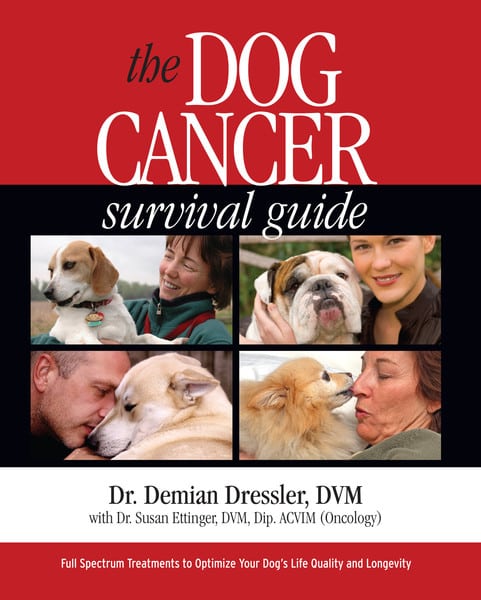 In Tripawds Podcast Episode #30, Dr. Lena McCullough, creator of A Path with Paws, agrees, but takes a slightly softer stance toward raw meat pet cancer diets.
If your animal is undergoing chemotherapy or radiation you should not use a raw diet (freeze dried is fine). However for these animals a great option is a cooked diet. After they are done with these treatments the food can slowly be transitioned to raw if desired.

— Diets for Cancer in Dogs and Cats, Dr. Lena McCullough
Obviously, many people still opt for fresh raw meat for their cat or dog, and we did too. Tripawds Founder Jerry ate raw meat throughout his life (not as a main menu but more of a treat).
But on more than one occasion his gut reacted poorly to the food being served. We got lucky he didn't need hospitalization when that happened after he got cancer. When we read what Dr. Dressler wrote this in his blog post, "Raw Diet Dogs and Cancer," it really hit home with us, which is why we are sharing this food for thought with you:
Now, does this mean that every dog who eats raw meat will get sick? Of course not!! But guess what? If only 10 out of 100 does, and your dog is one of those ten, it will matter a lot to you! — Dr. Dressler
Recommended Reading
Diets for cancer in cats and dogs – you are what you eat, a fighting cancer machine
AVMA Implements Raw Dog and Cat Food Policy for Veterinarians, Patients
The How To's of Home Cooked Raw Food for Cats and Dogs, with Judy Morgan DVM
Perso and Snoopy's Drastic Change When Switching to a Raw Diet
Listen to Dr McCullough on Tripawd Talk Radio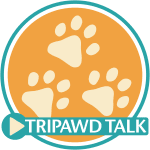 Subscribe to Tripawd Talk wherever you enjoy podcasts!