Looking for ways to add fresh foods into your cat's meals? Want to give home cooking for cats a try? Purrkins and mom Holly can show you how!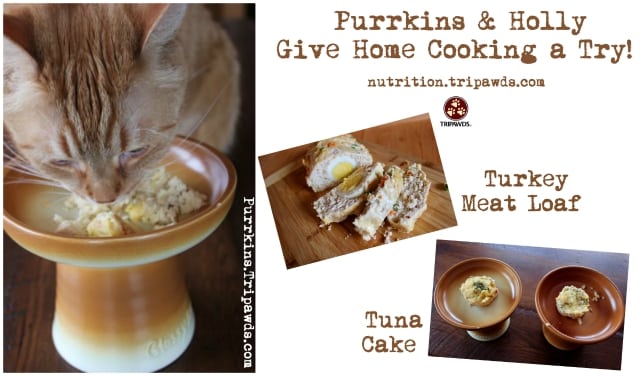 The culinary duo recently got into the kitchen and tested two recipes from a previous Tripawds Nutrition blog post, "Help Your Tripawd Cat Recover With Home Cooked Meals." Today, we're hoppy to share the results of Purrkins' and Holly's home cooking escapade in their special guest blog post and lovely food photos.
Home Cooking For Cats Is Easy and Tasty
Purkins tests the tantalizing Turkey Meat Loaf Recipe. Doesn't this look good?
You can't go wrong with turkey meat. It contains selenium, which is an important part of a cat's overall health. This essential trace mineral is important for many bodily processes, including cognitive function and healthy immune system. A meat loaf made with turkey meat is a great way to give your cat a selenium boost!
Tasty Turkey Meat Loaf for Cats
You simply make it like you would a meat loaf for yourself.
Turkey Meat Loaf Ingredients
1 lb. ground turkey
1/4 cup of boiled carrots
1/4 cup boiled peas
1/4 cup oats
Two hard-boiled eggs and one raw egg
Heat your oven to 350 degrees, mix up everything in a bowl.
Transfer it to a loaf pan
Bake it 45 minutes and you're done.
Tempting Tuna Cake for Kitties
This recipe is especially irresistible for cats who are feeling ill. Give it a try and you'll see it's one temptation that's almost too good to pass up for even the most finicky eaters.
Tuna Cake Ingredients
One can of tuna
One egg
Three tablespoons each of coconut flour and cottage cheese.
(yes, this is really all you need!)
Mix the ingredients together in a bowl.
Then pour the mixture into a muffin pan
Bake at 350 degrees for 20 minutes.
When it's finished, you can even place a small amount of catnip on top, enticing kitty even more to take a bite.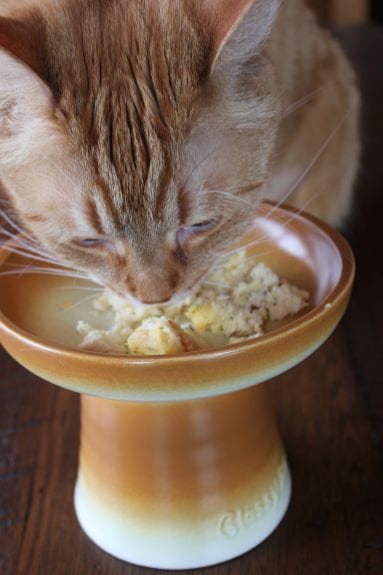 Remember, these recipes aren't meant to replace your cat's main meals. They're just a fun way for your cat to explore fresh, whole foods that add variety into their meals. Be sure to let your vet know you want to cook for your cat. If you give them a try, let us know how it goes. And if you have your own special home cooking for cats or dogs recipes that you want to share, contact us today!
All of these wonderful photos are courtesy of Purrkins and Holly. Thanks guys!
Recommended Reading
Purrkins' TriKitty blog has lots of great tips like these.
An Easy Way to Add Pet Food Prebiotics and Probiotics into Meals
DIY Cat and Dog Natural Nutrition Tips are Vet-Approved!
Help Your Tripawd Cat Recover With Home Cooked Meals