There's nothing more heartbreaking than a pet who won't eat despite your best efforts. Sometimes the reasons for a pet's "inappetence" are complicated, and that's when a prescription medication can help. If you're in that tough situation with your own Tripawd, keep reading to get the latest scoop on Entyce®, a dog and cat appetite stimulant you can discuss with your veterinarian.
Note: since this post was originally published in April 2019, Entyce is no longer being used off-label in cats. 
Get Your Pet Eating with Entyce, the Latest in Dog and Cat Appetite Stimulants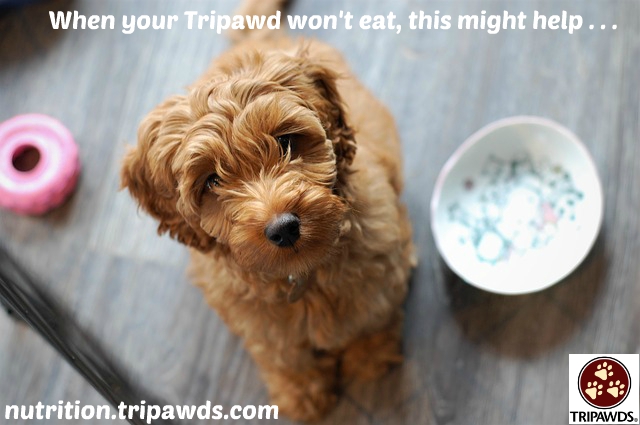 When it comes to a lack of appetite in pets, getting to the root of the problem can be tough. "Inappetence" usually presents in one of three ways. Pinpointing the way in which your pet is affected is an important step to help your vet reach a diagnosis. The three states of pet inappetence look like this:
Anorexia: When your pet won't eat at all.
Hyporexia: When your pet eats less than usual.
Dysrexi: When your pet's typical eating habit changes. This often happens to Tripawds during amputation recovery. The dog or cat won't eat their typical pet food, but they dive right into the home cooked meatballs for dogs or tuna loaf for cats.
Loss of appetite can happen for many reasons, with amputation recovery pain being one of the biggest in our community. The bitter taste of medications like Tramadol is another common reason why pets refuse food.
Things get super tricky when a pet isn't recovering and just refuses to eat. Getting to a diagnosis can take even more time. Since pets, especially cats, don't have the luxury of not eating regular meals, taking immediate action is critical.
As soon as you notice your pet isn't eating, let your vet know. Meanwhile, be sure to try the best appetite boost tips for new Tripawd dogs and cats, like:
You can also ask your vet about Entyce®, one of the newest prescription dog and cat appetite stimulants that can help get food into your pet.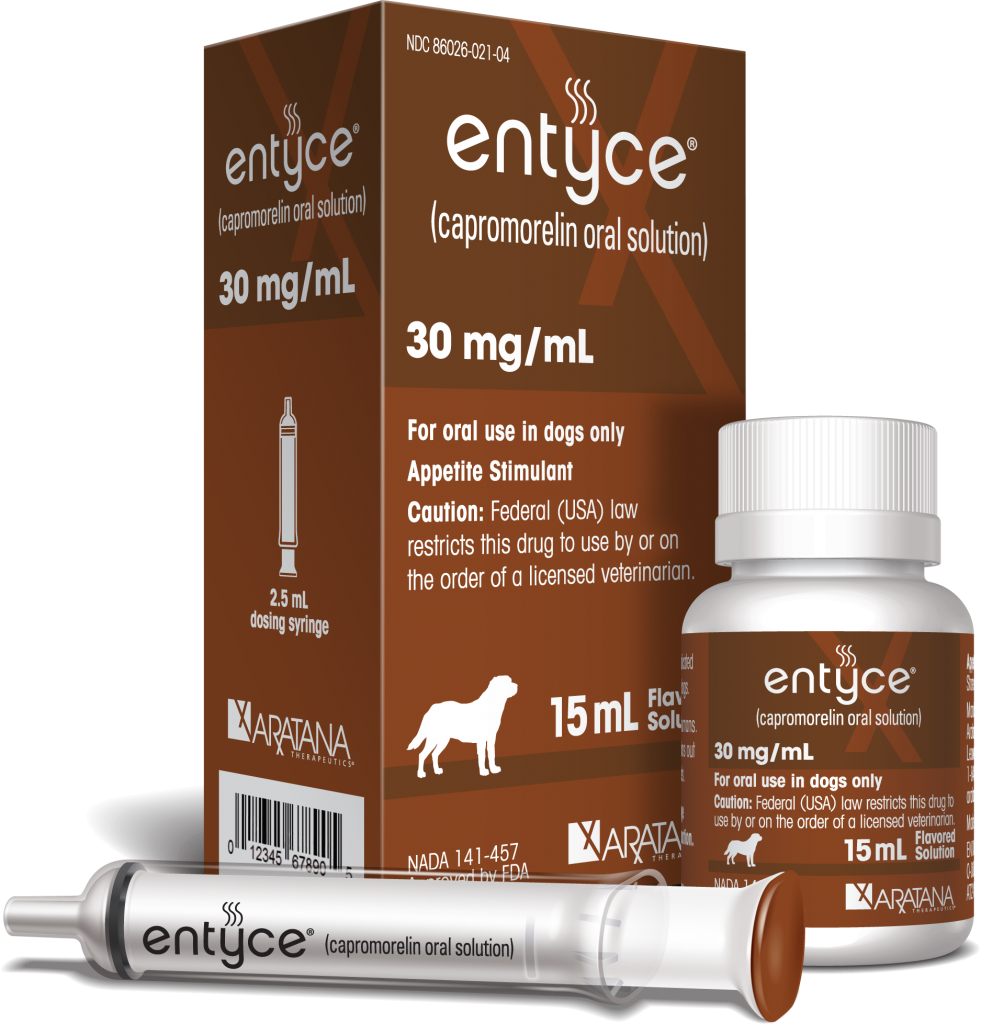 The newest pet appetite stimulant on the market, Entyce by Aratana Therapeutics was recently approved by the FDA, but just for use in dogs (for the time being). This oral solution is also known as "Capromorelin." In plain English, it works by turning on the brain's hunger center and stimulating appetite. In scientific lingo, here's how it works, according to Aratana:
ENTYCE® (capromorelin oral solution) is a ghrelin receptor agonist that mimics the effect of ghrelin (the "hunger hormone"). Like naturally occurring ghrelin, ENTYCE binds to specific cell receptors and affects signaling in the hypothalamus, causing the feeling of hunger.
Some Tripawds members talking about Entyce for dogs are reporting great results.
The doc gave us Entyce to stimulate appetite and it worked instantly! Dottie ate a big lunch and is really resting well right now. I'm watching her as we get further and further away from her last dose of pain meds. — Dottie dog's mom.
We've heard that some feline veterinarians are prescribing Entyce for "off-label" use in cats until the feline FDA studies are complete. Unfortunately, the feedback on Entyce and cats hasn't been too impressive, even in our own community:
The first about hour after getting it he also kept gagging occasionally but never actually got sick. He did however get up multiple times for water, progress right? — Hiroaki kitty's mom
More Things to know about Entyce for Dogs
Visit the Aratana website for details and in the meantime, here are the most important things to know about Entyce:
This is a supportive measure, not a cure for inappetence.
The anti-nausea Cerenia (Maropitant), can be used at the same time.
Entyce isn't ideal for pets with liver or kidney disease, but your vet may approve a lower dose
It shouldn't be taken if a dog is using anti-fungals like itraconazole, ketoconazole, and fluconazole.
It's so nice to see veterinary animal pharmaceutical companies investing in drugs that can help our pets feel better. Thanks Aratana!
If you give Entyce a try, let us know how it works for your cat or dog.