Good nutrition helps bodies heal. But when your Tripawd won't eat, there's nothing that's more heartbreaking. Whether your cat or dog is going through amputation surgery, chemotherapy or just feeling lousy, our tips to hide pet medication and pills can help boost their appetite.
First, Don't Hide Pet Medication in Meals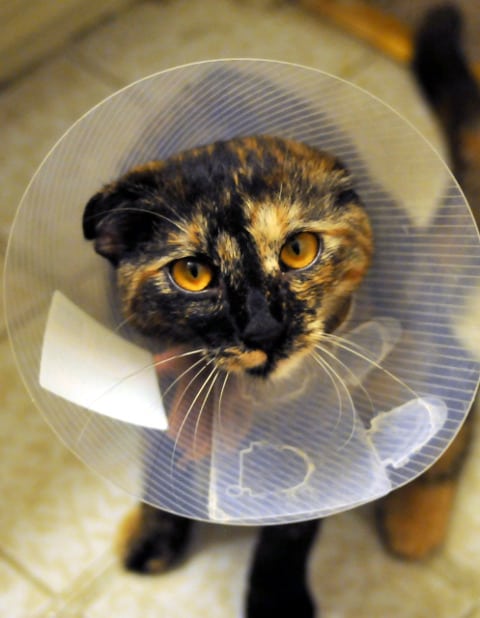 Lack of appetite is common in any animal who's going through recovery, on pain medication or when fighting illness like cancer. Daily doses of pet medication can make inappetence worse. That's because medication often tastes terrible. Whatever you do, don't hide medication in your pet's normal meals if you want your dog or cat to eat.
"Keep them eating!" says veterinary nutritionist Donna M. Raditic, DVM, DACVN, CVA. During her #WVC2017 seminar "Nutrition in Practice: Canine Cancer Conundrum" she discussed the importance of preventing food aversion in pets with cancer.
"Dogs can smell molecules. If they've eaten something that makes them nauseous and they won't eat it, and then you put something new in their bowl, they may smell those molecules on that food, even if you run the bowl through a dishwasher! After all these are dogs that smell cancer in people!" says Dr. Raditic.
Keep your Tripawd eating. Don't mix meals with pills.
Dr. Raditic's pointers can help boost appetite. She suggests:
Feed on paper plates. "The paper plates won't have the molecule smell on it," she explains. If your Tripawd isn't eating, set a few different foods out on each plate. Then allow your cat or dog to choose the meal of the day.
Try novel protein diets. "Sometimes stronger smells are better," says Dr. Raditic. Think: bison, kangaroo, venison . . . anything with an unusual aroma.
Sprinkle ground up treats on food. Buy some therapy diet treats. They're typically low fat and have a nutritional profile perfect for recovering pets. Grind the treats up and sprinkle the flakes onto your pet's food.
Try baby food. See if your Tripawd will try baby food mixed into their normal meals. On a short-term basis it's also OK to use a bit of cat food for dogs.
Be Creative About Giving Pills and Other Medications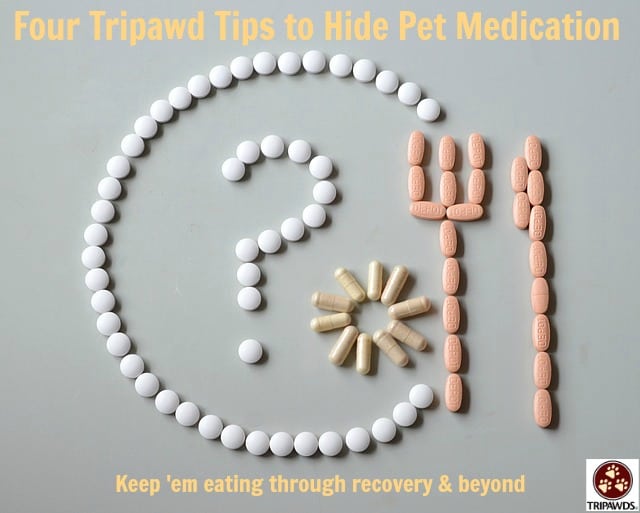 You're probably wondering "If I can't hide pills in food, how am I supposed to give medication to my Tripawd?" Don't worry: these Tripawds Nutrition blog tips have tons of great ideas!
Creative ways to disguise pet pills using different "wraps."
These videos give more tips for giving dog and cat medications.
Member tricks for disguising the bitter taste of pills with tasty kitchen surprises.
Finally, please be careful if you try to hide pet medications in peanut butter. Always check for xylitol!
Do you have special tricks for boosting appetite and hiding pet medications? We want to hear them below. Or just hop over to the Tripawds Eating Healthy Forum Discussion and share!