A new fresh versus store bought pet food study is about to shake up the industry, and it needs our help. Two groundbreaking pet nutrition experts, Drs. Karen Becker, DVM and Donna Raditic, DVM want to help us determine if home cooked pet food is really better for cats and dogs.
Independent Study of Fresh Versus Store Bought Pet Food Needs Pet Parents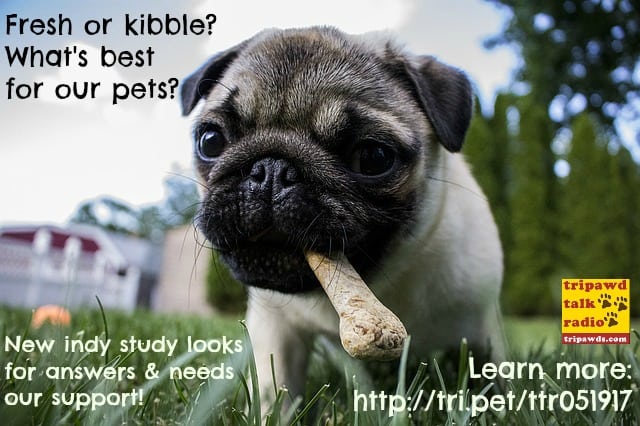 This pet food study isn't sponsored by a food manufacturer or anyone in the pet industry. It is the most neutral clinical analysis ever performed by an independent party. But a scientific study like this takes money and that's where we come in. From today through Monday May 28, 2017, all donations to Becker and Raditic's 501c3 non-profit organization, the Companion Animal Nutrition and Wellness Institute (CANWI) will be matched dollar for dollar by a natural health research foundation.
This episode of Tripawd Talk Radio features Dr. Raditic sharing details about CANWI's exciting study of pet food diets.
In layperson terms, the study will help vets and pet parents determine what type of diet is truly healthy for our pets. Although they will only have dogs in this study, eventually it can be replicated for cats. Dr. Raditic says she can even see it being used to create pet food diet studies for diseases like pet cancer.
Tune in and hear all the details for yourself. Then hop over to the Companion Animal Nutrition and Wellness Institute to donate and get this important study off the ground!
Scientists understand so many aspects about human nutrition. But when it comes to our pets, the jury is still out. Food choices for cats and dogs is nothing more than a guessing game — and total reliance on pet food manufacturers' claims. Make a difference and help improve the health of our cats and dogs with a donation to CANWI today!