Wyatt Ray is one mobile pooch. As Tripawds Spokesdog, he travels around the country to show the world that "It's better to hop on three legs than to limp on four." Every year Wyatt typically pulls at least one crazy stunt that lands him in an emergency vet clinic. When he leaves with a cone of shame, we walk out with a bag of expensive pet meds. That's one of many reasons we are hoppy about the new Fetch My Meds pet prescription discount card.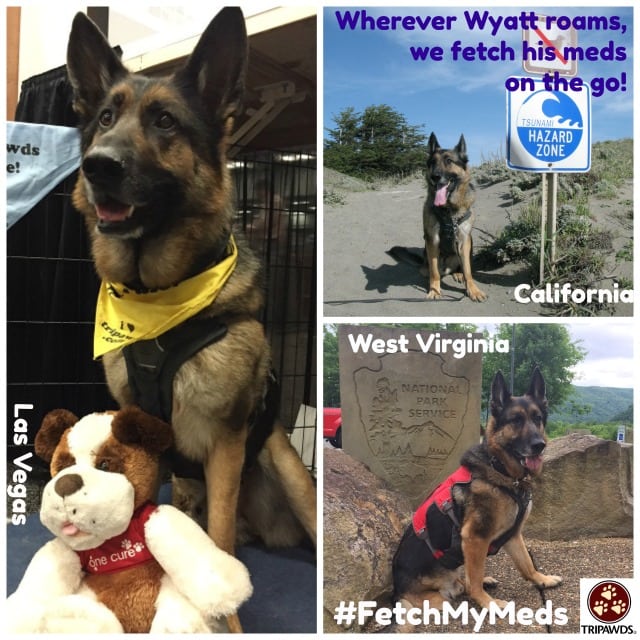 This post is sponsored by Fetch My Meds and the BlogPaws® Pet Influencer Network™. We are being compensated to create awareness about the Fetch My Meds pharmacy discount program for pets, but we only share information we feel is relevant to our readers. Fetch My Meds is not responsible for the content of this article.
The First Pharmacy Discount Program for Pets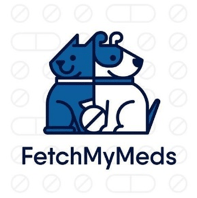 We all know about the high cost of pet meds. A new service called Fetch My Meds eases some of that financial burden. It's the first pharmacy discount program just for pets. Best of all: Fetch My Meds is 100 percent FREE.
If you're skeptical like we were at first, don't be. We carefully reviewed this program to ensure there are no strings attached. There aren't. Fetch My Meds is a new way to save up to 70 percent on pet meds from thousands of retail pharmacies in the U.S. like CVS and Costco. You can even use your discount at the Fetch My Meds online partner, Pet360.com to save on pet meds like parasite preventives and other pet care goodies.
How to Enroll in Fetch My Meds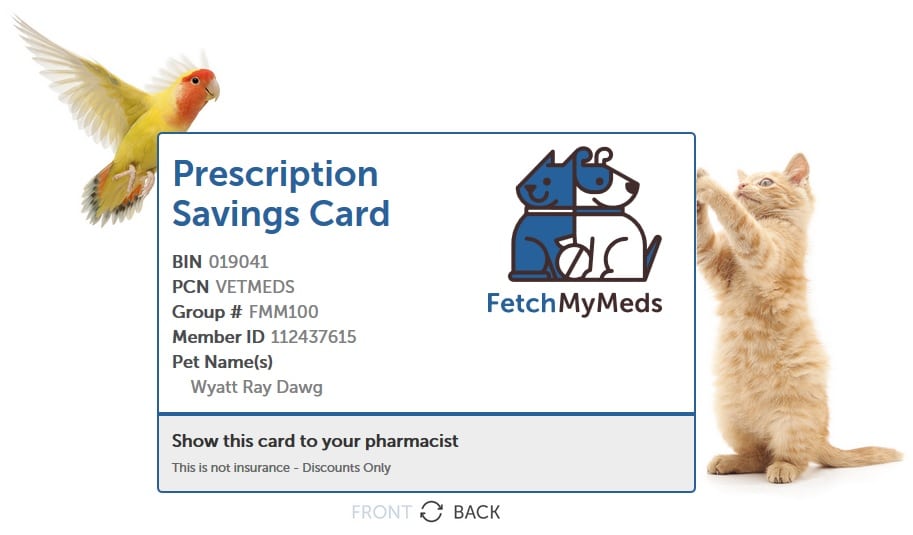 It takes about two minutes to enroll. Only the most basic information about you and your pet is required. Print your card and use it in person at the pharmacy (or store the electronic version on your phone).
Step Two: Get a hard copy of your pet's prescription.
It's easy to forget to ask for this when you're leaving the clinic, but for your wallet's sake, don't. Even though the American Veterinary Medical Association encourages all vets to dispense written prescriptions, they aren't required to do so. Two bills in Congress could change that (see: The Fairness to Pet Owners Act — HR 3174 and S 1200), but for now, just get that copy.
TIP: if your pet needs medication urgently for pain or other acute conditions, please be a good advocate for your animal and suck it up buy your meds at the clinic. Your pet will thank you for the relief.
Step 3: Comparison shop at Fetch My Meds.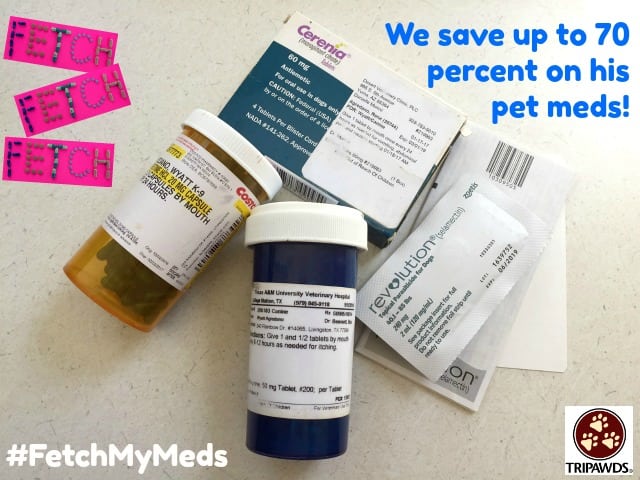 Start at the the Fetch My Meds Pharmacy Locator to find the nearest participating pharmacy. Chances are it's just minutes from your door.
Next, use the Fetch My Meds Drug Pricing Tool to get the best deal. FetchMyMeds partners with nearby pharmacies and their online pharmacy partner Pet360 to offer big savings. Look up your pet medications to find out where you can get it for the lowest price.
Hopefully you won't need more medications in your pet's future, but when you do at least Fetch My Meds will be there to lower the cost.
This is a sponsored conversation written by me on behalf of Fetch My Meds. The opinions and text are all mine.