When your dog or cat is recovering from amputation surgery or going through chemotherapy, you can make this part of the journey easier by learning both the benefits and side effects of the medications prescribed for your Tripawd. Here are some resources to get you started.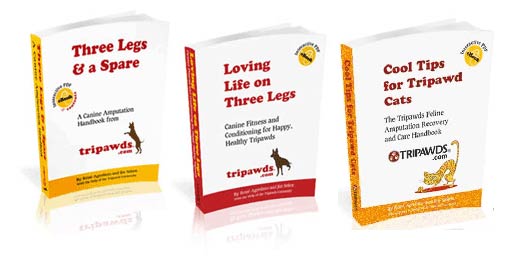 Below you will find links to informative posts from Jerry's Tripawds News Blog and popular topics in the Tripawd Discussion Forums. In addition, we have provided links to various veterinary medicine internet resources, as well as numerous online vet pharmacies.
Pain Management Tips:
Our Best Tripawd Pain Management Tips (So Far)
Tripawd Cats Pain Management Tips and Tricks
How To Help Your Tripawd's Post-Amputation Recovery Pain
CBD For Pets Shopping Tips Our Vets Want Us to Know
Three Tips About Medical Cannabis for Pets
Manage Tripawd Arthritis with Supplements, Exercise and Pain Management
Nocita Controls Post-Op Dog Amputation Pain Without Pills (now available for cats!)
Canine Rehabilitation: Pain Meds and Supplement Tips from CARE
Cancer Care Medication Tips:
Questions to Ask Your Veterinary Oncologist
Metronomic Chemotherapy FAQs for Tripawds
More About Cat Cancer, Oncology and Radiation Therapy
Cyclophosphamide Versus Chlorambucil in Metronomic Chemotherapy
Bisphosphonates: When Amputation isn't an Option
More About Chlorambucil, Cyclophosphamide for Metronomic Chemotherapy
Prednisone and Dog Cancer Tips
Metronomic Chemotherapy News Podcast on Tripawd Talk Radio
Importance of reading Pet Prescription Labels and Information Sheets
Cisplatin and Doxorubicin Side Effects in Dogs
Jerry's medication protocol for advanced osteosarcoma metastasis
Side effects of Albuterol in Dogs with Cancer Lung Mets
Oncologist Video Interview: Metronomics & Supplements for Canine Cancer
Jill's Metronomic Chemotherapy Experience
Online Veterinary Pharmacies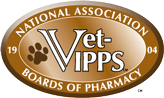 We strongly encourage purchasing pet prescriptions safely online from Vet-VIPPS accredited pharmacies. For more information download this important consumer health information about buying pet drugs online.
Save on all your pet medication by comparing prices and shopping online.
Save on Prescription Pet Medications at EntirelyPets.com
Save on Pet Meds online at PetCareChoice.com
Online Veterinary Medicine Resources
Research medications, symptoms and treatment options with these helpful veterinary medicine websites.
Understanding Veterinary Labwork Values
Dr. Demian Dressler's Dog Cancer Blog
PetEducation.com – Common Drugs & Nutraceuticals
PetEducation.com – Dictionary of Veterinary Terms
OncolinkVet – Cancer Terminology and Symptoms
VetInfo4Dogs – Medication and Your Dog