The 2018 Western Veterinary Conference was abuzz with talk about medical cannabis for pets. So many vets clamored to attend the scientific sessions about cannabis that additional seating was needed for every seminar. Clearly, vets understand that we pet parents want to know more about how this ancient herb can help our dogs and cats.
One vet who has been at the forefront of medical cannabis for pets is Dr. Gary Richter, MS DVM, author of The Ultimate Pet Health Guide: Breakthrough Nutrition and Integrative Care for Dogs and Cats.

We caught up with the Oakland, California-based integrative medicine practitioner during his WVC appearance and asked him:
What Should We Know About Medical Cannabis for Pets?
First remember that despite what you may have read on the internet, there is no scientific evidence that medical cannabis cures cancer. However, practitioners have utilized the ancient herb in other ways for millennia. In Dr. Richter's Holistic Vet Care blog he shares that "the ancient Greeks used cannabis to treat horses for colic, inflammation, and even to heal battle wounds."
Now that medical and recreational marijuana is legal in many places, the healing properties of this plant are back in the spotlight, both in the human medical field and in the veterinary world.
We have seen successes in treating many of the same diseases for which humans benefit.  Pets suffering from pain, inflammation, arthritis, cancer, seizures, and digestive issues have all found relief through the use of medical cannabis.
Medical cannabis for pets is an intriguing idea when we want our dog or cat to feel better. But before we buy any product, it's important to follow Dr. Richter's three tips about medical cannabis for pets.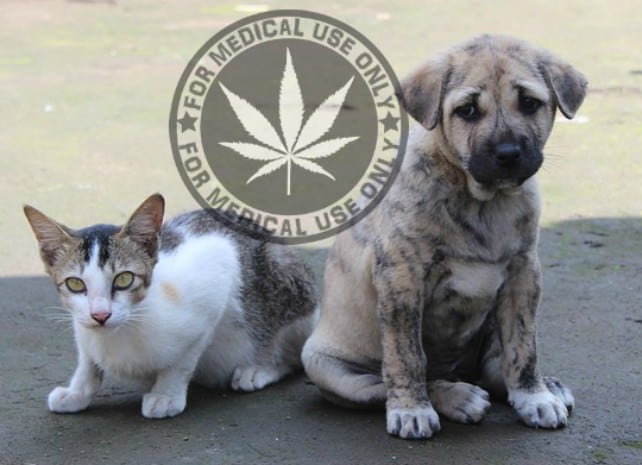 Tip #1: Know What's In It.
There are two compounds found within the Cannabis sativa plant from which the healing properties of medical cannabis are derived. These compounds are called cannabinoids. The two in each plant are known as tetrahydrocannabinol (THC) and cannabidiol (CBD). There's a huge difference between the two.
THC has properties that can get people and pets high. Products with THC must be used with extreme care.
CBD does not have intoxicating effects on people or pets.
Medical cannabis for people and pets can take many different forms, from liquids to edibles. Some products are derived from hemp (which is legal in all 50 states). Others are derived from marijuana, which is not always legal in each state.
All products have different levels of THC and CBD and it's critical to remember that not all products will help your pet. In fact, a product with too much THC cause an expensive, frightening trip to the emergency clinic. Pets' bodies are easily overwhelmed with too much THC and although the side-effects are not known to be life-threatening, getting a pet stoned is a terrible experience for everyone concerned and usually requires veterinary intervention.
You want to look for products that mostly contain CBD. "Unlike THC, there are no concerns regarding toxicity or overdose from medicine containing predominantly CBD," explains Dr. Richter. "CBD dominant medicines are safe and effective and when derived from hemp are completely legal in all 50 states without a prescription."
Legal or not, the first thing to think about before buying any medical cannabis product is to ask yourself:
"What's in it? Does it just have CBD? Does it have THC in it? These are important questions."
Knowing the characteristics and proper dosing for each product can ensure the safety of your pet when using medical cannabis.
"THC is a psychoactive compound and if you don't dose it appropriately you can wind up in the emergency room," explains Dr. Richter.
Tip #2: Know the Quality of the Product
Currently there are no across-the-board standards for measuring quality and efficacy of medical marijuana products for pets or people. It's the Wild West in this marketplace and the only way to know what you're getting is to research the quality of the brand you're looking for.
"Just because it's available at a pet store or at a cannabis dispensary does not necessarily mean it's a good product," explains Dr. Richter.
Tip #3: Get Your Vet Involved
Researching medical cannabis products is a huge and complex task, which is why it's critical to discuss this subject with your vet before trying any product on your pets. "Always let your veterinarian know what you want to do and ask for advice on how to do it," urges Dr. Richter. "This is always going to be your pathway to success. "
If your regular vet doesn't like the idea of medical cannabis for pets, but you still want to try it, we urge you to find an integrative vet who is open to the idea. Please don't give your dog or cat any medical cannabis until you get an integrative vet like Dr. Richter to be on your pet's veterinary team.