Did you know that one of the best ways to tire out a dog or cat and help them stay slim isn't by taking long walks or playing fetch? Nope! Dogs and cats tire out faster, keep weight off and live happier when you put their hunting instinct into overdrive. These fun Tripawd food puzzle tips we learned last week at the 2018 Western Veterinary Conference (#WVC2018) are a great way to do it.
Try a Tripawd Food Puzzle to Keep Weight Off and Challenge Your Dog or Cat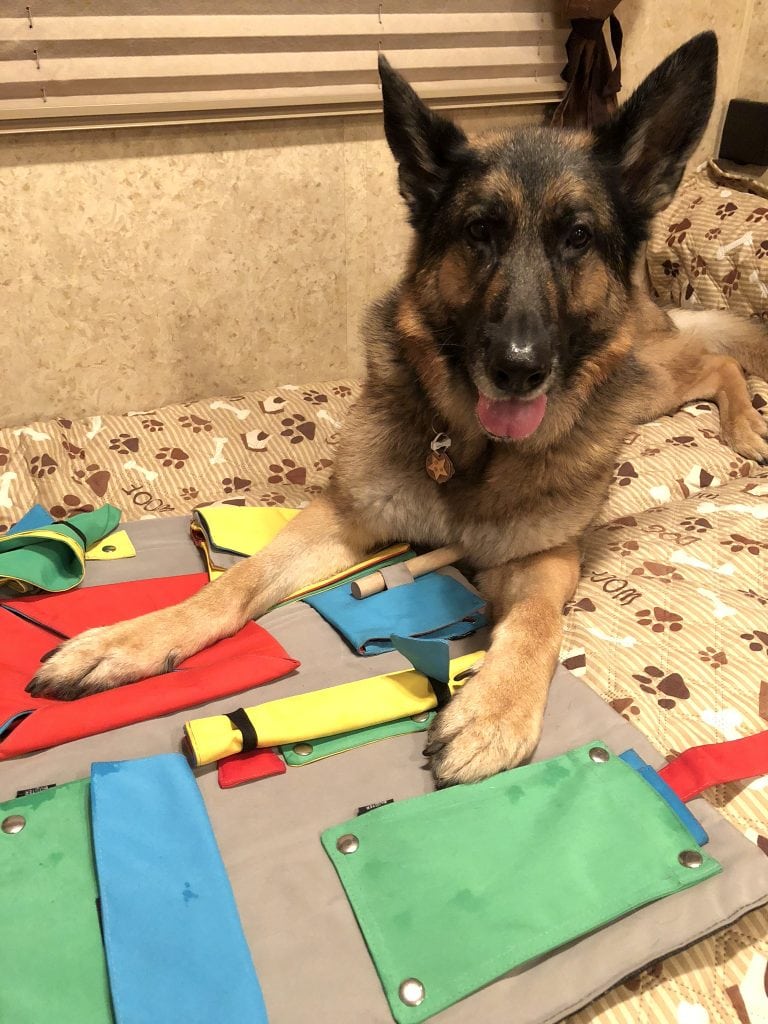 Domesticated cats and dogs are long way from their primal roots, but they still get a thrill out of hunting for food. When we place food into a bowl and set it on the floor, we're robbing them of their natural hunting instincts. Even worse, food bowls set up pets for weight and behavior issues.
According to feline nutrition expert Ann Wortinger, "when dogs and cats are confined indoors and not given enough mental stimulation, trouble can ensue." Everything from weight gain to aggression to inappropriate urinating can often be pinpointed to a lack of mental stimulation and interaction in the home.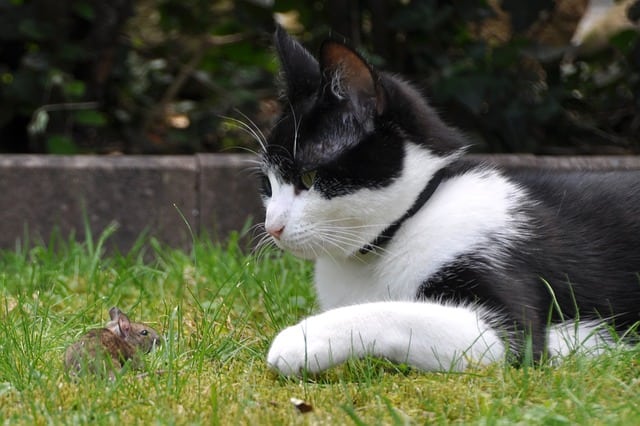 The good news is that by making Tripawd food puzzle activities part of your daily routine, you can eliminate boredom and exercise your pet's brain and body at the same time. According to Wortinger, one study even showed that owners who played with their cats daily reported fewer behavioral problems than those who did not. Food puzzles are a win-win activity for everyone.
Features of a Good Food Puzzle
Try incorporating food puzzles into your play times as a replacement for the boring old food bowl. We like the Kong Wobbler.
Train your pets to eat smaller meals throughout the day. Set down a puzzle before you leave for work. When you come home in the evening, help your pet burn some calories and play a puzzle together.
Effective food puzzles can take on many different forms, from just scattering kibble around the home so that it has to be "hunted" to playing together with DIY food puzzle toys.
"To increase their mental stimulation, have a selection of puzzles that you rotate daily," says Wortinger. "To further increase the stimulation, hide them around the house so even more hunting is involved."
Tripawds Spokesdog Wyatt Ray loves the challenge of a good puzzle. He's a smart pup, so we have to keep adding new ones to the mix to keep him challenged. Recently we discovered the Kruuse BUSTER Activity Mat. This portable Tripawd food puzzle was designed in Denmark by Marianne Haller Vesterholt to play and interact with her miniature schnauzer Ludwig when he got too smart for traditional toys. The renowned dog psychologist Anders Hallgren gives it a "Paws up!"
Contains a durable, no-slip nylon mat with a carrier bag and 3 rugged activities: The Envelope, The Water Lily and The Cone Cloth.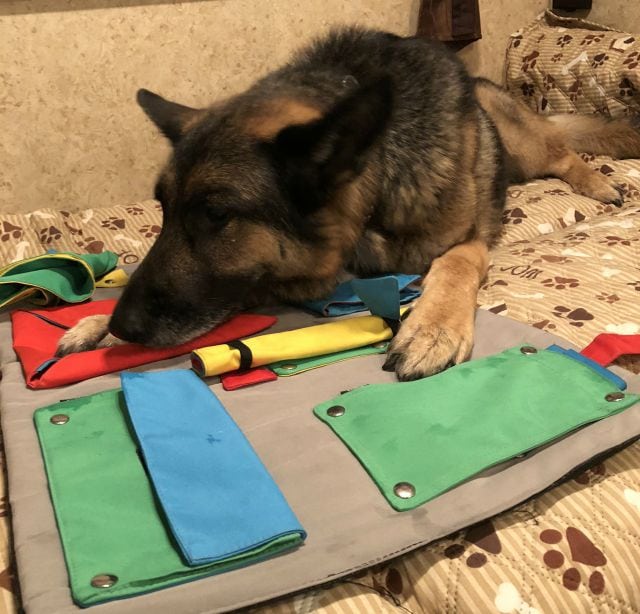 You can get more activities to boost the challenge. Every one of these tasks is machine washable.
For the crafty pet parents out there, you can tackle some DIY food puzzles like
Whether you buy a pet food puzzle or make your own, you can't go wrong by kicking the food bowl habit together.
If you have made successful Tripawd food puzzles, we would love to learn how you did it. Comment below and share your best tips for keeping your Tripawd's body and mind challenged.