Choosing a great dog food is more confusing than ever, especially when it comes to the grain-free dog food debate. In one corner, we've been told that grains like corn and wheat are bad for dogs. And in the other, veterinarians say that it's all a myth perpetuated by food manufacturers who want to sell us higher priced kibble. Who's right? Who's wrong? The only way to find out is to dive deeper and decide for yourself. Here are some resources to help you.
Wading Through the Great Grain-Free Dog Food Debate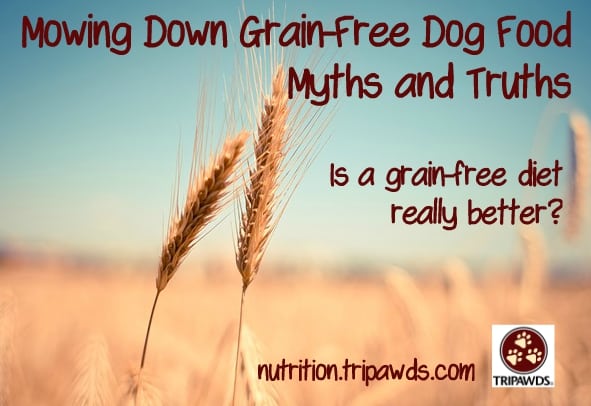 The vast majority of veterinarians agree there is no hard science to back up the notion that grains are bad for dogs. They say it was pet food manufacturers who turned grains into the devil when they discovered we are willing to pay much more for a bag of kibble that seems to more closely reflect what dogs eat in the wild.
Dr. Andy Roark is one such vet. In his video, 3 Myths About Dog Food that Need to Be Busted, he touches on the subject, and discusses how corn in dog food isn't as bad as it's made out to be:
"Grains, like corns, however, have Omega 6 Fatty Acids which is good for skin and coat, it has fiber for digestive health and it has anti-oxidents to help with vision. I'm not saying you should feed your dog a bowl full of corn. What I am saying is that grains are not bad for most dogs, and getting a complete and balanced diet, is what really counts." — Dr. Andy Roark
Score one for Dr. Roark! It makes sense that feeding a complete and balanced meal to dogs would lead to a healthy diet. Even a bag of corn-based kibble has other ingredients that create a well-rounded meal. We don't eat just one kind of food, why should our dogs?
But according to The Dog Food Advisor, in his article "The Truth About Corn in Dog Food," he explains why corn might not be bad but it's not the best ingredient either:
"When it comes to its protein usability, corn has a measurably lower biological value."
The problem with a corn-based kibble, he says, is that biologically-speaking, corn cannot stand up to the nutritional value of other pet food ingredients like fish meal and beef.
Looking at grains from a holistic frame of mind, Dr. Karen Bekcer doesn't approve of grains in dog food. In her article "Don't Fall for the 'Grain-Free' Trick Pulled by Some Pet Food Makers," she discusses the problem of feeding grains to dogs and why their digestive system isn't built for it.
"Dogs have short digestive tracts and are adapted to metabolize animal flesh and fat, not grains and simple sugars, including starch.

If the natural design of dogs precludes the need for carbs, why would we feed them carbs, including grain? If their bodies aren't designed to use carbs, why would we feed them something their digestive tracts aren't equipped to process?"
Dr. Becker goes on to say that even a "grain-free" food isn't necessarily great for our dog if corn was replaced with a high carb filler like peas, lentils or potatoes. She urges us not to select grain-free food just because it says "grain-free" but to look closer at the ingredient list if we feed kibble.
What's a Pet Parent to Do?
Let's face it. Most of us here don't have the medical knowledge that our veterinarians do. The best place to start discussing pet nutrition is with them. Find out what their stand is on the great grain-free dog food debate. Ask what their recommendations are for good food based on your dog's current health and age. If you're not in agreement, that's perfectly OK.
Next, get a second opinion with another type of veterinarian like Dr. Becker, one who practices a blend of Eastern and Western medicine. They may give you an entirely different perspective about what to feed your dog.
When you have all the facts, balance the two sets of advice, then decide what you want to feed your dog. Helpful dog food information resources like The Dog Food Advisor are ready with the latest facts about dog food brands on store shelves, and how to find the best one for your pup.
How Do You Decide What to Feed Your Dog?
Did your vet help you pick out a food for your dog? We would love to hear more about how you decide what to feed your dog so share them in the comments below!