Reaching for a bag of pet food kibble or a can of "meat" sure is convenient. But can we feed our dogs and cats better? Yes! The problem is a lack of evidence-based, unbiased pet food nutrition research. Thankfully, that's changing.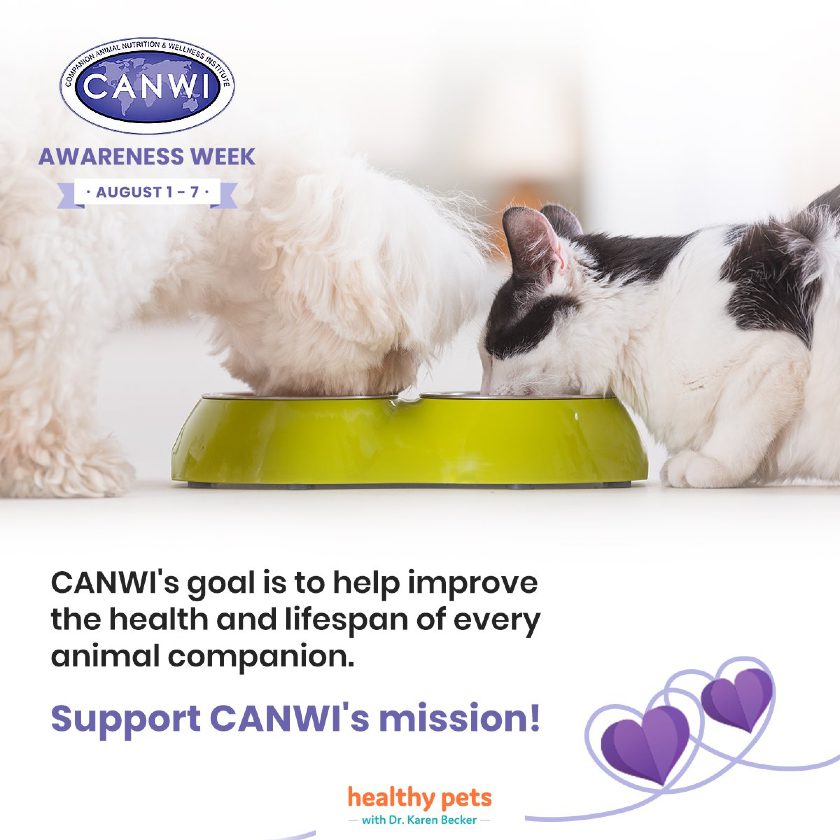 The Companion Animal Nutrition and Wellness Institute (CANWI) wants to help us feed dogs and cats better. This organization just held 2021 CANWI Awareness Week. The goal? To highlight how CANWI's research is improving commercial and homemade pet food diets and nutrition.
CANWI Strives to Help Us Feed Dogs and Cats Better
Pet parents like us aren't the only folks who wonder how to feed our dogs and cats better food. Integrative veterinarians like Dr. Karen Becker and board-certified veterinary nutritionist Dr. Donna Raditic want to know, too! Their work in the Companion Animal Nutrition and Wellness Institute (CANWI) wants to answer important questions like:
What is the best diet for cats and dogs?
How can pet parents feed healthy food without going broke?
What commercial pet food is safe? What store-bought pet food is unhealthy?
CANWI is a non-profit organization focusing on nutrition education and university-based research. They create unbiased nutrition studies to educate the pet food industry about healthier, safe pet foods for dogs and cats. The recent CANWI Awareness Week hosted important educational interviews with pet nutrition experts. Watch below for enlightening information about what goes into pet food, and how we can do better for our dogs and cats.
Get Educated About Pet Food Nutrition with the CANWI Awareness Week YouTube Playlist
Are you skeptical about commercial pet food? Who isn't! We all wonder if bags of kibble or cans of "meat" can really give our pets the healthy life they deserve. Does buying expensive pet food mean we can feed dogs and cats better? Or is it all just highly processed unhealthy food?
CANWI Awareness Week 2021 helped explain what we are feeding dogs and cats, and who is helping us make their nutrition better. This CANWI series of YouTube videos tackles important pet food concerns. Interviews with pet food industry researchers answer burning questions, about issues like;
Dietary advanced glycation end products (AGEs). How certain food-related molecules bind to DNA and cause inflammatory disease like cancer and diabetes.
Pet Food Safety. Can pet food manufacturers really make digestible, beneficial, safe food for dogs and cats that goes in a bag or can?
These three videos just scratch the surface of CANWI Awareness Week 2021:
AGEs in Ultraprocessed Pet Foods Can Lead to Disease Development
Dr. Donna Raditic interviews Dr. Joe Bartges. This veterinarian and researcher Is leading a team that studies the effects of different pet food diets on an animal's health.
The Importance of Safe Food Handling in Formulating Specialized Homemade Diets
In this first interview with Dr. Laura Gaylord, Dr. Raditic talks about ultra-processed pet foods, the growing market of raw pet food and how pet food companies can participate in this radical change.
The Role of Dietary Advanced Glycation End Products in Cancer Development
Dr. Donna Raditic interviews David Turner. His research focuses on advanced glycation end products (AGEs). Together, they discuss how better pet nutrition starts with determining which pet food ingredients create harmful AGEs in a pet's body.
Learn more about how CANWI and pet nutrition experts are doing the heavy lifting to help us feed dogs and cats better. Check out the rest of the CANWI Awareness Week 2021 YouTube Playlist.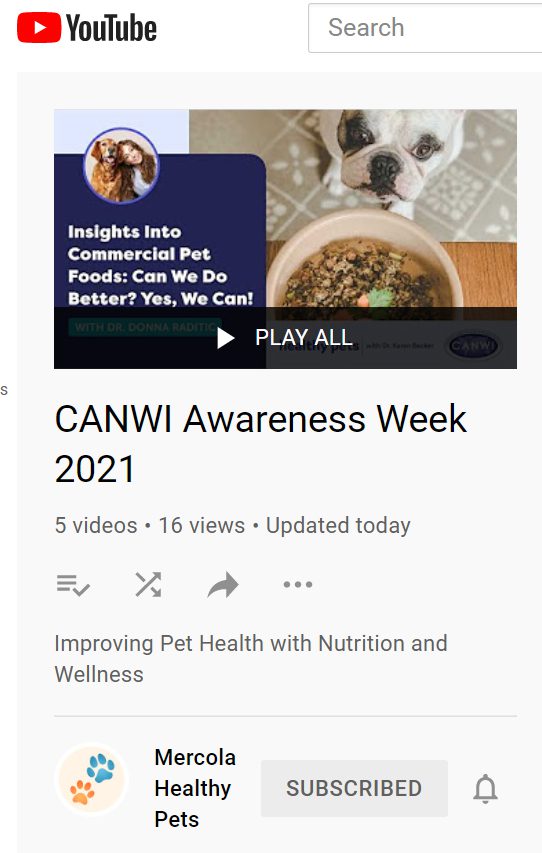 Recommended Reading
Fresh Versus Store Bought Pet Food Study Needs Pet Parent Support (Tripawds interviews CANWI co-founder Dr. Donna Raditic)