We have many reasons to celebrate the beginning of summer, but mosquitoes aren't one of them. As the weather warms and those bloodsucking pests kick off their annual assault, you may be tempted to spray DEET on your pet. But before you do, STOP! Deet is incredibly toxic to dogs and cats.  So put that bottle away and reach for safer, natural mosquito repellents for pets instead.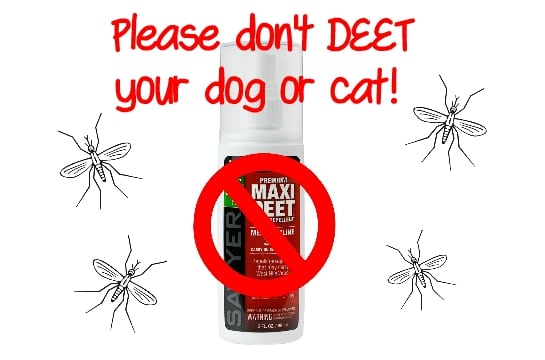 Mosquitoes carry serious diseases that can cause tremendous health issues in dogs and cats. West Nile Virus and Heartworm are the two main illnesses transmitted by the little bloodsuckers. If your pet is bitten by a mosquito infected with either virus, you could face serious vet bills and a long list of health problems for your dog or cat.
Heartworm side effects in dogs is far worse than it is for cats, but dogs and cats are equally at risk for West Nile Virus and unfortunately there is no vaccine or monthly preventive for the disease. The best way to avoid it is to prevent mosquito bites in the first place.
Note: this post contains Amazon affiliate links. Tripawds receives a small compensation from all sales which helps offset the cost of keeping our community online.
Safer, Natural Mosquito Repellents for Pets
Even the best heartworm preventive isn't 100 percent foolproof. According to a study by the University of Georgia,
The combination of both a mosquito repellent insecticide product and a macrocyclic lactone product had greater efficacy for protecting dogs against heartworm transmission and infection than macrocyclic lactone products alone, according to the results of McCall's phase II study.*

*see "Fight Heartworm Now" for details.
Today, veterinarians are advising pet parents to use safe mosquito repellents on our pets even when a heartworm preventive is used. But the insect repellent DEET is one to avoid at all costs.
According to the ASPCA, DEET is harmful for pets because
The higher the DEET concentration, the more risk to the pet.
Eye contact with DEET can result in conjunctivitis, scleritis, blepharospasm, epiphora, lethargy/depression, uveitis and corneal ulceration.
If they inhale, DEET can cause serious breathing difficulties that may require steroids, bronchodilators, and oxygen.
However a cat or dog is exposed, DEET can cause GI upset, ataxia, disorientation, tremors and seizures.
Put that human mosquito repellent away and reach for these natural mosquito repellents for pets instead.
Safe and natural alternative to chemical pesticide spot drops, pills, bombs, powders, dips and sprays. Kills and repels fleas, ticks and mosquitoes with curious efficacy using natural ingredients.
Kills adult fleas, eggs, larvae and pupae as well as ticks, mosquitoes, mites, mange and more.
Leaves coat shiny and brilliant. Safe around children and made in the USA with food-grade ingredients.
Safe for puppies, kittens, nursing mothers and seniors!
No DEET, pyrethrins, pyrethroids or other chemical pesticides. Non-staining on pets, bedding, furniture, and flooring. Use on your pet, and spray directly on bedding and surroundings in home.
HERBAL REPELLENT COLLAR – Repels Ticks/Fleas/Mosquitos/Others Insects – Works Up To 4 Months – Water Resistant – Convenient Long-Term Protection
SAFE FOR CATS + KITTENS Ideal Herbal Repellent Collar For City Pets – Can Be Used With Dr Mercola Spot On Topical Herbal Repellent For Extra Protection
ALL NATURAL With Geraniol/Wintergreen Oil/Almond Oil – Active Ingredients Form Part Of Collar – Allows Diffusion Of Repellent Oil Blend Over Time
TOXIN FREE – Natural Repellent Blend Of Highly Effective Oils – Safe For Cats + Kittens – Free From Harsh Chemicals That May Cause Adverse Side Effects
PREMIUM PET CARE – Offers Advanced Long-Lasting Protection – Effective Against Ticks/Fleas/Mosquitos – Up To 4 Months – Veterinarian Recommended
Repels mosquitoes without the use of DEET.
Uses plant-based ingredients including certified natural essential oils like Lemongrass Oil and Geraniol (from Citronella plants).
Proven effective and manufactured in the USA.
Can be used on dogs and cats 12 weeks or older. Also great for the whole family.
Can be reapplied every 2 hours as needed.