Does your Tripawd have discriminating taste when it comes to treats? Need a little extra incentive to keep your hero on target for certain training activities? Well it's time to give Meg's Tripawd Treat Training Liver Cake Recipe a try!
If you haven't met the Meg-a-Star yet, you must check out her blog. She's a front leg canine amputee in the UK who has come a long way since the day she was told that she was not a good amputation candidate. She proved them wrong and today she's living large with the best physio care possible, which includes her new set of Eddie's Wheels.
Tripawd Treat Training for Meg's New Wheels
After many consultations with her physio therapist, it was determined that Meg would benefit from a custom wheelchair from Eddie's Wheels. Clare, Meg's mum, is documenting the process here in the Hopping Around Discussion Forums topic. As you'll learn, it takes patience, a good sense of humour and some talented culinary skills to help a Tripawd adapt to a wheelchair.
We tried the wheels again this afternoon. Again, just very briefly. I hummed and hawed about whether to do it, worried that if it went badly, we might undermine this morning's progress, but then if it went well, we might consolidate it. In the end, I baked a fresh batch of liver cake, and with this irresistible offering warm in my hand…

This time there was no resistance at all to being put in the wheels. And she walked in them without any issues, even turning a couple of corners all by herself, which is remarkable, frankly. When I got her out, she was so pleased with herself, she danced all over the garden.
When Clare mentioned her liver cake recipe, we had to find out how to make this tantalizing treat. Clare was kind enough to share it with us, and Jackie, Mom to Huckleberry, took time to bake it soon afterward. We're pretty sure you will also find it's the magic ingredient for Tripawd treat training, so here it is!
MegaWheels Rockin' Rollin' Liver Cake Recipe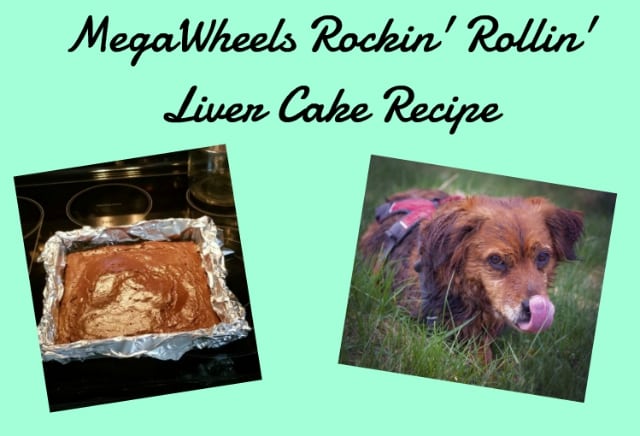 "I've translated it into American," says Clare. "We use grams rather than cups, and Centigrade not Fahrenheit. Just don't blame me if it turns into a liver meringue… (not sure what people use in Canada/Australia/elsewhere, but hopefully…)
Re the garlic: I know there are different views on this. Meg's holistic vet is very pro, and she loves it, so we use it, but if you're not so inclined, you can leave it out, no problem.
Ingredients
500 g (1.1 lbs) liver (I buy organic when possible, because liver absorbs toxins, and no liver is terribly expensive)
2 eggs
180 g (3/4 cup) self raising flour (you can also use oatmeal, which gives a chewier texture)
1/2 garlic clove (optional)
Whack it all in the blender, until it looks something like a liver smoothie then slop into a lightly oiled baking tray. It should be like a thick gloop. If it's too thin, add some more flour. If it's too thick, add a splash of milk. This is not an exact science.
Smooth it off with a spatula, and stick it in the oven for about an hour on 150ºC (300ºF). It may need another fifteen minutes or so. You want it firm but not like a giant biscuit. Lol.
It's easiest to cut while still warm, so slice into small squares.
You can freeze it and it basically lasts forever, except it won't because your dog will wolf it so fast, you'll be cooking up another batch in no time.
If you try this Tripawd treat training recipe, let us know how it turned out!