Tripawds member Naomi recently asked "if you could tell me what kibble you buy?" Like all of us, she's looking for guidance about the best food to buy for her dog. And now the self-proclaimed "leader of the canine fitness revolution" is here to help. Dan Schulof, author of "Dogs, Dog Food, and Dogma: The Silent Epidemic Killing America's Dogs and the New Science That Could Save Your Best Friend's Life," cuts through the dog food dogma in a new canine nutrition book.
Dog Food Dogma and the Link to Pet Obesity, Cancer
In a nutshell, Schulof explains that the problem with most commercial kibble is that it's loaded with carbs. And carbs, according to his research, are the reason for the cancer, diabetes and canine obesity epidemic. He explains that even high end grain-free kibble like Orijen is loaded with carbs that pull the trigger on disease.
"When it comes to "low-carb kibbles," it might be more accurate to call them "low-er carb." Their carbohydrate contents are meaningfully lower than the standard kibbles, but they are still way, way higher (25% or more) than any food that a wild grey wolf would ever consume on even a semi-regular basis. For the moment, if you want to put your dog on a true low-carb diet, you either need to pick one of the raw food products or prepare her foods yourself." — Dan Schulof
In Dogs, Dog Food, and Dogma: The Silent Epidemic Killing America's Dogs and the New Science That Could Save Your Best Friend's Life, Schulof backs up his theories by outlining the research he's compiled over the last ten years. 
Schulof documents his investigation in an engrossing memoir-style narrative, one featuring all the joy and heartbreak that ordinarily accompanies pet ownership in America today. With his Rottweiler Kody in tow, he takes readers along to some fascinating places—the wilds of Montana where biologists study grey wolves, the factories where corn and animal byproducts are transformed into pet foods, the world championships of canine athletics competitions, and the classrooms where rising veterinarians are taught nutrition using textbooks written by dog food manufacturers—in a quest to uncover the truth about this deadly and perplexing epidemic.  (Amazon book summary)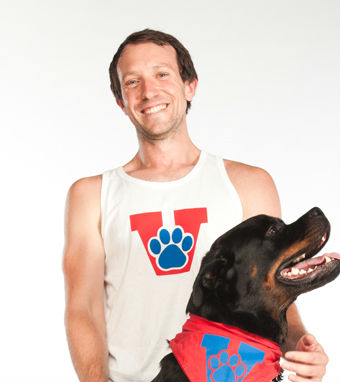 It's no secret that Schulof is also the co-founder of Ketona Natural Pet Food, a premium dog food made with less than 8% carbs (as opposed to leading brands that are often as high as 50 percent non-fibrous carbs). So it's hard to deny that he has a financial stake in exposing dog food dogma and getting us to think differently about what we feed our best friends. But it's also easy to see that his passion to help dogs lead healthy, obesity-free lives goes far beyond making a quick buck.
Schulof's passion for canine health extends to his other venture, Varsity Pets, a company dedicated to canine fitness products and resources features in his Varsity Pets blog, The Optimal Dog.
We'll teach you exactly how to feed, exercise, train, and interact with your animal in order to optimize his or her experience in the world.  Then we'll arm you with all the food, equipment, and other tools that you'll need to make healthy change both fun and easy for you and your pet.
If you're ready to dive in and learn all you can about choosing a healthier dog food for your Tripawd and keeping your pup slim and healthy, even the respected canine authority Patricia McConnell calls it "a valuable book." Dogs, Dog Food, and Dogma  appears to be worth the price and your time. We haven't read it yet, so if you do, let us know what you think.