If your dog or cat is fighting a serious illness like cancer, you've probably read about the power behind medicinal mushroom pet health supplements. Internet searches reveal dozens of products, but finding an effective one is bewildering. How do we know which companies will deliver clean, effective ingredients in their products? The research can make your head spin. To shorten your investigation, here's our quick start guide to medicinal mushroom pet supplements.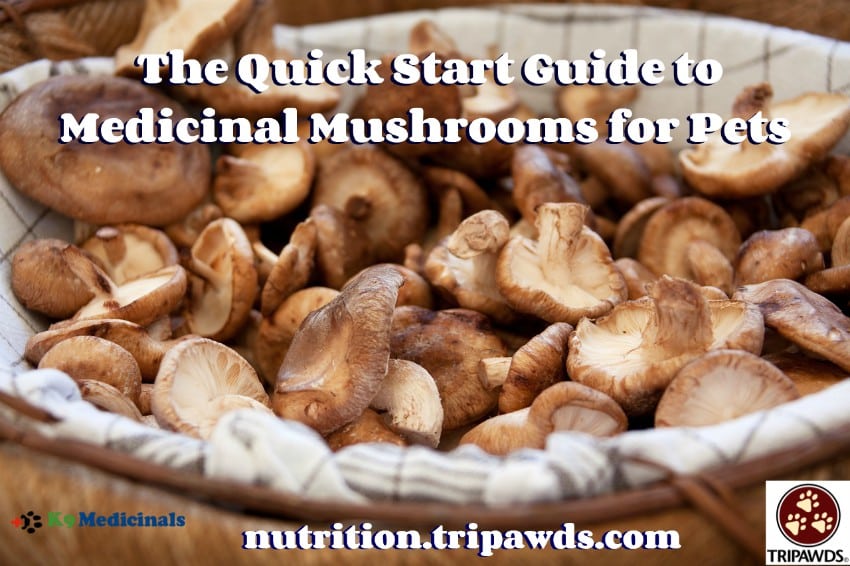 We love sharing information about proven holistic veterinary supplements like K9 Immunity™ and Armor-Up®. We are being compensated for creating awareness around them, but we only share information that's relevant to the Tripawds Community. K9 Medicinals is not responsible for the content of this article.
The Quick Start Guide to Medicinal Mushroom Pet Supplements
Step 1. Begin with your vet.
Make your veterinarian the starting point for choosing an effective pet health supplement. Remember, vets are pet parents themselves and always looking for evidence-based products that work. Utilize their expertise so your money is well-spent, and also to ensure that supplements you choose won't interfere with treatments like chemotherapy.
Don't be disappointed if your vet isn't familiar with the power of medicinal mushroom pet health supplements – we can't all be experts at everything! Instead, build up your pet's medical team and find a holistic veterinarian near you who can expand your treatment options that complement those prescribed by your main veterinarian.
Step 2. Talk to other pet parents.
The Tripawds Eating Healthy Discussion Forum is a gathering place for sharing tips about pet health supplements. Ask questions and find out what other members have experienced with their own medicinal mushroom pet health supplements. Right away you'll see that many people both in and out of the Tripawds community have found good results with K9 Medicinals' dog cancer supplements. Brady and Mollie's moms are two great examples:
Brady Beats Mast Cell Cancer
Diagnosed at two months old with Mast Cell Cancer, Brady is still thriving at nine years young. His mom Liz credits his longevity to medicinal mushroom supplements, including K9 Immunity Plus and Armor-Up:
"It seemed like our best chance to give him a long, happy life. And sure enough, we made the right decision. Thank you K9 Medicinals, from Brady, and all of us. Because you're the ones who gave him a full and happy life."
Mollie Thrives Against the Osteosarcoma Odds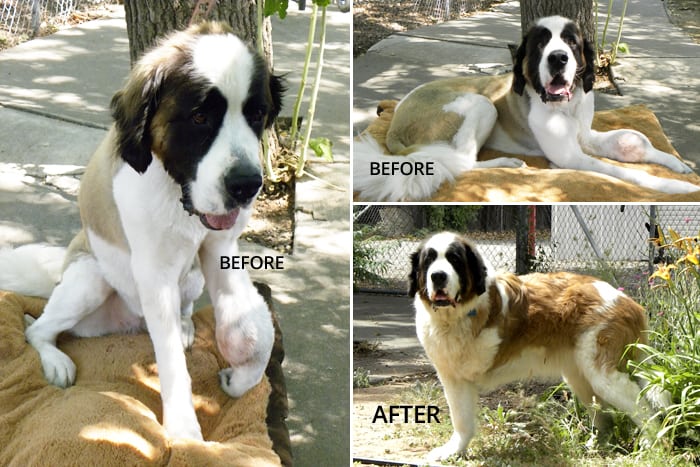 You'll also be inspired by animals like Mollie, a Saint Bernard who is fighting back from osteosarcoma with the power of Armor-Up:
"She now takes only the Armor-Up in addition to a special diet that I cook for her. She has been loving life and continues to thrive. Every day is a gift……..and we are very thankful for K9Medicinals."
Step 3: Get to Know the Manufacturer
Medicinal mushroom pet health supplements are sold everywhere, but pinpointing exactly where those ingredients come from is tough. Many low-priced mushroom therapy products contain poor quality Chinese made ingredients and fillers that do nothing to fight disease. In the VCA informational article "Medicinal Mushrooms," holistic veterinarians Steve Marsden, DVM ND MSOM LAc DiplCH AHG, Shawn Messonnier, DVM and Cheryl Yuill, DVM, MSc, CVH warn us about buying these low quality products:
"Pet owners are cautioned against buying supplements without knowledge of the manufacturer, as supplements are not highly regulated and some supplements may not contain the labeled amount of ingredients."

There's only one medicinal mushrooms manufacturer we know that is as transparent and credible as veterinarians would like. You guessed it: K9 Medicinals. What makes them so great?
Every product is 100% made in America.
You won't find low quality, Chinese ingredients in any formula.
Supplements are produced in a USDA-approved facility that's held to the highest standards.
Every product is backed with a 100% satisfaction guarantee.
And finally, it's easy to have a conversation with the company's team members. They are so accessible that they'll even have a discussion with your veterinarian to help you both feel more comfortable about their products.
Fighting a disease like pet cancer is time consuming enough without trying to guess which products will deliver on their promises. When it comes to medicinal mushroom pet supplements like K9 Immunity or Armor-Up, thousands of grateful pet parents like Brady and Mollie's take away any guesswork. The choice is simple: K9 Medicinals.
Recommended Reading
Dog Immunity Support Supplements Round-Up
When Surgery and Chemo Are Not Enough to Fight Dog Cancer
DISCLAIMER: The information contained here is intended as education/information only. It is not intended to replace a veterinarian's advice. Please use your own good judgment and always discuss any therapies for your pet with your veterinary team.