Did you know about studies showing how a supplement called UC-II® (Undenatured Collagen) helps dogs with arthritis (and people and horses too)? We didn't, until last week when Tripawds Spokesdog Wyatt Ray saw the orthopedic experts at the Colorado State University Veterinary Teaching Hospital. His veterinarian felt comfortable suggesting that we give it a try, because of the excellent studies showing that UC-II® (undenatured collagen) behind it. We didn't discuss whether or not it works with cats, but it can't hurt to talk to your veterinarian about it if you have a TriKitty.
Studies Show UC-II (Undenatured Collagen) Helps Dogs with Arthritis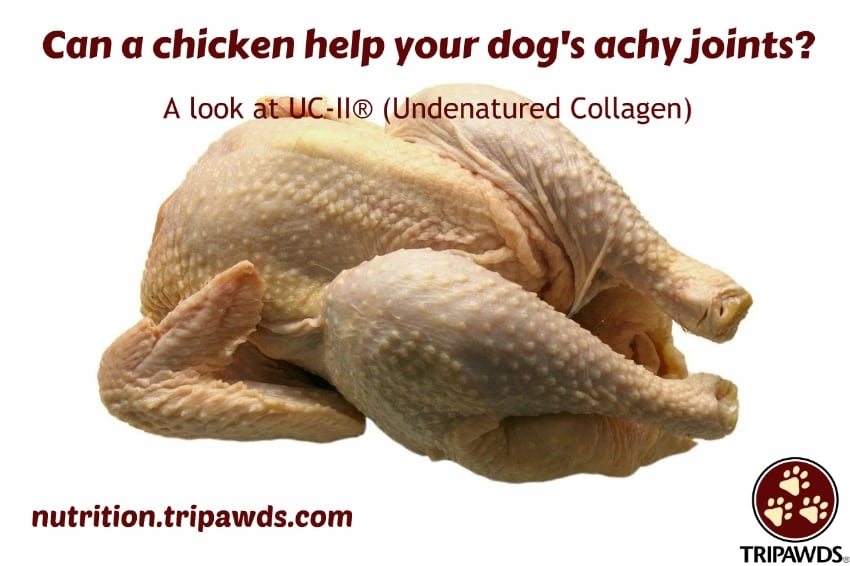 This blog post contains Amazon affiliate links.
When you shop through them, you help keep the Tripawds community online and free. Thank you!
Undenatured Collagen is known by the brand name UC-II®, made in the U.S. by InterHealth USA and licensed to various supplements resellers. It is a food-based product consisting of undenatured type II collagen that comes from chicken sternum cartilage.
There are many types of collagen in our bodies. You may be familiar with collagen that helps build strong nails and beautiful hair, but this kind can help build stronger joints.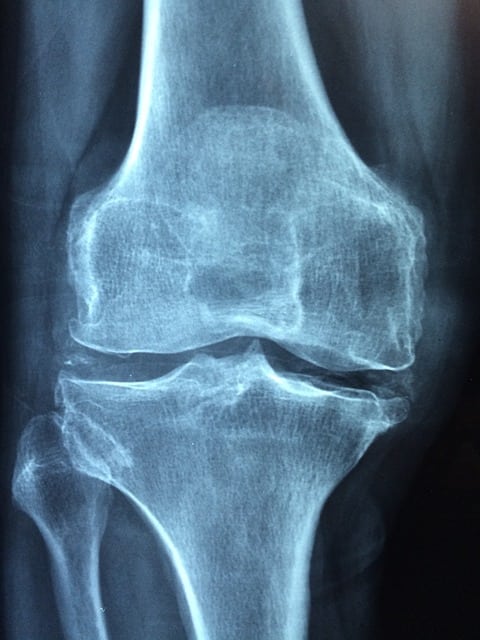 Most clinical studies about UC-II® have been performed on humans and conclude that it can build strong, healthy joints and give pain relief for people with rheumatoid and osteoarthritis (OA). These studies have given the FDA enough confidence to determine that UC-II supplements are "Generally Recognized as Safe (GRAS)."
When it comes to animals, peer-reviewed studies on dogs and horses have shown equally promising results. It has been used in the equine community for a number of years and recently caught on in the small animal world.
And in both dogs and humans, UC-II® has excellent bio-availability, meaning the body does a great job absorbing and making use of in a dose as small as 40 milligrams per day.
UC-II® Studies on Dogs Show Small Quantities Work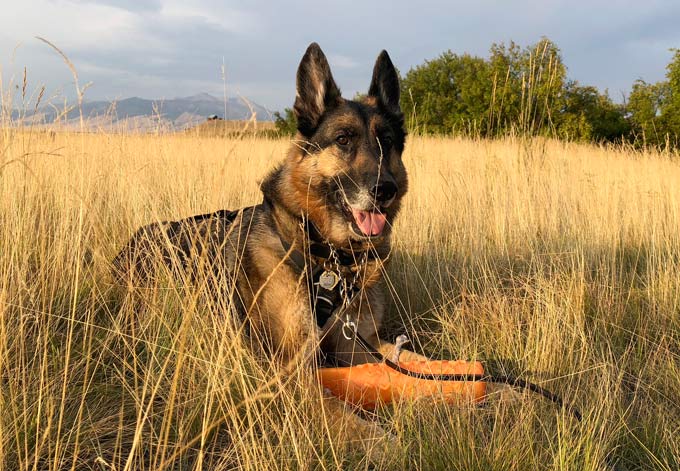 Wyatt's orthopedic veterinarian felt good about recommending this joint health supplement because of UC-II® studies such as:
Therapeutic Efficacy and Safety of Undenatured Type II Collagen Singly or in Combination with Glucosamine and Chondroitin in Arthritic Dogs.
Dogs receiving UC-II alone showed significant reductions in overall pain within 30 days (33%) and pain upon limb manipulation and exercise-associated lameness after 60 days (66% and 44%, respectively) of treatment. Maximum reductions in pain were noted after 120 days of treatment (overall pain reduction, 62%; pain reduction upon limb manipulation, 91%; and reduction in exercise-associated lameness, 78%). The overall activity of the dogs in the UC-II supplemented with glucosamine and chondroitin group (group IV) was significantly better than the glucosamine + chondroitin-supplemented group (group III). Glucosamine and chondroitin alleviated some pain, but in combination with UC-II (group IV) provided significant reductions in overall pain (57%), pain upon limb manipulation (53%), and exercise-associated lameness (53%) .  . .

Data of this placebo-controlled study demonstrate that daily treatment of arthritic dogs with UC-II alone or in combination with glucosamine and chondroitin markedly alleviates arthritic-associated pain, and these supplements are well tolerated as no side effects were noted.
Efficacy and safety of glycosylated undenatured type-II collagen (UC-II) in therapy of arthritic dogs.
Dogs receiving 1 mg or 10 mg UC-II/day for 90 days showed significant declines in overall pain and pain during limb manipulation and lameness after physical exertion, with 10 mg showed greater improvement. At either dose of UC-II, no adverse effects were noted and no significant changes were noted in serum chemistry, suggesting that UC-II was well tolerated. In addition, dogs receiving UC-II for 90 days showed increased physical activity level. Following UC-II withdrawal for a period of 30 days, all dogs experienced a relapse of overall pain, exercise-associated lameness, and pain upon limb manipulation. These results suggest that daily treatment of arthritic dogs with UC-II ameliorates signs and symptoms of arthritis, and UC-II is well tolerated as no adverse effects were noted.
The Ideal UC-II® Dose for Arthritic Dogs

In UC-II® studies, dosages for dogs ranged from 1 mg per day up to 40 mg. So far scientists conclude that a 40mg per day dose is ideal for arthritic dogs.
Keep in mind that better results can be achieved when UC-II® is given in conjunction with a high quality Omega-3 essential fatty acid oil supplement, like Nutramax's Wellactin Fish Oil recommended by veterinarians, as well as a well-studied glucosamine sulfate product like Cosequin, also by Nutramax.
If you decide to give it to your Tripawd or other pets, let us know how it worked for them, and we will keep you posted on how it works for Wyatt.
Recommended Reading
This blog post from NOW Health Group, "UC-II® Undenatured Type II Collagen for Joint Support" features an informative webinar by Dr. James Lugo, PhD: