Other German Shepherd parents tell us that some day, Tripawds Spokesdog Wyatt "Wild Boy" Ray will slow down. But that's hard to believe, because at seven years old he's still crazy as ever, especially when he's romping in the great outdoors.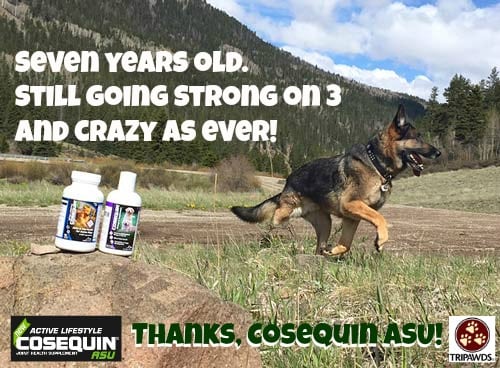 Yet despite his current fitness level, we're not in denial: age and time are hot on his tracks. Lately we've been thinking about putting him on a daily joint supplement so when Nutramax Laboratories launched their new Cosequin ASU Active Lifestyle chewable and Cosequin Omega-3 Supplement, we jumped at the chance to test a free temporary supply  from the company.
Four weeks later, the old saying "Be careful what you ask for" has come back to bite us:  our wacky Spokesdawg is more energetic than ever! Here's why:
What's Cosequin and Why is it so Great?
Anyone who's ever asked their vet about pet health supplements knows: vets are skeptical about everything. Yet there's one joint health supplement that veterinarians will recommend: Cosequin.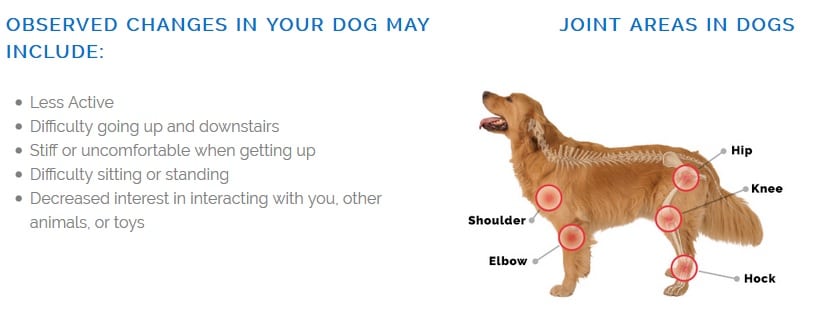 Why do vets recommend Cosequin? Because Cosquin is the only glucosamine/ chondroitin sulfate supplement with a long list of studies backing it. Cosequin is proven to be safe, effective, and bioavailable in peer-reviewed, published, controlled, U.S. veterinary studies. Each study shows that whether you give it to a dog, cat or horse, Cosequin lives up to its claims – something that other joint health supplement for pets cannot do.
The Cosequin FAQs page explains how it works but in short:
"Cosequin contains TRH122®* chondroitin sulfate, FCHG49®* glucosamine and manganese ascorbate. The exclusive combination . . . works together to maintain the structure of your dog's joint cartilage while slowing the enzymes that break down cartilage.

Glucosamine hydrochloride acts as a building block of cartilage by supplying a key nutrient that keeps cartilage cells healthy and functioning properly. Chondroitin sulfate blocks the enzymes that break down cartilage. Manganese ascorbate is added to help optimize the production of cartilage components."
Read more reviews and save on Cosequin at Amazon!
Cosequin comes in different formulations depending on the dog, cat or horse's specific needs.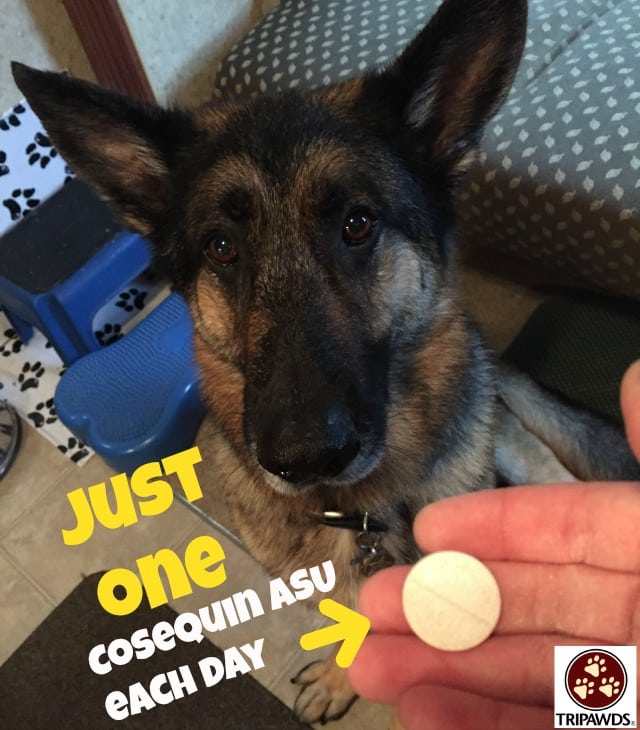 Wyatt is on Cosequin ASU Active Lifestyle. This formula keeps dogs active thanks to:
Two patented combinations of avocado/soybean unsaponifiables with glucosamine hydrochloride and chondroitin sulfate to help deliver joint support.
Methylsulfonylmethane (MSM), hyaluronic acid (HA), boswellia extract, and manganese – additional ingredients also known to help support joint health.
Biotin to help support foot and pad health and integrity, as well as a healthy coat.
Wyatt has also been getting Cosequin Omega-3 Supplement mixed into his breakfast. Every serving complements his Cosequin ASU Active Lifestyle with the omega-3 fatty acids "EPA" and "DHA." These two powerhouse ingredients are responsible for:
Healthy Skin and Coat
Normal Heart Rhythm
Renal Function
Stable and Responsive Nervous System
Improved Trainability
Healthier Joint Tissues
We especially like that Wyatt only needs two teaspoons of Cosequin Omega-3 every day. One bottle goes a long way, even for an 80-pound German Shepherd!
How Do We Know  Cosequin Works?
Nutritional supplements aren't an overnight cure-all. Holistic-minded veterinarians tell us that a minimum of four weeks are necessary to show any effects of a supplement (sometimes longer). That's why we gave Cosequin Active Lifestyle ASU and Omega-3 Supplement a full six weeks before sharing our thoughts with you.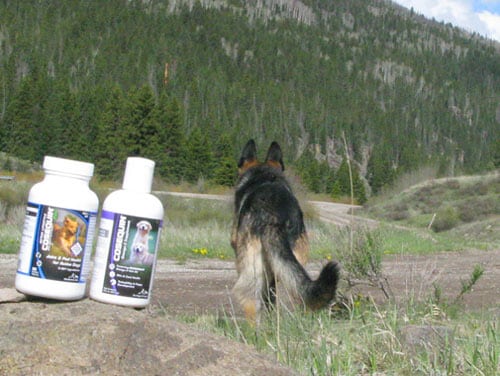 Finally, here's what we've experienced:
Wyatt suffered no GI effects from either supplement.
Despite his ongoing seasonal allergies, his fur remains shiny
Wyatt's covered a lot of rough terrain over the last few weeks as we head north to Colorado for summer, yet his paw pads remain very resilient.
Best of all, Wyatt's brain and body remain at a happy equilibrium. He can still complete his daily Tripawd workouts and have extra reserves for some fetching and swimming.
As you can see, Wyatt is more energetic than ever!
Based on what we've seen so far, Wyatt has responded very well to Cosequin joint health supplements. These two exceptional pet health supplements are the best additions we've made so far to keep him as wild and charming as the puppy we met seven years ago.
See if Cosequin ASU Active Lifestyle and Omega-3 Supplement can work for your Tripawd too!
Connect with Nutramax Labs on your favorite social media channels!