Is there a brand new Tripawd in your home? Then you'll want to read every word of this excellent guest post about natural remedies for amputation recovery. It's written by Gina Snow, a licensed veterinary technician with over 20 years of natural pet health experience. She's a dear friend of the Tripawds community and author of Doggie Decihper, a blog devoted to natural health for dogs and cats.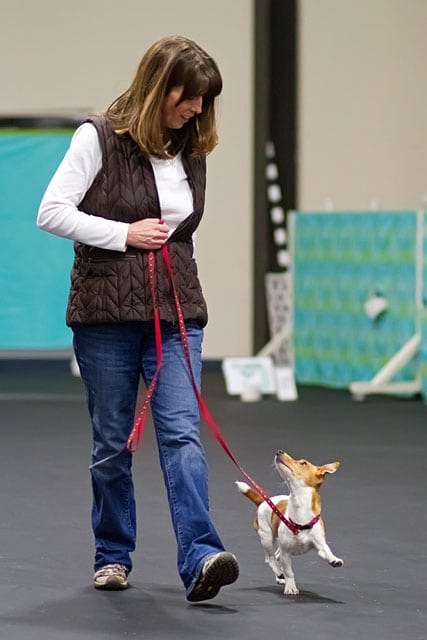 Excellent! Your companion has made it safely through the surgical amputation but, what is needed from here to provide the most comfort and a speedier recovery?
One of the safest natural methods I recommend is homeopathy. Homeopathy is an energy medicine that works with the body's own healing abilities and it can be used with any medication as it has no contraindications. For more detail about homeopathy, read this article from the Academy of Veterinary Homeopathy.
One of the first problems you may see is slow recovery from the anesthesia.
Obviously, the IV fluids that are given help "push" out the drug(s) but is there something natural and safe you can do to? Yes, the homeopathic form of Phosphorus will help speed a slow anesthetic recovery or that dopey demeanor.
A 30C or 200C potency is what you will find at your local health food store and either can be used. This remedy is used 1-4 times per day until the animal is less "drugged" feeling. It is rarely needed more than 24-48 hours.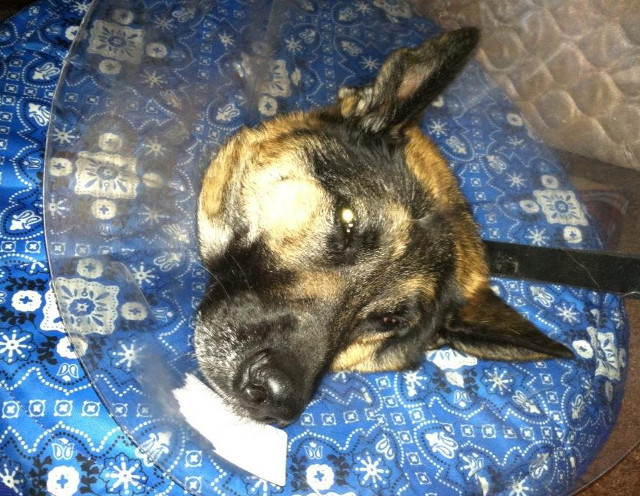 Is your pet anxious and restless?
Some vets prescribe the tranquilizer ACE which can make many pets worse and some breeds of dogs cannot take this drug at all.
The drug ACE reduces their locomotion and does nothing for the pain or anxiety, only their movement, in my experience.
Pacing, shifting, panting and wandering are often signs of pain which leads to anxiety, not vice versa, so treating the pain is often what curbs the anxiety.
The homeopathic remedy Aconite (NOT the herb) is fantastic for anxiety, especially if there is a lot of shivering, shaking, pacing or even hiding. It can help with the anxiety whether is is from pain, drug reactions or post op confusion.
200C potency is often needed for this intense symptom and can eliminate the shivering within minutes after giving it!
What if your pet is vomiting, has diarrhea or is angry or grumpy after amputation?
Well, Nux vomica, another homeopathic remedy, can help with those types of symptoms. Again, 30C or 200C is best, given 1-4 times per day until the bowel issues and/or grumpy attitude have passed.
At the same time your pet is feeling "green" (nauseated), they are most likely experiencing some pain and discomfort, even despite the conventional pain medication they were prescribed.
Here are some common choices for post op pain relief: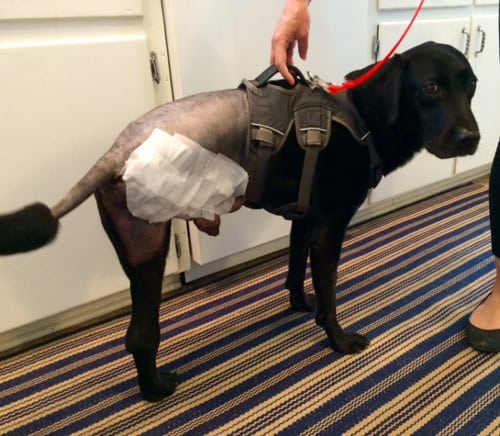 Homeopathic Arnica is very helpful for pain, swelling and bruising. It is also helpful for those that avoid touch of any kind, post op. Homeopathic Hypericum is a fantastic nerve pain reliever and many nerves are involved with amputations. It may be given long term if the animal seems to be experiencing phantom pain symptoms.
Homeopathic Belladonna (NOT the herb) is a great pain reliever if there is much swelling and perhaps the patient wants to bite at the slightest touch. The Belladonna patient is often in so much pain that even their pupils are dilated and large. If the pain seems to be at the actual incision itself, homeopathic Staphysagria is the remedy of choice.
For any post op bleeding, Ferr phos 6x cell salt (a type of low potency homeopathic remedy) can be very helpful. This cell salt also helps to build the body back up and recover faster after surgery. Cell salts are given 2-4 times per day.
If any post op infection occurs, the homeopathic remedy Hepar sulph is the top choice.
Often these animals are in pain due to the secondary infection. The Hepar sulph can be combined with the cell salt Silicea 6X to help rid the body of the infection even faster.
All of these remedy suggestions should be chosen on individual symptoms. It is best to give the fewest remedies possible to achieve the desired effects although it is safe to combine remedies if multiple symptoms are present.
Since amputation is an acute condition, you should see improvement in symptoms very quickly, sometimes within minutes of giving the correct remedy. Again, if no improvement after 4 doses, reevaluate the pets symptoms and consider another choice.
It is best to give the remedies as infrequently as needed but frequently enough to provide relief. Animals may need the pain reliever remedies long term, if they are proving helpful.
Stop any remedy if it is not helping symptoms or new symptoms occur. It is always advisable that you seek the consultation of a veterinarian homeopathy, if possible.
I hope these few important remedies provide relief for many!
In health,
Gina Snow LVT
Many thanks to Gina for another great article. Be sure to follow her blog and check out all of the posts she's written for our community.
Please be aware that we are not veterinarians. The information presented here is not meant to be construed as medical advice or guidance, nor should it be substituted for professional veterinary assistance. Always discuss any remedies and treatments you wish to pursue with your veterinarian.
Save
Save