Cancer doesn't always play by the rules and nobody knows that better than osteosarcoma bone cancer hero Boone. Six years after his people bypassed chemotherapy for their beloved bird dog, Boone's pack couldn't have asked for a better outcome.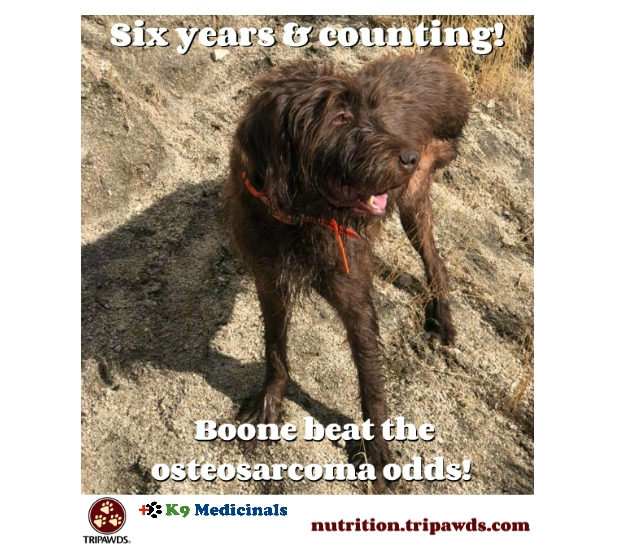 "We were just hoping for one more year," Dan Thompson recalls. But that hope didn't come easy. When his vet first suggested amputation for his best friend and upland waterfowl hunting dog, he was shocked and saddened.
It took time for he and his wife Cindy to come around to the idea, but after doing their research, they ultimately decided that Boone had the makings of a strong, healthy Tripawd. Nearly six years later, the Nevada couple is elated to know they were right.
Head's up: We love sharing stories of dogs and cats thriving with proven nutraceuticals. We are being compensated to get the word out about K9 Medicinals' products, but only because of their relevance to the Tripawds community. K9 Medicinals is not responsible for the content of this article.
A physically fit bird dog from a young age, this handsome Wirehair Pointing Griffon and Pudelpointer pup was barely four years old when diagnosed with osteosarcoma. The cancer's terrible prognosis was scary to think about, but Dan and Cindy stayed strong and held out hope for the best.
"He was young, the tumor didn't metastasize, there were no other signs of cancer," recalls Dan. "The only option in our mind was if we wanted him to survive we would need to do the amputation."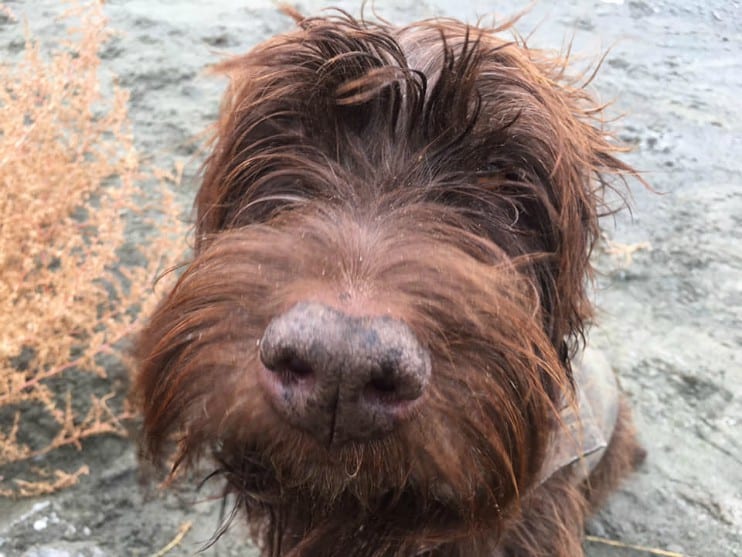 Next came the chemotherapy decision. That one wasn't so easy. "One of my closest friends' dog had cancer of the liver, and they opted for chemotherapy," recalls Dan. "And you could just see the chemo degrade the overall health of the animal. It was hard to see."
Dan and Cindy's veterinarian discussed all treatment options with them, but they opted out of the traditional treatment for their active bird dog. "I'm a huge fan of holistic treatments," Dan says. "Not only for our canine and feline friends, but for us.
Especially when you're talking about animals, I think the approach of holistic treatments is a good path to go down."
With no guarantees from Mother Nature, but a firm understanding of the immune boosting effects medicinal mushroom therapy can have on pets and people alike, the Thompsons and their veterinarian agreed that the anti-tumor, immune regulating beta-glucans compounds in K9 Medicinals supplements could help Boone thrive without decreasing his quality of life.
The decision worked out better than they ever dreamed possible. Month after month, year after year, Boone has defied the osteosarcoma odds.
Two years ago he was a Tripawd bird hunting dog and now, as he approaches his six year ampuversary, he still is! This distinguished senior dog is still a thriving example of how well the ingredients in K9 Medicinals® Immune Support can help a dog stay healthy and strong enough to keep doing their favorite activities.
The proprietary blend of clinically-researched ingredients in K9 Medicinals® Immune Support helped Boone by:
Strengthening and stimulating the immune system
Giving his body more energy to fight disease
"We've been very happy with it," says Dan. "I don't know if I can directly attribute it to Boone's success, but I would never not want to use the product. Since day one we've been using it like clockwork and now we're going on year six."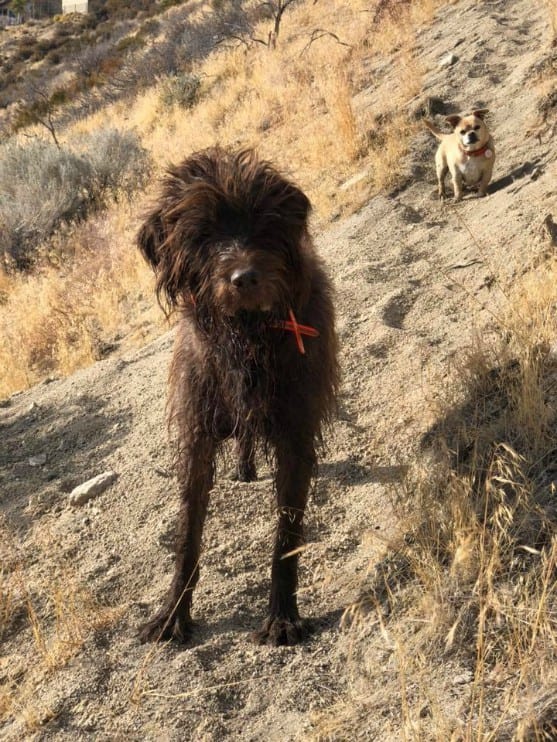 Today, whenever Boone goes for a wellness visit to his veterinary clinic, the staff is always amazed to see the miracle dog walk through those doors. Dan gets a kick out of reminding everyone how long Boone has lived with osteosarcoma. "The newest doctors at the clinic always ask "He had his leg amputated when?"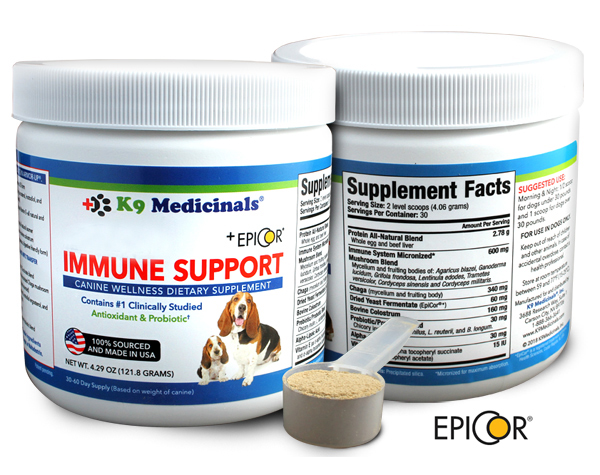 The information contained here is not intended to replace a veterinarian's advice. Please use your own good judgment and always discuss any therapies for your pet with your veterinary team.
Recommended Reading
Learn More About K9 Medicinals® Immune Support