Poor Wyatt Ray. His personal chef is a vegetarian and doesn't know the first thing following homemade bone broth for pets recipes. But now she's got no more excuses!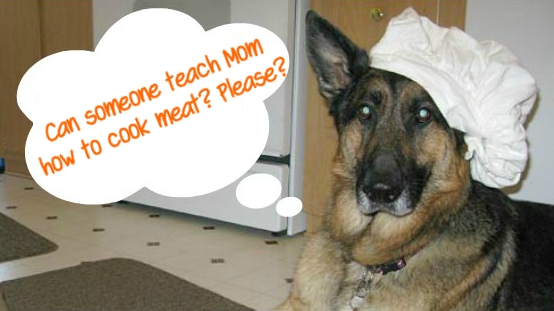 A great new book by Canadian veterinarian Dr. Judy McFarlen explains everything you ever wanted to know about making your own bone broth, for you or your dog or cats.
These Bone Broth for Pets Recipes Heals Dogs, Cats and People Too!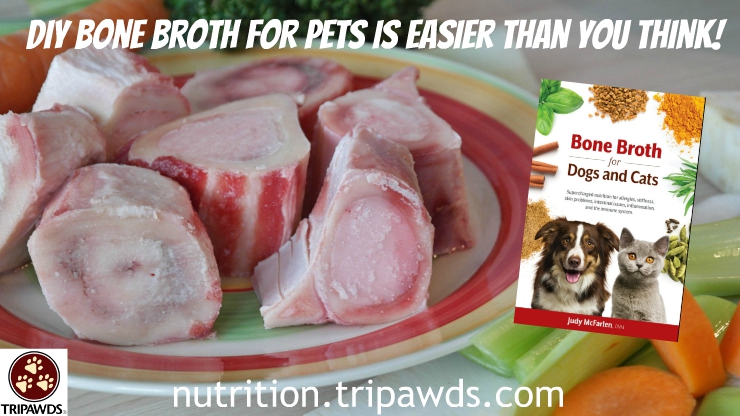 "Bone Broth for Dogs and Cats: Supercharged nutrition for allergies, stiffness, skin problems, intestinal issues, inflammation and the immune system," explains how "secret elixir" bone broth for pets recipes can help improve the health of our pets, and us!
The Benefits of Homemade Bone Broth
Inexpensive to Make and Tastes Great
Nicer Skin and Hair Coat
Better Digestion
Improved Satisfaction and Fluid Intake
More Energy
Great for Joints and Arthritis Pain
Builds Muscle Maintenance
Stronger Immunity
It sounds too good to be true right? How can one simple homemade bone broth recipe be so magical? Well, when you buy Dr. McFarlen's book, you'll find out.
As a vet who blends traditional and natural medicine into her practice, Dr. McFarlen explains the science of bone broth without getting too boring or technical. She shares how her homemade bone broth for pets recipes are filed with key ingredients that benefit the body, for example:
Gelatin that acts as an anti-inflammatory for better gut health
Collagen for wound healing (among many other benefits)
And a bevvy of essential amino acids to supply the body with energy.
"There are many benefits I have noticed in the animals I treat and even in my own dog," Dr. McFarlen writes, including:
improved water intake
more satisfied appetite
less shedding
better gingival (mouth) health
better breath
less farting
better stools
and less pain and stiffness, especially on waking up
The Complete Book of Easy Bone Broth For Pets Recipes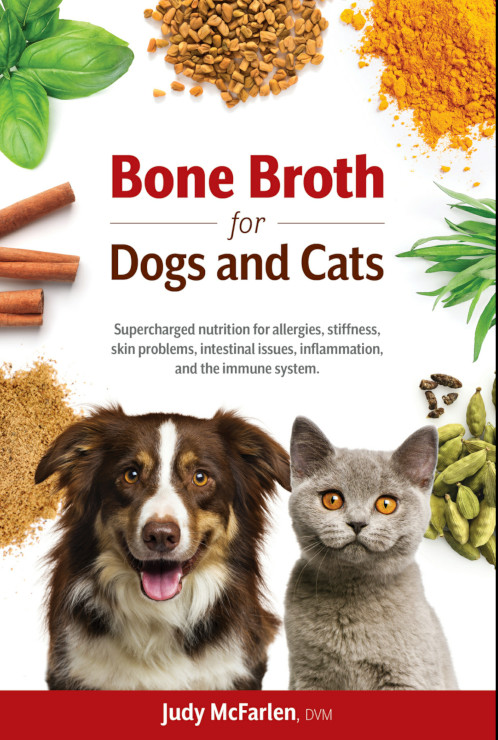 Dr. McFarlen's book features these recipes for making your own homemade bone broth:
Beef Bone Broth
Chicken Bone Broth
Wild Meats Bone Broth (pheasant, bison, quail, rabbit and venison)
Pork Bone Broth
She puts so much detail into preparing, stewing and even storing the variety of bone broths you can make, that there's no way you can go wrong. Even vegetarians like Wyatt Ray's momma can't mess this up!
About the only thing missing from Dr. McFarlen's book are photos. We would have loved pictures to whet our appetites for making homemade bone broth, but that's OK, we know how busy veterinarians can be. We're just glad to have this little e-book from a vet we can trust.