Leaping, turning and pronking through the high desert, it's hard to believe that two years ago this champion bird dog was diagnosed with osteosarcoma.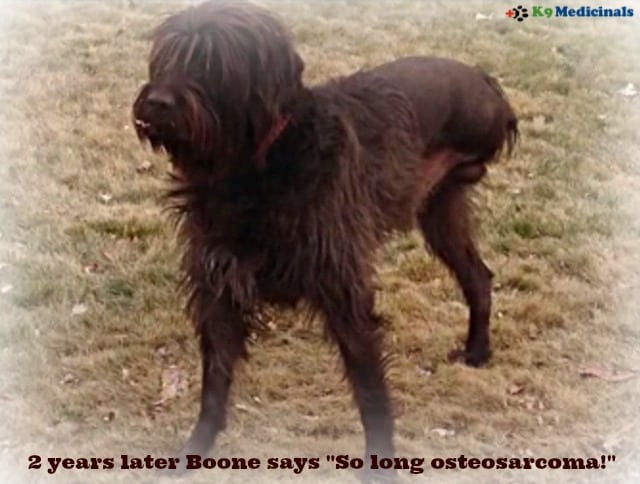 Statistically speaking, Boone shouldn't even be here – especially because he didn't have chemotherapy. His longevity has stunned everyone around him, but his humans aren't really surprised. In their hearts, they know that Boone is thriving because of his daily immune system support from medicinal mushrooms found in K9 Immunity Plus™.
We love sharing information about proven holistic veterinary supplements, which is why we are sharing Boone's story with you. We are being compensated for creating awareness around K9 Medicinals supplements but we only share information we feel is relevant to the Tripawds Community. K9 Medicinals is not responsible for the content of this article.
Boone the Bird Dog Didn't Get the Memo
Four year old dogs aren't supposed to get cancer, but the osteosarcoma cells invading Boone's leg never got the news. In October 2013 when Cindy and Daniel Thompson got the bad news that Boone had osteosarcoma, vets were as stunned as they were. "We were pretty scared," remembers Cindy.
One week prior, Boone was just hitting his stride flushing birds in the Sierra Nevada mountains. Agile and quicker than other hunters, "He leaps and bounds just like a deer," says Cindy. Boone had everything going for him, which is what made his osteosarcoma diagnosis even more devastating. Daniel was so distraught from the news that he took time off from work to research different osteosarcoma treatment options.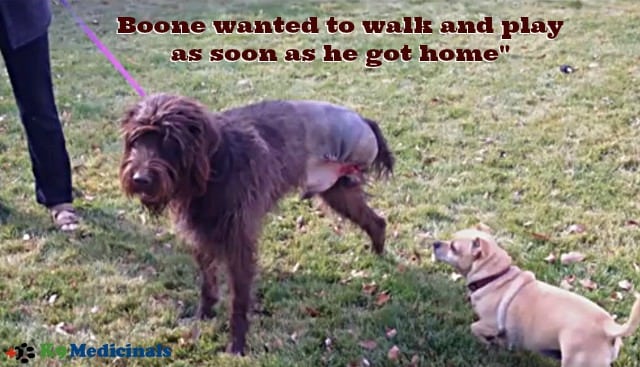 "The first thing you do in today's world is you get up on the internet and look up 'osteosarcoma.'" says Daniel. One search led to another with more odds stacking up against Boone. But then he stumbled upon DogCancer.net which features studies about immune system support from medicinal mushrooms and how they can help dogs with cancer. Daniel had just found K9 Immunity Plus.
How Immune System Support from Medicinal Mushrooms Works
For many years, immune system support from medicinal mushrooms has helped dogs and humans stay strong when fighting cancer. Medicinal mushrooms are well-studied because of their anti-tumor, immune regulating beta-glucans compounds. When carefully combined, medicinal mushrooms can:
Strengthen and stimulate the immune system
Give the body more energy to fight disease
Help patients rebound from the effects of chemotherapy.
These powerful mushrooms include the ones you're familiar with, like shitake, but also less common ones like coriolus, agaricus and cordyceps. All are carefully combined into K9 Immunity Plus™, a one-step chewable treat that boosts dogs' immune systems.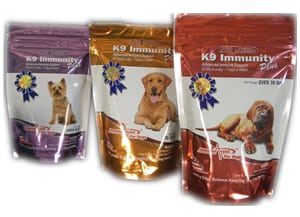 Instead of a daily fist-full of pills, dogs on K9 Immunity Plus get a tasty wafer of support with:
K9 Immunity™ — activates ALL 260 different classes of immune cells
K9 Transfer Factor™ — maximizes recovery results by enhancing K9 Immunity's effectiveness
K9 Omega™ — powerful fish oil to inhibit tumor growth and supports overall health during cancer treatment
Boone Thrives as a 2-Year Osteosarcoma Survivor
With the information necessary to make an informed choice about Boone's fate, Daniel and Cindy knew what they had to do. "It wasn't a very hard decision for Danny and I, we said 'Let's take the leg,' remembers Cindy. When it came to treatments she says that:
"Our vet didn't lead us one way or another, but we chose not to go with chemo. After doing research about K9 Immunity, Boone's been on that since day one, twice a day."
Two years later, the dog sitting by Cindy and Daniel's feet is all the proof they need to know that K9 Immunity Plus was the best decision for Boone. "Here we are. Two years later and he's got a vibrant, full life, he's an awesome hunter. He still retrieves, points. We attribute it to the immediate care that we did, we didn't linger. The best route was to get rid of the limb, get rid of the cancer as fast as we can." says Daniel.
With each passing month Boone skewed the depressing osteosarcoma survival statistics. Last October when he reached his two year ampuversary, his fan club was elated. Daniel and Cindy's treatment choice worked better than anyone imagined.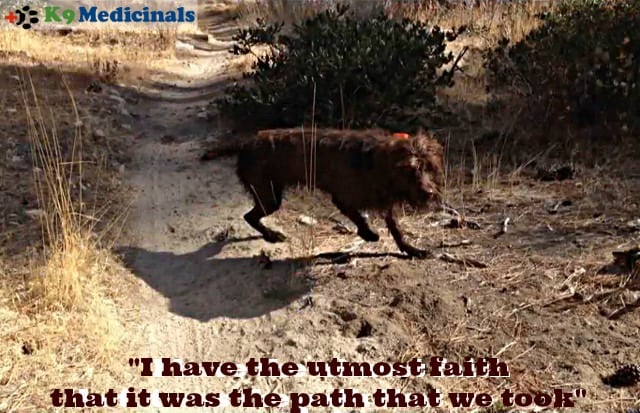 "I don't know what pushed him through but I have the utmost faith that it was the path that we took," says Daniel. Was it easier than chemo? Not necessarily, Daniel recalls. "It was difficult at first because he did not like the flavor (of K9 Immunity Plus)." But instead of giving up, Daniel and Cindy worked around Boone's tastes. They approached Boone's hesitation with understanding and patience. "We ended up putting them (the wafers) in butterballs. Then he would eat 'em. Now he eats them in any form."
"Boone wanted to walk and play as soon as he got home (from surgery)" says Cindy. Proud of her osteosarcoma survivor, she adds "He can teach us humans a lot about losing a limb or going through a huge health event in your life. As soon as that next bird season came, Boone was swimming. He was going out and retrieving birds . . . anybody who sees him sees that he hikes, he hunts, he swims, he plays. She adds:
"We never let him miss a beat. We treat him as if he has four legs because that's what he wants us to do. He wants to live like he did before."
(Photos by Daniel and Cindy Thompson).
Learn about K9 Immunity Plus
Three Ways to Help Your Dog Fight Cancer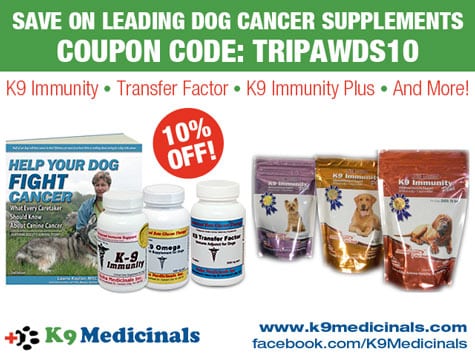 NOTE: This information is not intended to replace professional veterinary advice. All cancer treatment therapies should first be approved by your veterinarian. Please share this medicinal mushrooms information with your vet and encourage them to contact K9 Medicinals with any questions they have.