Through the years the herbal treatment Artemisinin has been discussed in our community (see "What's All this Talk About Artemisinin"), but not often. Most oncologists and vets don't have enough familiarity with this treatment to recommend it to their patients, but one vet who does is Dr. Lena McCullough of A Path With Paws.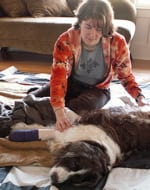 We love Dr. McCullough's approaches to fighting pet cancer with herbs and Traditional Chinese Medicine (TCM) as well as acupuncture. Her website, A Path With Paws, is a renowned resource about holistic care for dogs and cats with a focus on cancer care. We've been honored to have her as guest on this Tripawd Talk Radio episode.
Artemisinin Facts from a Natural Medicine Vet
Recently we discovered some pawtastic information that Dr. McCullough wrote about using Artemisinin to fight dog and cat cancer:
Artemisinin is the second most common herbal I use to fight cancer in animals and it is extremely safe in almost all cases. — Dr. Lena McCullough
In her blog post, "Artemisinin — When Cancer Cells Kill Themselves," she shares the facts about using Artemisinin for pet cancer care. For example, she says that Artemisinin:
is useful for both dog and cat cancers
works best against bone cancers, squamous cell carcinoma, fibrosarcoma and lymphoma.
has no side effects that she's seen, other than clearing up bad breath in animals
works best if there is a break from it every two weeks
Artemisinin cannot be used in animals undergoing radiation therapy. " If your animal is undergoing radiation you must wait a month after the last treatment of radiation to use this," she warns.
As a holistic veterinarian who uses Artemisinin in her daily practice, Dr. McCullough sure knows her stuff when it comes to this herbal therapy. To learn more about how Artemisinin works, what dosages to give dogs and cats (it varies by weight) and other interesting inormation, hop on over to the artesminin article at A Path With Paws and let Dr. McCullough know that Tripawds sent you.
Recommended Reading
Tripawds Nutrition Blog: What's All this Talk About Artemisinin?
The Tripawds Downloads Blog: Ancient Chinese Herb Cures Cancer?
Tripawds Amazon Blog: Practical Information About Artemisinin for Dog Cancer