The rules to fight pet cancer with nutrition are constantly evolving. For example, it's always been commonly thought that a low carb pet cancer diet was the best way to fight pet cancer through nutrition. But now most conventional veterinarians agree there's no evidence there a low-carb pet cancer diet actually works. Here's what we now know about this popular way to feed pets with cancer.
The Best Pet Cancer Diet is Not One-Size-Fits-All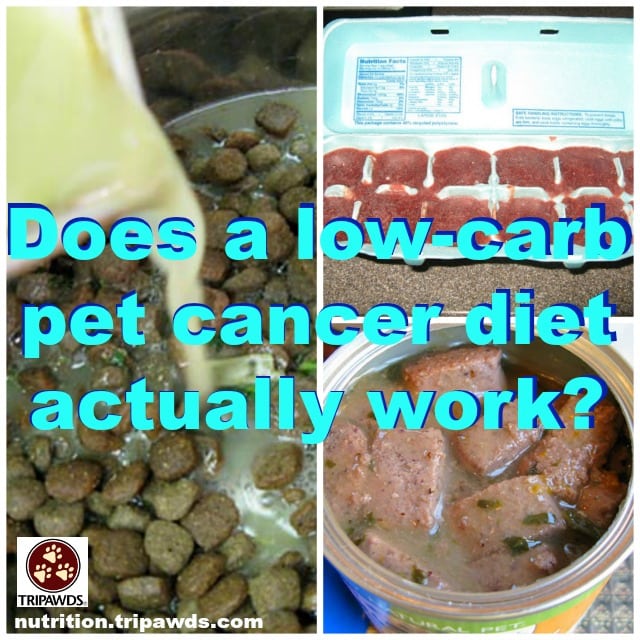 It's tempting to follow the low-carb, high protein pet cancer diets of Tripawd heroes like Logan, Sheba and Clyde. When Tripawds Founder Spirit Jerry fought osteosarcoma. we also looked to other pet cancer survivor diets for guidance and fed him the same way.
But in the latest American Animal Hospital Association Oncology Guidelines for Dogs and Cats, we learn that there is no one-size-fits all approach to eating healthy while fighting pet cancer. 
Diets should be tailored to each individual taking into account their cancer diagnosis, any other disease processes (e.g., pancreatitis or renal disease), and nutritional needs, as well as environmental factors including other pets in the household and an owner's ability or willingness to feed the diet.
Do Low Carb Pet Cancer Diets Work?
The low carb high protein pet diet theory began years ago because of one single study about dogs with lymphoma. Through the years this theory took on a life of its own and today most pet parents take it as gospel that getting rid of carbs means getting rid of cancer.
But in fact, the low carb pet cancer diet theory is hotly debated between conventional and holistic veterinarians alike. You'll get different answers depending on who you ask. For example, if you asked Mercola's holistic veterinarian Dr. Karen Becker about carbs, she will tell you to avoid them.
Cancer cells need the glucose in carbohydrates to grow and proliferate. If you limit or eliminate that energy source, you do the same with the cancer's growth. That's one of the reasons I always discourage feeding diets high in carbohydrates. Carbs are pro-inflammatory nutrients that also feed cancer cells. READ MORE: "Cancer and Your Pet: Two Things to Avoid."
But if you mention carbs to any of the ACVN Board Certified Veterinary Nutritionists from the "Ask the Veterinary Nutritionist" panel at PetDiets.com, a resource providing independent nutrition consultations for pets with medical conditions, they'll tell you that eliminating carbs is an unscientific way to feed a dog with cancer:
The low carbohydrate diet for cancer is grossly over rated and without valid supportive data. The original research was done in Labradors with lymphoma and those that ate the high fat diet lived ~50 days longer. The design was problematic because the diets have many different features, not just fat to carb ratio. This study has never been repeated in the last 10 yrs although others have tried.
One veterinary oncologist takes a middle stance about carbs and pet cancer diets. Dr. Sue Ettinger, DVM, Dip. ACVIM (Oncology), co-author of The Dog Cancer Survival Guide, says that when it comes to carbs and pet cancer:
While there is little scientific data specifically showing feeding such a diet helps treat the dog cancer, as long as the diet is balanced, I think there is no harm, in my opinion.

Remember: carbs are not all inherently bad, and some sources contain many valuable vitamins and minerals. Instead of generalizing "all carbs are bad," I think we should be more critical of the carbs source such as GMO (see above).

For me, the grain-free diets are less important than the source of the grains.

But I don't think you need to eliminate all carbs. READ MORE: "Diet and Dogs with Cancer"
Ultimately she says that even healthy snacks like carrots have carbs. And our opinion is that if your dog likes munching on carrots, then why not let her enjoy a carrot snack? Not only will you make your dog happy, but even that carb stick can give her a way to fight cancer. "Epidemiologic studies in people show protective effects of diets rich in fruits and vegetables," explains Dr. Ettinger.
More Tips for a Better Pet Cancer Diet
Before you decide on what to feed your pet, check out these tips about how to feed a dog or cat with cancer:
Feed Smaller Meals More Frequently
Dr. Korinn E. Saker, MS, DVM, PhD, Diplomate ACVN from the American College of Veterinary Nutrition suggests feeding in smaller quantities throughout the day.
Feeding Frequency: Providing the daily food allotment in smaller, frequent meals can be beneficial by:

Enhancing overall nutrient uptake via the GI tract

Minimizing intolerance due to meal volume

Providing a sustained energy source throughout the day

Decreasing stress associated with large meal feeding.

READ MORE: "Practical Approaches to Feeding the Cancer Patient."
Change Up the Feeding Routine
If your pet gets picky and doesn't want to eat the meal plan you've prepared, try the strategies in this excellent white paper "Feeding a Pet During Chemotherapy" (originally shared by Bart the Tripawd Vizsla's Veterinary Nutritionist Dr. Susan G. Wynn, DVM, CVA, CVCH, AHG)
Change your pet's diet. Work with your veterinarian to determine appropriate foods and diets for your pet. If your pet refuses one food, offer a different one. Vary the stimulus properties of the food. This includes things like:

a. Feed your pet in a different dish – use a paper plate or a different bowl. Handfeeding or having your pet lick items off of a spoon might work as well.

b. Feed your pet in a different room.

c. Change the texture of your pet's food. Puree their food (even if it is already canned) to a very smooth texture…or go the opposite route and give tabletextured foods or hard biscuits.

d. Change the temperature of your pet's food. Sometimes the smell of warm food will entice your pet. However, if your pet is nauseated, he may prefer cold food.

e. Have someone else feed your pet…or, if desperate, take your pet to a friend's house to have dinner
Fighting pet cancer is not all-or-nothing choice. Even among holistic and conventional vets, theories about cancer nutrition for pets is always evolving. As you make your own choices about the best pet cancer diet for your Tripawd, remember two things if you want to help your pet live healthy:
Your veterinarian must be involved in your pet nutrition choices.
Your pet is unique in every way. What worked for one may not work for yours. Focus on what your pet likes to eat or you may be reducing their quality of life instead of enhancing it.
Pet Cancer Diet Nutrition Resources
The American Academy of Veterinary Nutrition lists the following pet cancer diet resources for pet parents who want to explore pet cancer diets with a veterinary nutritionist.