Think you don't have the time or know-how to feed raw dog food to your pack? Think again. Last year we discovered TruDog, a raw freeze-dried diet. We fell in love with it and best of all, Tripawds Spokesdog Wyatt Ray loves the taste. We appreciate the convenience too: all you do is add water! As a bonus, it's pretty easy to help your Tripawd lose weight with TruDog's meals.
How Weight Loss with a High Protein Raw Diet Worked for Wyatt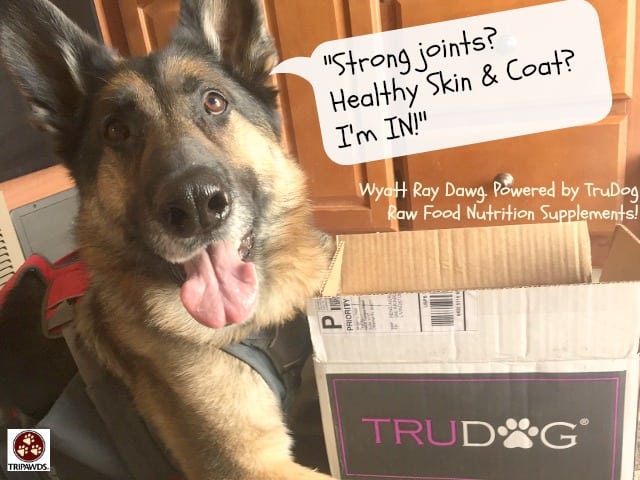 Since Wyatt is a super (hyper) active German Shepherd, he gobbled up TruDog. His body quickly metabolized the many benefits of TruDog's formula:
100% American sourced and produced meat
Freeze-dried mix of raw vital organs, muscle meat, blood and bone.
From farm to table in less than 72 hours.
No fillers, veggies or artificial preservatives
No rendered or "meal" products
Raw Dog Food? Just Add Water!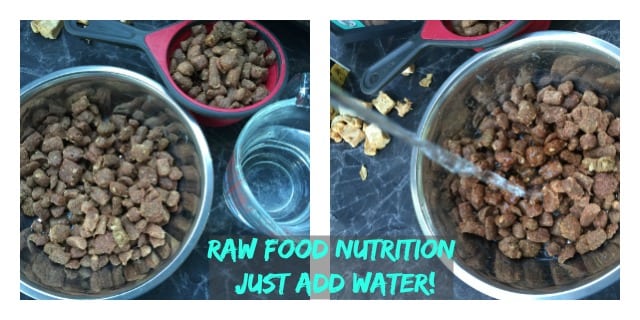 As a bonus, high protein diets like TruDog's are a go-to recipe to help pets lose weight. In the Tripawd Talk Radio episode about weight loss for dogs, Dr. Ernie Ward tell us that a high protein diets for dog weight loss can help many dogs:
". . . . you reduce the calories, maybe boost the protein, boost the fat and decrease the carbs."
Wyatt devoured TruDog. His breath was great, he had shiny fur and his joints were limber. The only problem? His body burned through the high protein diet too fast. After he gradually lost a few pounds that he didn't need to lose, we had a revelation:
Yes, Tripawds should be leaner than other dogs, but Wyatt was too lean!
Wyatt Lost Weight with Raw Dog Food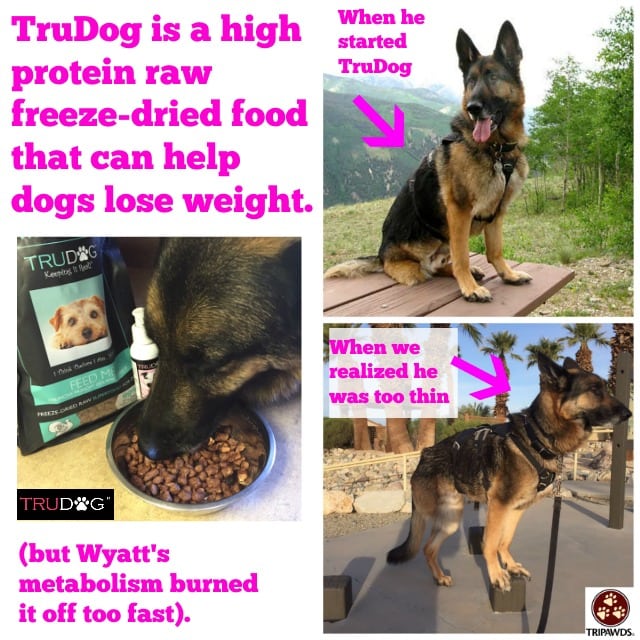 After a complete vet exam and lab work, we took Wyatt off TruDog and put him on a prescription diet. We wanted to rule out the possibility of irritable bowel syndrome. Thankfully, Wyatt regained his weight and is back to his old self. Sadly, as much as we love TruDog food, we realized it's just not right for his metabolism.
Just like people, there is no one "magic" food that's right for everyone. Whether human or dog, nutritional needs vary. Many dogs will do awesome on TruDog, but Wyatt isn't one of them. However with his vet's approval, we can still help Wyatt enjoy the many benefits of TruDog's top-notch supplements like:
He Gets Tru Dog Raw Dog Food Supplements Every Day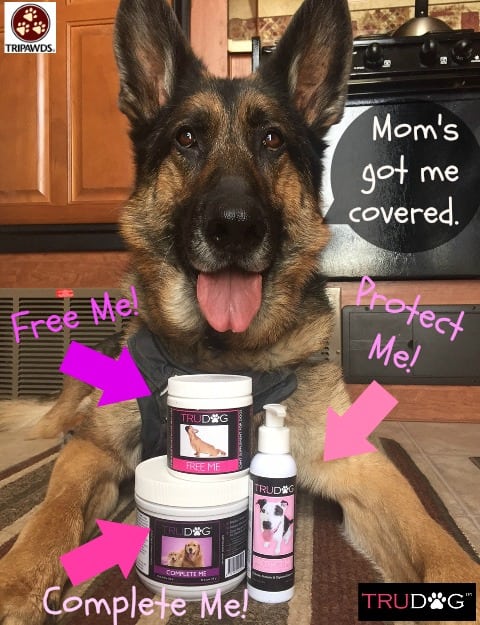 An all in one solution: a multi-vitamin, anti-oxidant skin and coat supplement and a complete inflammation reducing workhorse all in a simple to feed soft chew!
Promotes healthy skin and coat while combating metabolic syndrome
Reduces dryness and irritation
A probiotic in a delicious gravy that your pet will devour.
Improves overall gastrointestinal maintenance and health
Better absorption of essential nutrients from their daily diet
A high quality joint support supplement is one of the most critical needs for a Tripawd. This is TruDog's great tasting beef liver flavored powder.
Reduces Inflammation
Increased Joint Cushioning
TruDog supplements are complimenting Wyatt's new prescription diet. Meanwhile, TruDog meals are still our Number One recommended food for anyone who wants a safe, convenient and trustworthy way to feed a raw diet to dogs.
Since there's no shortage of Tripawds who need to drop a few pounds, we encourage those pack members to investigate weight loss with a high protein raw diet like TruDog's!
Subscribe to TruDog's Newsletter and Save BIG

We know TruDog supplements and food isn't inexpensive, and so does the company. That's why every week TruDog throws HUGE TruDog Flash Sales. Help your dogs eat well and stay healthy when you subscribe to the weekly TruDog newsletter!