As Angel Patchy and others before him have taught us, it's not hard to create a healthy and nutritious vet-approved home cooked dog food diet. The key is having a holistic-minded vet guide us through the process to ensure our pet, whether dog or cat, gets all the right nutrition for a healthy life. Once we have that foundation, the sky's the limit for the high quality, yummy meals we can make.
Anka's Vet-Approved, Home Cooked Dog Food Diet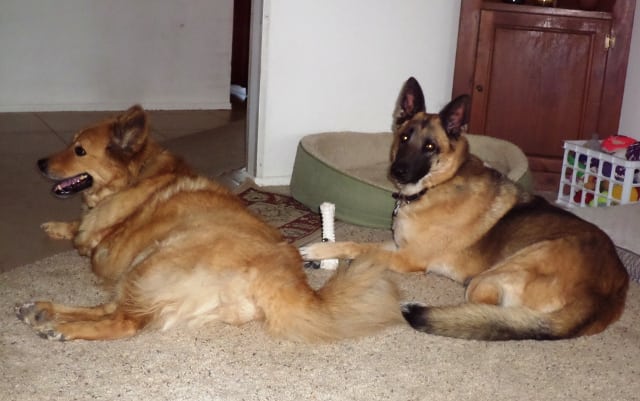 Recently we learned about a healthy home cooked dog food diet that Tripawd Chuy Malone's mom makes for Anka, his packmate. Chuy's mom Eleanor runs a busy household with three dogs. When she discovered Anka has trouble processing commercial food, she sought help from her vet. Together they turned to home cooking. Here's what she says:
"I cook her food twice a week as she doesn't tolerate commercial food, doesn't matter what brand we have tried. The vet said it is most likely the processing or preservatives. Either way, she gets 100% preservative free, home cooked, chicken, brown rice, black bean, pea, carrots, green bean, probiotics every day and maintains her weight and health just fine.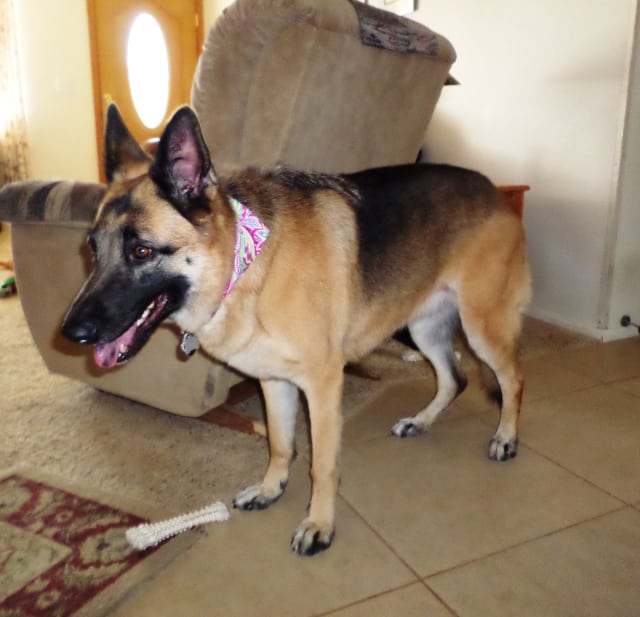 We asked Eleanor to share her home cooking tips with us and we hope you find them as helpful and appealing as we do!
Here is my recipe, vet approved and cooked in a crock pot.
3-4 boneless/skinless chicken breasts
1 cup brown rice
2 – 12 oz bags frozen peas & carrots
1 – 12 oz bag french cut green beans
1 – 15 oz. can no salt added black beans, strained & rinsed
Place chicken in bottom of crock pot.
Pour in rice, black beans, add all vegetables
Add 1 cup of water.
Set cooker to 4 or 4 1/4 hours. Cook until chicken is tender.
Remove chicken, cool and cut into 1/4″ cubes, (it will usually just kind of fall apart).
Mix into rice & veggies
Refrigerate or freeze portions.
You can also add scrambled eggs or hard boiled eggs, if you like.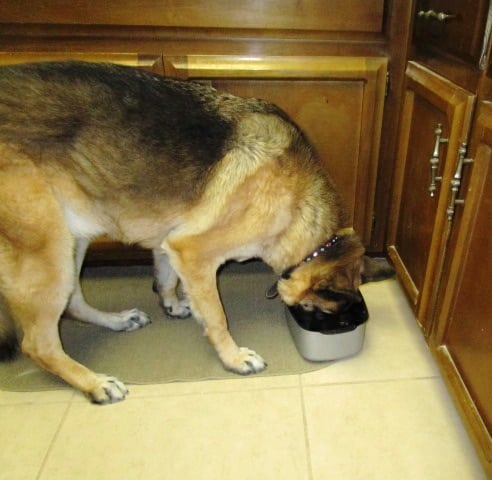 I do add Fortiflora probiotics for dogs to one meal a day. Don't cook the probiotics! If you can't do that, add 1/4 cup reg. dog food once a day.
Anka gets 4 cups a day, I make this twice a week for her. Anka also gets carrot treats and some freeze dried chicken treats twice a day.
Without this diet, Anka gets bloody, runny poop. Commercial processing or preservatives do this to her. All natural is the way to go for her.  She is seven years old and weighs 75 lbs., and maintains her weight on this diet.  She loves to lick the pan too!"
Do you have a Tripawd nutrition success story you'd like to share? Let us know and we'll be glad to share it here so others can benefit too.
Please note that we are not vets. The information presented here is not meant to be construed as medical advice or guidance, nor should it be substituted for veterinary assistance. Always discuss any remedies and treatments you wish to pursue with your veterinarian.
Recommended Reading
A Grain Free Dog Food Recipe for Hoppy Tripawd Bellies
Holistic Vets Help Logan Survive, Thrive After Osteosarcoma
All Tripawds Nutrition Blog Post Recipes