We love our pets unconditionally and often that means loving them as we love ourselves . . . with tasty foods that warm our hearts. But before we actually see it with our own eyes, our dogs and cats are part of the growing pet obesity epidemic. Is your Tripawd overweight from all that lovin'? If you're not sure, here's how to tell:
Do You Have an Overweight Tripawd?
The fact is, more than half of all pets are overweight, according to the Association for Pet Obesity Prevention. That's bad news for quadpawds but extremely dangerous for amputee dogs and cats.
Even one extra pound can put serious stress on a dog or cat's remaining limbs and cause unnecessary mobility hardships.
If your Tripawd has slowed down and become less enthusiastic about playtime, a few extra pounds could be the culprit. The good news is that you CAN do something about it! Here's how to tell if you have an overweight Tripawd.
(click to enlarge as a PDF)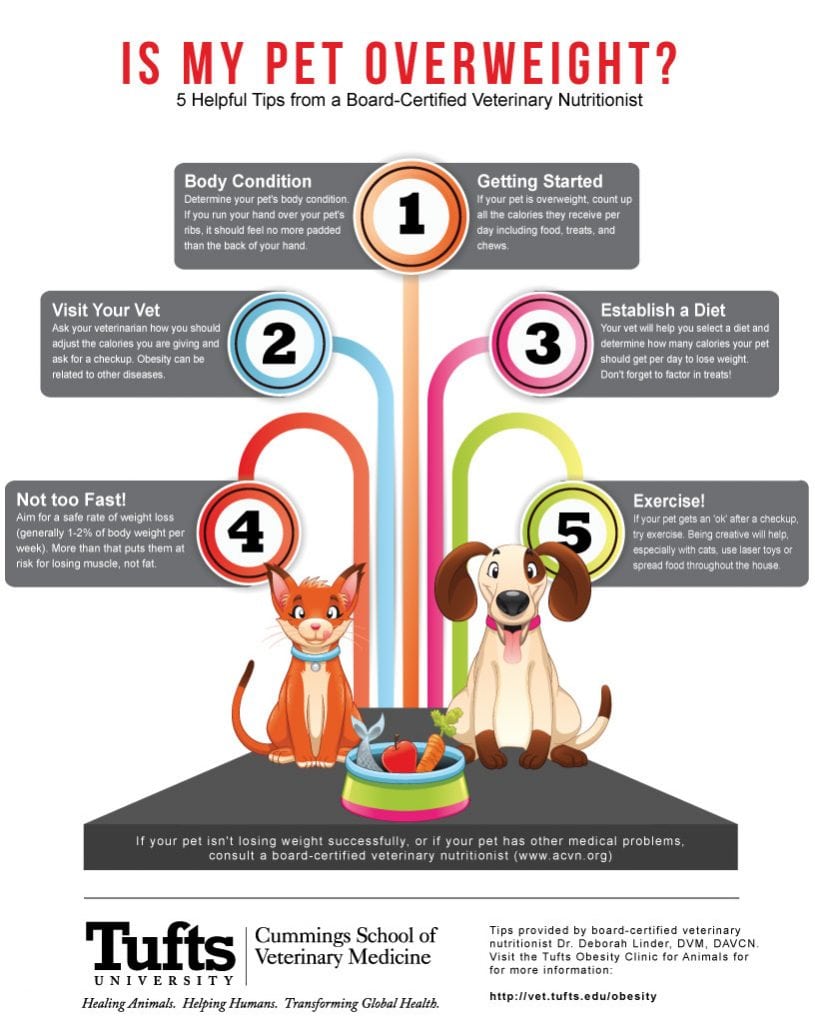 Step 1: Do a rib check.
Run your hand over your pet's ribs. The area should feel no more padded than the back of your hand, according to Deborah Linder, DVM DAVCN, a board certified veterinary nutritionist at Tufts University Cummings School of Veterinary Medicine. "If you're pushing through a pad of plump, chances are your pet is too heavy," writes pet weight loss expert Dr. Ernie Ward.
Step 2: Book that vet exam.
If you suspect you have an overweight Tripawd, stop by your vet's office and ask for a weight check. Most clinics are happy to do that at no cost. If your dog or cat has gained weight since their last weigh-in, don't wait; book an exam with your veterinarian. Weight gain can be caused by any number of things so it's critical to get a complete physical before deciding to cut back on food and treats.
"If your pet is gaining weight, I recommend complete blood tests, urinalysis and blood pressure evaluation. Diseases such as hypothyroidism and Cushing's disease can lead to excess weight gain in some pets. Other times your veterinarian may discover an emerging problem such as early kidney disease, elevated blood sugar or high blood pressure." — Dr. Ernie Ward, founder of Association for Pet Obesity Prevention.
Step 3: Count Calories and Exercise Together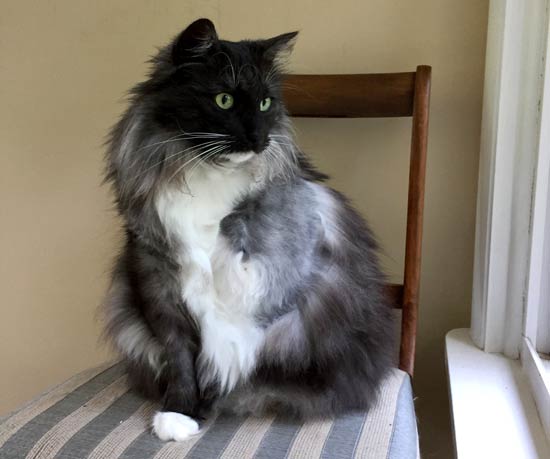 If your Tripawd doesn't have a health issue and simply needs to eat less, congratulations! You have more power than any pill to make that happen. First, ask your vet to recommend a proper diet and calorie count for your Tripawd, then start taking care to follow the recommended food intake each day. "Weight loss isn't about starvation or deprivation; it's about safe and sustainable lifestyle changes. We're not simply chasing a number on a scale; we're improving overall quality of life," writes Dr. Ward.
Next, take advantage of the Maggie Moo Fund for Tripawd Rehab! Take your three-legged dog or cat to a certified animal rehabilitation therapist and the Tripawds Foundation may reimburse you for your first consultation, typically the most expensive. This is the best way to figure out the correct and safe exercise animal amputees like yours!
To see the results of rehab therapy for Tripawds, check out these Tripawd rehab therapy success stories from the Maggie Moo Fund recipients!

Weight gain steals a pet's life energy but weight loss is a gift that gives them their youth back. Be slow, steady and consistent about your Tripawd's 2018 weight loss program and before you know it, that playful puppy or crazy kitty you brought into your life will reappear once again.
Recommended Reading
Tips to Help Your Tripawd Lose Weight
Better Pet Fitness in Four Steps