Some days it's harder than others to feel good about feeding our dogs and cats commercial diets. Like when discovering that pet food manufacturers are allowing millions of rotten salmon carcasses into pet food.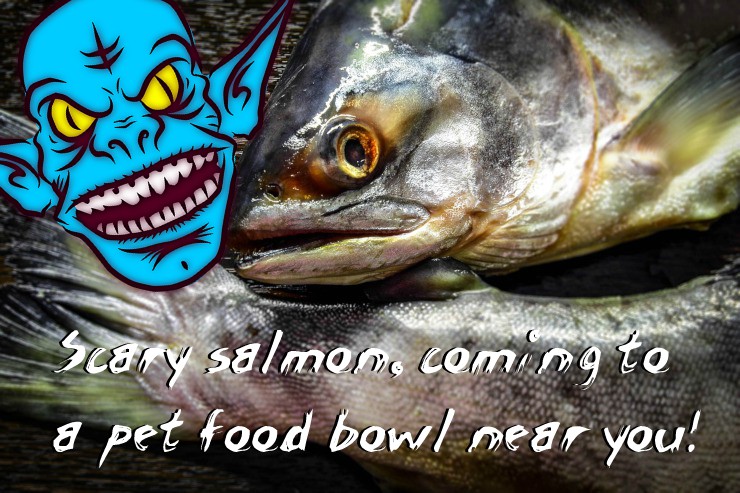 How salmon die-off carcasses will end up in pet food.
In her recent Friday Five newsletter, Tripawd Talk Radio guest, integrative veterinarian Dr. Judy Morgan, spotlighted an important news story from The Truth About Pet Food.
In the article, we learn about a massive salmon die-off at an offshore farm in Canada's Newfoundland and Labrador provinces. Somewhere between two and eight million salmon died in September 2019, when water temperatures in their holding pens got too warm, or algae bloom overtook oxygen levels. Nobody knows for sure. But what they do know is that all was not lost in the salmon die-off, at least for the fish farm and pet food manufacturers.
The 2.6 million salmon carcasses will be delivered to another company to be processed and turned largely into cat food and other animal feed. — The Chronicle Herald
The scary salmon die-off carcasses will end up in pet food bowls. But consumers won't be told if the salmon pet food we buy contains the rotten fish.
Most frightening of all is that the FDA still allows animals that have died from causes other than slaughter, such as disease and euthanasia, to end up in pet food.

So Much for "Fresh Salmon" Pet Food
It's a given that salmon will be killed for pet food. But in this latest instance, those millions of dead salmon were rotting for many days, possibly weeks, before divers pulled them out of the pen.
By the time the salmon made it to pet food manufacturers, they were in a far more decomposed state than the usual batches.
Would you allow your pet to eat roadkill? Or eat a fish they found rotting on the shore? 
If you buy commercial pet food, that's exactly what they could be eating. We'll never know for sure.
It's times like this when we believe that feeding our pets a safer, animal-free protein diet like Wild Earth makes all the sense in the world. If you haven't learned about this innovative, cruelty-free dog food, give our Tripawd Talk Radio episode with Wild Earth's Chief Veterinarian, Dr. Ernie Ward, a listen: