Keeping Wyatt Ray moving is always on our mind these days. Osteoarthritis is taking a bigger toll on our Tripawds Spokesdog, and we are always looking at new ways to ease the pain. At a recent veterinary conference, we discovered Actistatin® joint support supplement for dogs that might be able to help.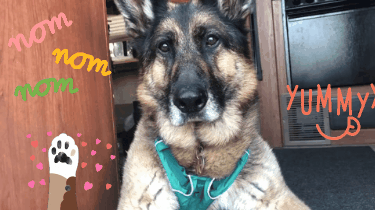 Note: this blog post contains Amazon affiliate links, which means the Tripawds community receives a small commission from whatever you buy after clicking on them. Thanks for supporting our community with your purchases!
How Actistatin Helps Dogs Stay Active
At nearly eleven years young, Wyatt's not the kid he used to be. We do we can to keep his joints moving and healthy with prescribed rehabilitation therapy exercises and good pain management. But sometimes it's clearly not enough. He wants to run and play some days, and others all he wants to do is lay around. We need to do more.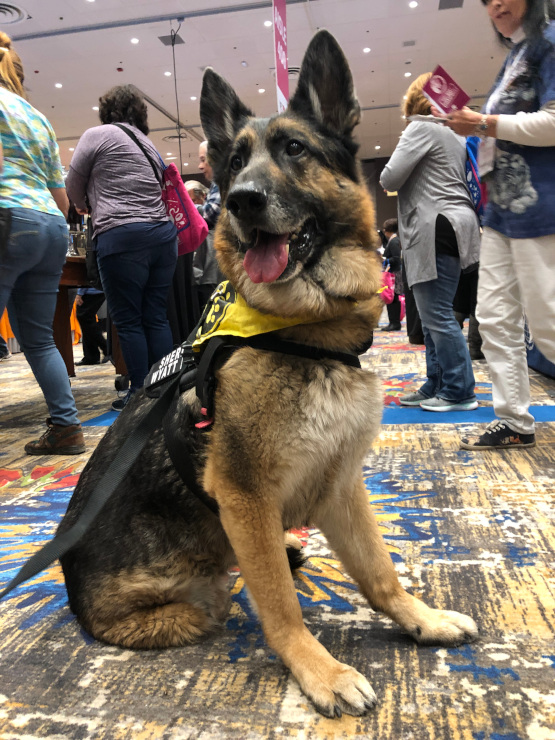 So last month when we attended the Wild West Vet Conference, we found Actistatin joint support for dogs in the exhibit hall.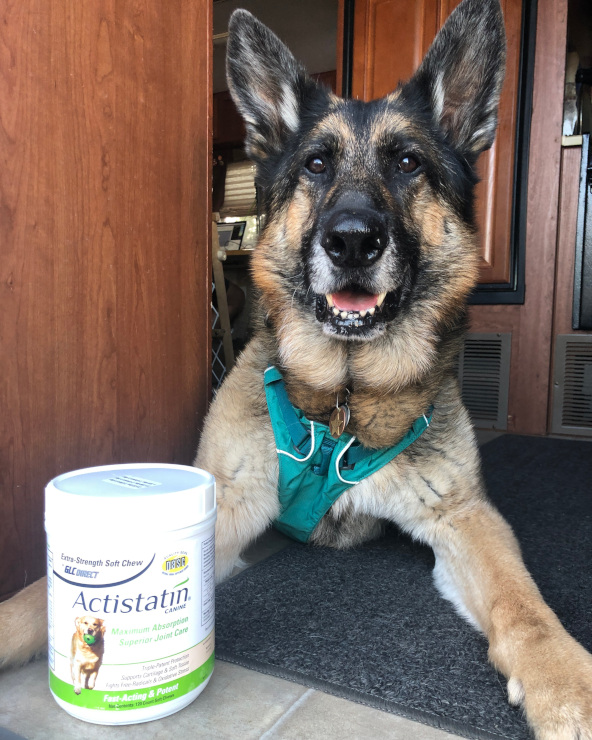 Actistatin relieves joint stiffness and promotes mobility with:
Patented, clinically-tested formula of four different Glucosamines plus Chondroitin, MSM and Type II Collagen
Powerful antioxidants to support immune system health
L-Carnitine for cardiovascular health and digestion
Helps cardiac, brain, renal and joint function
And sure, lots of other joint supplements say that do that too. But Actistatin stood out to us because it has the NASC (National Animal Supplement Council) seal.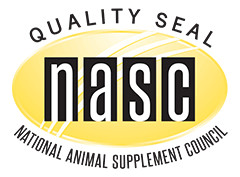 The NASC works with the FDA and responsible manufacturers to improve the quality of their products.
Only companies that commit resources to enhancing and protecting the integrity of the animal health product industry are eligible for the NASC Quality Seal. Actistatin is one of them.
Made by GLC Direct, the Kentucky-based company is 100% committed to providing the highest quality nutraceuticals and dietary supplements possible, for people and pets.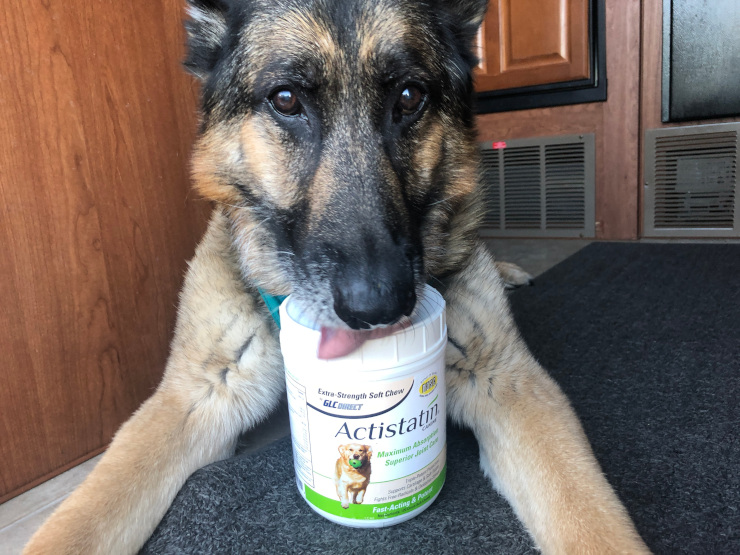 Wyatt Takes the Actistatin Challenge
When we told the Actistatin Canine representative that we were about to put Wyatt on expensive Adequan injections, she said "Try this for 30 days, and then tell me if you think he still needs it."
Then she handed us a complimentary jar of the tasty chews. We couldn't argue with that because we know Wyatt would give anything to get his mojo back, and we would too.
So while he happily chomps on the tasty chews, once in the morning, once at night, we will be closely watching to see if Actistatin can do that. We'll keep you posted.
More About Actistatin® Joint Support for Dogs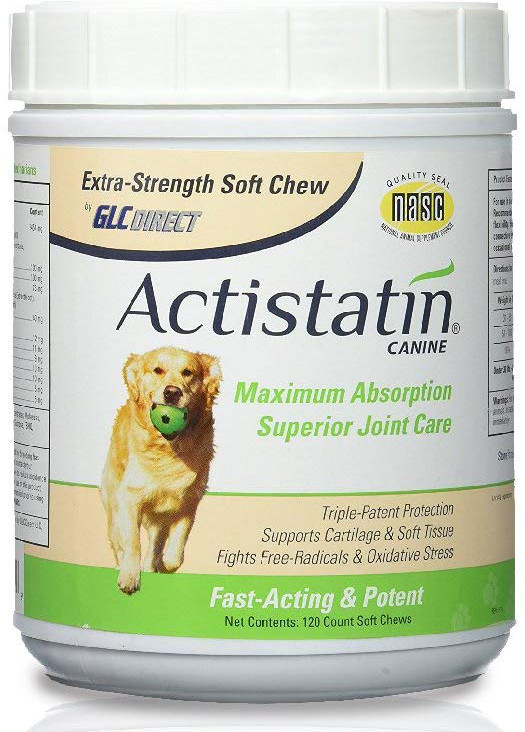 Here's how Actistatin helps reduce inflammation and promote healthy joints and bones:
Triple-patented Formula for Maximum Absorption
60% Absorption to the Bloodstream – The Highest of ANY Oral Joint Supplement
Fights Normal Inflammatory Responses
Promotes Joint Synovial Fluid Production
Powerful Antioxidant & Omega-Rich Formula
No Loading Dose
Safe For Long Term Use
You can get Actistatin Canine on Amazon and special offers are available by signing up at the GLC Direct website.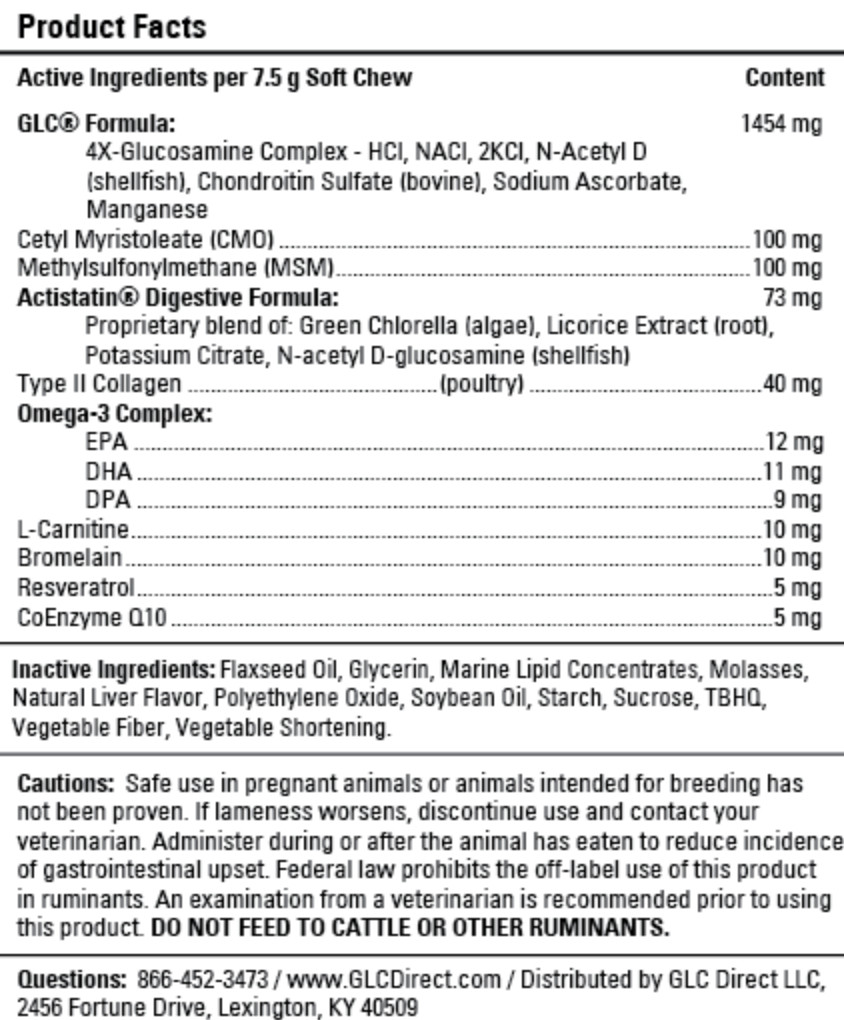 Have you tried Actistatin Canine on your pup? If so, let us know your experience in the comments below. Meanwhile check out what others are saying on Amazon!