In our Ask a Vet chat with Dr. Jessica Waldman last week, she mentioned that "Adequan is great for degenerative joint disease."
We wanted to find out more about this canine arthritis drug. Novartis, the manufacturer of Adequan®, describes it as:
". . . a prescription, water-based, intramuscular, polysulfated glycosaminoglycan (PSGAG) that helps prevent the cartilage in your dog's joint from wearing away. It helps keep the cartilage healthy and intact, so that the bone in the joint cannot touch other bones. No other drug for arthritis can do that."
According to the Mar Vista Vet website's library, "
"The active ingredient in Adequan is polysulfated GAG (mostly chondroitin sulfate) extracted from cow tissue (the trachea, to be exact)."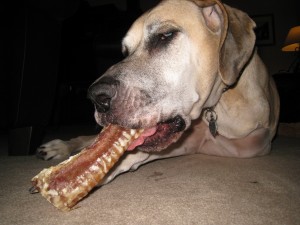 (Hey Nova, are you reading this?)
Mar Vista Vet's website gives a detailed description of degenerative joint diesease and how Adequan:
provides anti-inflammatory properties that slow down damage to the cartilage
promotes enzyme systems that promote other aspects of joint repair
helps the joint create more lubricating fluid.
Adequan is available by prescription only, and can be ordered online.
Tripawds.com is a user-supported community. All purchases made through this site help us continue providing research and support for pawrents when they need it most. Thanks for shopping online with us!