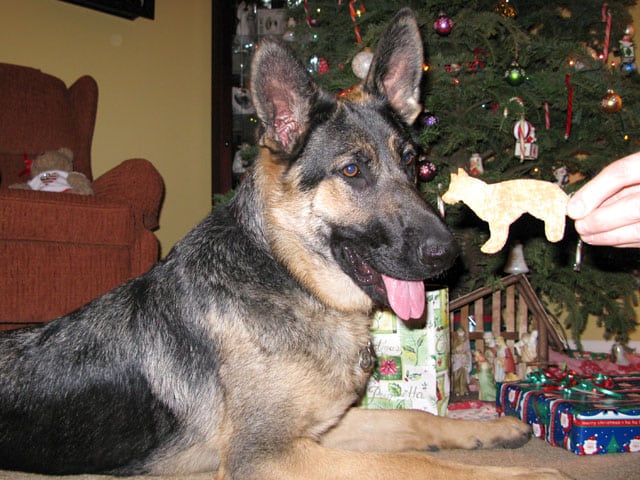 Last Christmas, the Oaktown Pack gave us these deeeeelicious healthy treats which are part of their homemade dog food repertoire.
These treats are so tasty, you won't even know they're healthy. The recipe can be tailored for Tripawds with cancer too.
Codie Rae's Crunchy Health Treats
Ingredients:
2.5 cups flour: try brown rice, rye, quinoa or barley for dogs battling cancer, or whole wheat if you aren't concerned about carbs.
1/2 cup oat bran
1/3 cup semolina flour
3/4 cup grated chese
1 egg
2 teaspoons oil
2 teaspoons peanut butter
1 cup water
Place the flour in a food processor along with the cheese and peanut butter. Process until completely incorporated.
With the machine still running slowly add the beaten egg followed by the water. The mixture needs to be on the wet side. Let rest for five minutes and process again.
Divide the dough into two portions and roll it on a floured board and then cut into squares of the appropriate size with a pizza cutter. If you want you can make tiny training treats. You can also use a cookie cutter if you want special shapes.
Bake on a parchment lined sheet for 20-25 minutes at 300 degrees F, turn over and bake another 20-25 minutes.
If you want crispier treats cook them longer. We have found it can help to let them sit over night after the two bakes before cooking a third time to get extra crispy versions.
Don't miss this healthy homemade dog food diet recipe from the Oaktown kitchen too!
And if cooking treats is something you just don't have time to do, you can always check out these healthy treats found at Only Natural Pets .
Tripawds is a user-supported community; all purchases made here help us continue providing resources and support to our Tripawd families. Thanks for shopping at Tripawds!