Have you switched to a grain-based pet diet because of the potential link between grain-free dog foods and Dilated Cardiomyopathy (DCM)? Or are you still feeding your Tripawd grain-free food?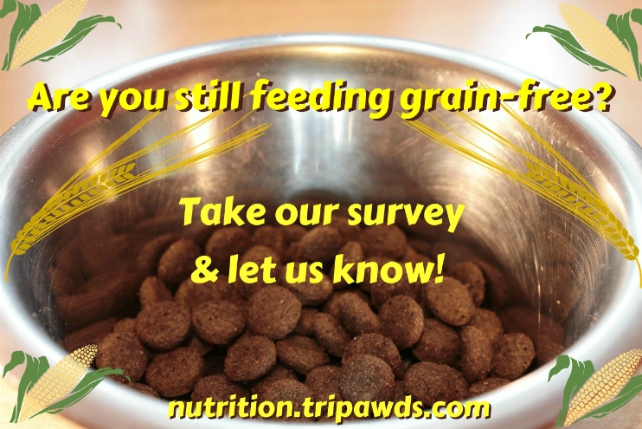 Whether you are or are not we hope you will take this quick Tripawds Grain-Free Food Survey.
What is Causing DCM in Dogs?
It's been just over a year since the Federal Drug Administration (FDA) announced a potential link between grain-free dog food and Dilated Cardiomyopathy (DCM), a type of heart disease. The FDA just released a third report on the DCM and dog food controversy. In a nutshell:
Between January 1, 2014 and April 30, 2019, the FDA received 524 reports of DCM (515 canine reports, 9 feline reports). Approximately 222 of these were reported between December 1, 2018 and April 30, 2019 (219 canine reports, 3 feline reports). Some of these reports involved more than one affected animal from the same household.
Many of the dogs diagnosed with DCM were from a variety of breeds without a known genetic predisposition to the condition. What they all had in common was they ate grain-free diets. Since "only" 10 cats were reported with DCM, the FDA is focusing their attention on dogs with the condition.
"More than 90 percent of products were "grain-free," and 93 percent of reported products contained peas and/or lentils. A far smaller proportion contained potatoes," says the FDA in it's June 2019 status report on DCM and grain-free diets.
The FDA's news turned the pet food industry on its head, especially when it named the dog food brands most linked to DCM. Since then, industry news says grain-free pet food sales fell. Meanwhile grain-free pet food manufacturers stand by their recipes.
Zignature, producers of exotic grain-free dog and cat foods, published a Statement in Response to FDA Findings. They say important to remember that:
The DCM cases reported to the FDA included dogs who ate both grain and grain-free diets.
The overwhelming majority of impacted dogs belonged to breeds genetically predisposed to DCM
More than 50% of the foods reported were from chicken, lamb or salmon proteins.
The FDA received a significant number of DCM reports from the largest pet food producers.
Are You Still Buying Your Tripawd Grain-Free Food?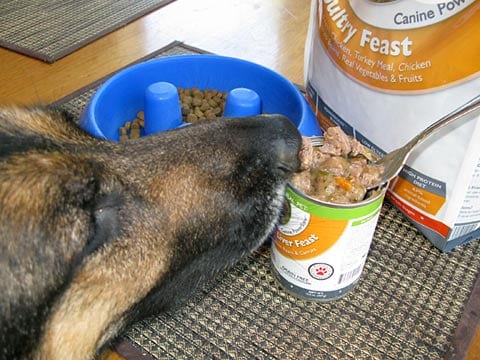 For now, veterinarians are recommending that we rethink our pet's diet. The most conservative vets recommend going back to a grain-based food. Natural medicine renegades like Drs. Karen Becker and Judy Morgan suggest adding a can of sardines once a week and/or avoiding kibble diets high in fillers and low in meat.
Meanwhile we want to know, are you still feeding your Tripawd grain-free food? Take this short survey and let us know, we would love to share the results with the veterinary community.
Please take this survey between
Monday November 11 and Sunday November 17th, 2019.
Create your own user feedback survey
Thanks for taking the survey! Watch for a report in December.