Are you concerned about the potential link between grain free kibble and canine heart disease? Have you changed your dog's food because of it? Today we want to take a closer look at the U.S. Federal Drug Administration's July announcement, and discuss what we can do to minimize any potential risks.
Is Grain Free Kibble and Canine Heart Disease Connected?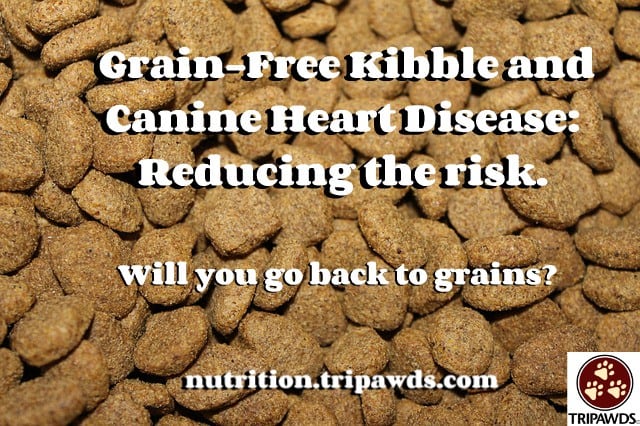 Grain-free kibble has been around for over a decade as an alternative menu for dogs with issues like cancer, sensitive bellies and problematic allergies. Although there is no science that proves grain-free diets make a difference in a dog's health, plenty of anecdotal evidence in the pet parent community points to good results. When corn, wheat and other grains are eliminated, many of us can say for sure that our dogs are experiencing better health.
Tripawds Spokesdog Wyatt Ray is a good example. His fur and skin look terrible when he eats a grain-based diet. And it improves when he doesn't. It's that simple, so we avoid grains like the plague.
But in July, we became concerned when the FDA announced it is studying a potential link between grain free dog food and canine heart disease:
July 12, 2018

The U.S. Food and Drug Administration is alerting pet owners and veterinary professionals about reports of canine dilated cardiomyopathy (DCM) in dogs eating certain pet foods containing peas, lentils, other legume seeds, or potatoes as main ingredients. These reports are unusual because DCM is occurring in breeds not typically genetically prone to the disease. The FDA's Center for Veterinary Medicine and the Veterinary Laboratory Investigation and Response Network, a collaboration of government and veterinary diagnostic laboratories, are investigating this potential association. READ MORE, "FDA Investigating Potential Connection Between Diet and Cases of Canine Heart Disease"
Canine DCM is nothing to fool with. However, for the time being, there is no established, scientifically-proven link between the condition and grain-free dog food. Until the link is proven or not, are we pet parents putting our dogs at risk if we continue feeding a grain-free diet?
What Can We Do to Reduce Our Dog's Risk of Canine DCM?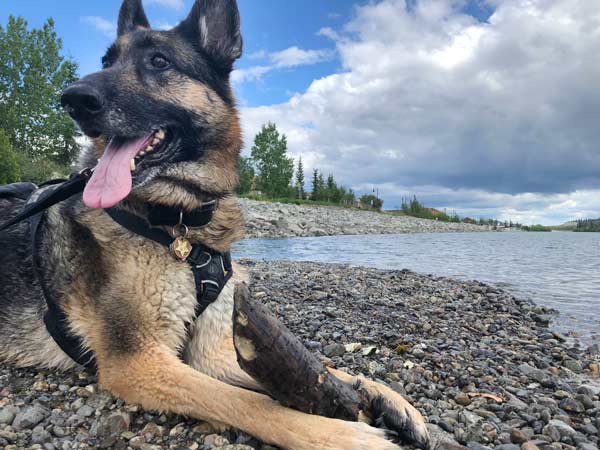 We turned to the web to find veterinarians actively discussing ways to reduce the risk of Canine DCM. The suggestions depend on who you ask. For example, Tufts University Clinical Nutrition Service's Dr. Lisa M. Freeman, DVM, PhD, DACVN, is essentially advising pet parents to return to grain-based kibble produced by large-scale manufacturers:
Reconsider your dog's diet. If you're feeding a boutique, grain-free, or exotic ingredient diets, I would reassess whether you could change to a diet with more typical ingredients made by a company with a long track record of producing good quality diets. And do yourself a favor – stop reading the ingredient list! Although this is the most common way owners select their pets' food, it is the least reliable way to do so. And be careful about currently available pet food rating websites that rank pet foods either on opinion or on based on myths and subjective information. It's important to use more objective criteria (e.g., research, nutritional expertise, quality control in judging a pet food) . . . READ MORE, "A broken heart: Risk of heart disease in boutique or grain-free diets and exotic ingredients"
But other veterinarians are taking a different approach. In addition to discussing any concerns with your own veterinarian, Dr. Karen Becker says:
The problem with grain-free formulas isn't the lack of grains! It's the high level of starchy carbohydrates coupled with the extreme high-heat processing methods used to produce these diets.

Until we have much more information on the subject, my current recommendation is to supplement all dogs with high-taurine foods, no matter what type of diet they're eating. An easy way to do this is to simply mix a can of sardines into your pet's meal once a week . . . READ MORE, "Dogs Fed Grain-Free Kibble May Be at Risk for Heart Disease"
And fellow holistic-minded veterinarian Dr. Judy Morgan suggests a similar approach:
The problem with most dry kibble pet foods is that they do not have high meat content, particularly when by-products are the only meat ingredients.

The solution to the latest problem: avoid kibble diets high in fillers and low in meat. Make toppers or meals for your pets using good meat sources. . . READ MORE: "FDA Investigating Potential Connection Between Diet and Cases of Canine Heart Disease"
Pet food choices are as confusing as ever, but since we found something that works for Wyatt Ray, we'll stick to grain-free kibble until science proves that we should do something else. How about you?