Have you ever given your Tripawd a warm soup broth, but worried it had too much sodium? We did too. So when we heard about Honest Kitchen's new Bone Broth Treat for Cats and Dogs, we couldn't wait for Tripawds Spokespup Wyatt to try it! After all, what could be better than a warm, tasty broth with the powerful anti-oxidant and anti-inflammatory benefits of Turmeric, and zero sodium?!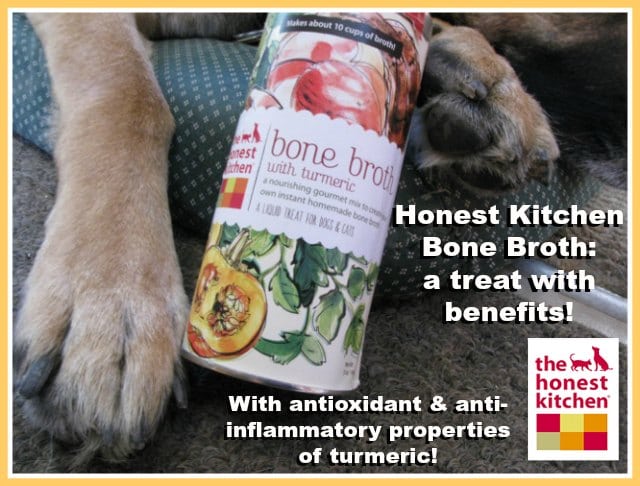 We are committed to sharing the stories of pets who thrive with the best foods and supplements available. Honest Kitchen is not responsible for the content in this article.
We also want everyone to know about this yummy Bone Broth Treat because it's great for those times when your dog or cat won't eat. Whether it's because of pain medication side-effects from a surgery or chemotherapy, a good broth can often perk up appetites.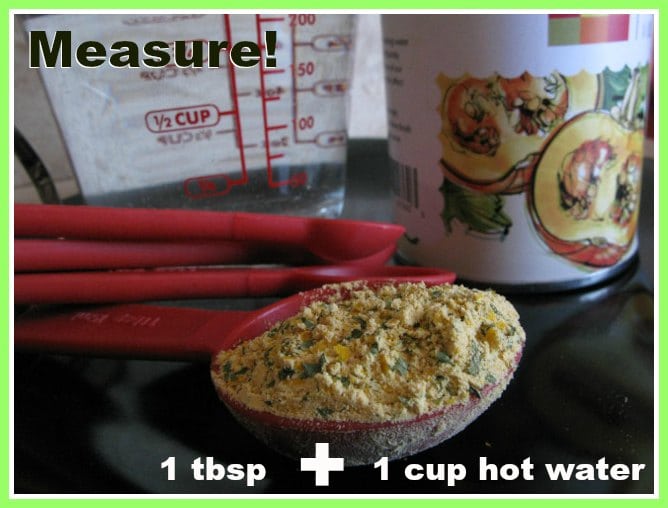 Human broths are loaded with sodium, which our pets don't need. Honest Kitchen's Bone Broth Treat is sodium-free with nothing but goodness:
Dehydrated beef broth, beef, pumpkin and parsley
Contains chondroitin sulfate and the power of Turmeric!
95% curcuminoids, the active compound in turmeric that's been studied for its antioxidant, anti-inflammatory properties.
Just 59 power-packed calories per serving in one cup of broth!
The Power of Turmeric in a Broth

Honest Kitchen made this treat with Turmeric because this warm spice contains Curcuminoids, a powerful ally in boosting immune systems. As we discussed in this previous Tripawds Nutrition Blog Post, researchers at institutions like Ohio State University have discovered that curcumin:
causes cell-death (apoptosis) in several human cancer lines
slows angiogenesis (the growth of blood vessels which supply food to cancer tumors)
decreases the COX-2 enzyme, which is associated with inflammation (which is linked to cancer)
enhances the cytoxicity of chemotherapy drugs such as cisplatin, gemcitabine and capecitabine)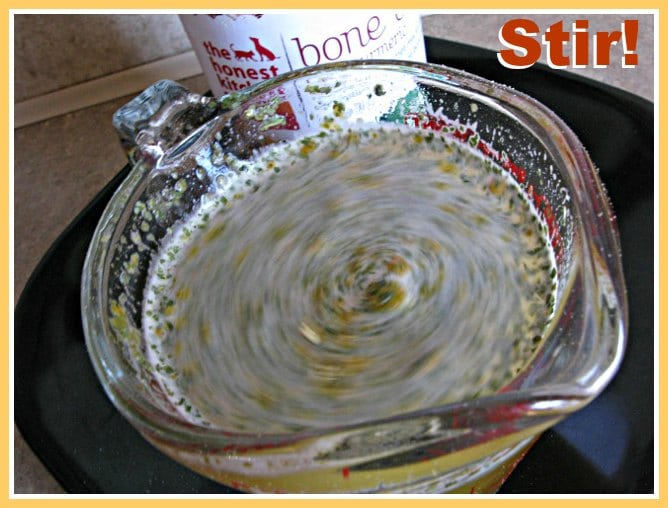 You'll even find Turmeric in Dr. Dressler's Apocaps immune boosting supplement. However if your Tripawd is going through chemotherapy, you might want to hold off on giving Turmeric, which can affect so many different processes in the body, that researchers recommend avoiding it during chemotherapy because they just don't know if it will negate the effects of treatment.
Bone Broth Warms Wyatt's Belly
It's been a bit cold out here in the desert, making it the perfect time to warm up Wyatt Ray's breakfast. We whipped up a batch, poured it over his kibble and he ate it so fast we couldn't even get a good photo!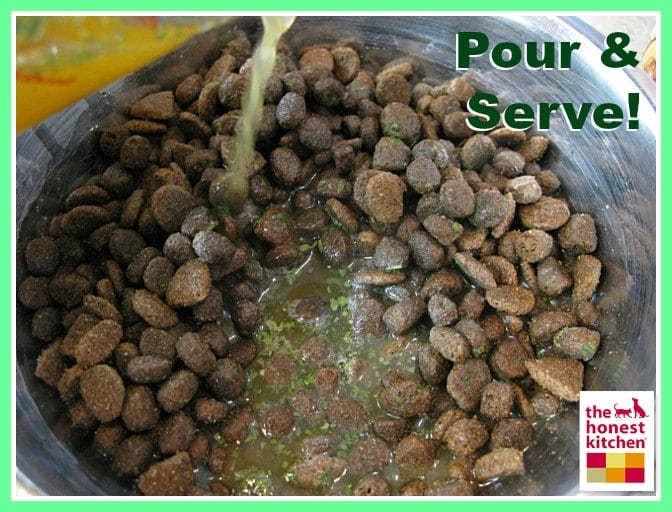 Whether your pet needs an appetite boost or you just want a great, natural way to boost your or cat's immune system, Honest Kitchen's Bone Broth treat is the way to go.
Pour it over a meal.
Serve in a bowl.
Hot or cold, it's nutritious and healthy!