If you're a Tripawds member, chances are that you care a lot about the best nutrition for Tripawd cats and dogs. Whether you've been awakened to better pet nutrition because of a cancer diagnosis, or you just want to do the best you can for your three-legged hero, your pet is on the way to better health.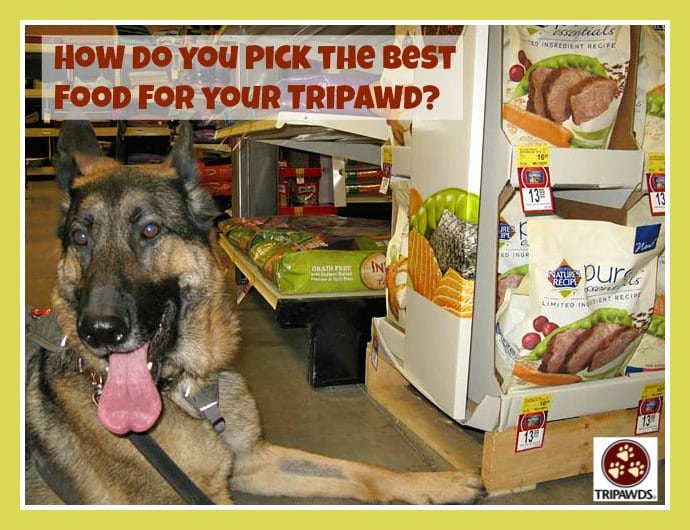 Sometimes it seems that you need a rocket scientist to help you pinpoint the best foods for cats and dogs. Gone are the days when we just grabbed a bag of supermarket pet food and called it done, now there's so much more to think about. But where does one begin? Here's how we start our own research for Tripawds Spokesdog Wyatt Ray.
Canine Nutrition Resources
As part of our mission to this community we're always on the lookout for healthy pet food. Sponsored posts help cover the costs of keeping Tripawds online, so Wyatt samples many different kinds of new kibble, canned and dog health supplements. But before we agree to write about any foods we visit The Dog Food Advisor's website to learn more.

The Dog Food Advisor was founded by Mike Sagman, whose dog Penny died in 2007 as a direct result of tainted dog food. With a background in chemistry, human dental medicine and a passion for canine nutrition, Sagman and his staff have researched, reviewed and rated more than 4,563 dog food products without taking a single dollar from a pet food company. He explains:
"We know who actually makes each dog food, the company's recall history and safety practices.

We know how to read labels and correctly interpret the nutritional content. We also know how to find out where the ingredients come from, which additives are safe and which ones are toxic."
Here at Tripawds we don't have the knowledge about dog food that Sagman and his team do, so we rely on them to guide us in what foods we present to you. To ensure the foods you see here are accommodating to all household budgets, we cover both five and four star rated foods, but never anything less.
Learn more about the Dog Food Advisor in our 2011 interview with Sagman on Tripawd Talk Radio.
Another resource we turn to is The Whole Dog Journal.

Like The Dog Food Advisor, the editorial team at this long-standing reputable publication has never taken a cent from pet food companies, supplements makers or others with an interest in receiving positive reviews. Not only is The Whole Dog Journal our bible for choosing a healthy canine lifestyle for Wyatt, but is also has fantastic, holistic-minded tips about training and behavior too.
When you combine these two fantastic resources, you can never make a bad decision about your own dog's health needs.
Feline Nutrition Resources
We are not cat parents nor feline nutrition experts, but our theory is that if a dog food manufacturer creates high quality dog food, odds are that their cat food is just as great. Cats are a relatively new leg of the Tripawds Nation and we have a long way to go when it comes to knowing about the best food and nutrition for them. As a result, we look to experts like:

Founded by Lisa A. Pierson, DVM, CatInfo.org is a guide to optimal feline nutrition. You'll learn about topics like:

With their motto of "Never Say Just a Cat," the founder of Natural Cat Care, Liz Eastwood, serves up one of the best cat blogs on the web covering:
What's Your Go-To Pet Nutrition Resource?
We all learn here by sharing ideas and resources with one another. We would love to know:
What cat and dog nutrition resources you turn to before making a decision about what to feed your pets?
Share in the comments below or hop over to the Tripawds Eating Healthy Discussion Forum to share!