One of the biggest side effects dogs experience after amputation surgery is decreased appetite. To get dogs eating again, Tripawds members have suggested everything from feeding chicken livers to cat food.
NOTE: Honest Kitchen no longer makes Ice Pups.
Use Honest Kitchen Bone Broth Instead!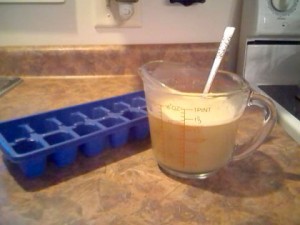 Well, we're here to tell you that getting your dog the nutrients she needs to stay strong after surgery need not be such a stinky endeavor!
Recently we told you about Honest Kitchen's Ice Pups treat mix. This tasty powdered drink mix is a great way to ensure that picky eaters get the nutrition they need during surgery recovery and advanced cancer care.
Tripawd member and Nutrition Blog correspondent Gina Snow agrees, and so do her dogs. Here's some suggestions she has about using Ice Pups:
"I like using Ice Pups as a treat when they are frozen. They're great for those warm sunny days on the deck!
It's easy to do. Just mix according to the directions (2 tablespoons of Ice Pups to 1 cup of water) and pour into ice cube trays and freeze. I let them sit on the counter for a few minutes before serving, then they just fall out of the tray.
One of the reasons I use Ice Pups is because of the natural ingredients and NO preservatives! It's hard to find good healthy products for our pups (just like for us humans!) and Ice Pups is one of those choices.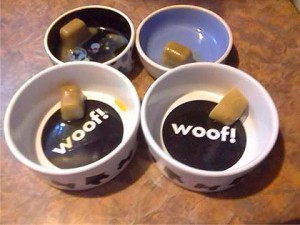 Another use for Ice Pups is after running, hiking or competing. My dogs tend to not be big drinkers ( he he he) so I just use a little Ice Pups to encourage them to do so. The Chicken and Turkey make them want to drink it and the Honey is a wonderful natural energy source for those muscles.
Caution: Don't put Ice Pups in too much water! Your dog may like the favor too much and over drink (yes, it can happen!). Over drinking can cause an electrolyte issue which can be rare but possibly deadly!"
Many thanks for this great information Gina!
If you have your own appetite stimulant ideas and tricks, be sure to post them here, submit them as a blog post to us, or share them in our Eating Healthy Discussion Forum.