When Tripawds come home after amputation surgery, they often refuse to eat for a day or two.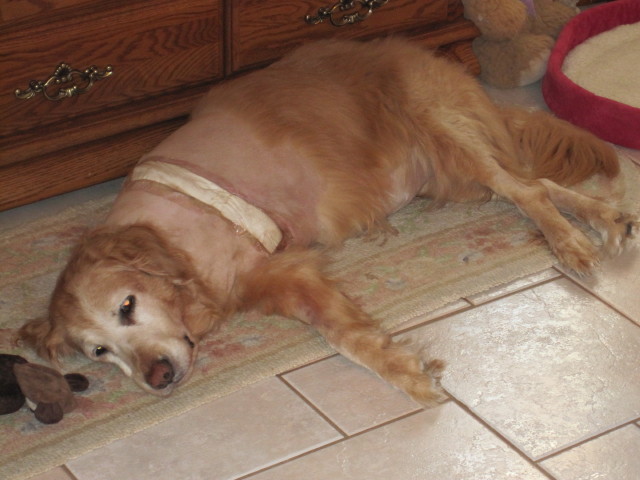 Understandably, this freaks out pawrents, who only want to see their dog healthy and eating again.
But dogs are smart, and instinct tells them it's wiser to save their limited energy to heal their body, instead of using it up for digestion.
Dr. Marty Goldstein, author of "The Nature of Animal Healing," concurs. When a dog won't eat due to illness, Dr. Marty says:
"This is no more than an extreme case of what animals in the wild do when they isolate themselves to gather strength and get well. Indeed, it's different only in degree from what we do when we refuse food when we're sick, and let our bodies focus on elimination through sweating, expectoration and intestinal release.

Unfortunately, a domesticated animal exhibiting such behavior is force-fed almost immediately, which is antithetical to the fasting that is one of nature's prime methods of healing."
What we've seen here at Tripawds is that typically, most dogs will not eat when they come home, but post-surgery appetite loss will subside in a few days. While it's impawtant to let nature take it's course with recuperation, there are some things you can do to stimulate your Tripawd's appetite without resorting to force-feeding.
Add low-sodium chicken broth to his water to get him drinking liquids
Prepare an easy, home-cooked meal such as boiled chicken and rice or scrambled eggs
Canned mackerel or salmon (cooked) can work well too
Warm the food just a bit (test it first with your finger)
Try feeding the stinkiest, moistest most tempting healthy foods you can think of. Human foods include liverwurst, braunschwager and chicken livers.
Do you have any other suggestions? If so, add them to the Comments section below.
One food that we can almost guarantee dogs will eat is;
We've think that the best way to use these rolls as an appetite stimulant is to grate them over your dog's regular food.
Also, you can try hand-feeding your dog, but it's impawtant not to get him or her too used to it. You want your dog to get back to a normal life as quickly as possible. And if your dog isn't used to home cooking but has taken a liking to it, consider making it a regular part of his or her diet, at least a few times a week. After all, you dog is a real dog; shouldn't he eat "real food" too?
For further reading, check out this other Tripawds Nutrition Blog post: "Get Dogs Eating With Honest Kitchen Foods" and see these Discussion Forum Topics tagged with "Appetite" and these tagged with "Recipes"
Please be aware that we are not veterinarians. The information presented here is not meant to be construed as medical advice or guidance, nor should it be substituted for professional veterinary assistance. Always discuss any remedies and treatments you wish to pursue with your veterinarian.
Tripawds is a user-supported community; all purchases made here help us continue providing resources and support to our Tripawd families. Thanks for shopping at Tripawds!