Honest Kitchen makes healthy, all natural dehydrated dog foods, many of which are ideal for canine cancer diets. They also make a full line of tasty, nutritional treats! This often hard to find selection of all-natural treats is available from Only Natural Pet.
Getting Dogs to Drink During Recovery
The Honest Kitchen Ice Pups treat mix is a great way to cool off hot dogs during summer, or get picky eaters the nutrition they need during advanced cancer care. The 10 oz. tin is filled with a mouth-watering powdery mix that you combine with warm water to offer a homemade 'liquid' treat to your pup!
NOTE: Honest Kitchen no longer makes Ice Pups.
Use Honest Kitchen Bone Broth Instead!
Ice Pups can be served three ways – during the winter months, offer a warm, nourishing broth that tastes divine. Ideal after playing in the snow! In summer, serve Ice Pups as a chilled refreshing beverage, or freeze the liquid in ice cube trays to make a healthy, puppy-sorbet! Ice Pups are also highly sought-after for dogs with kidney problems or who otherwise might benefit from increased fluid intake.
Dogs with lowered appetite, or those acting lethargic during post-operative recovery will benefit from the tasty Ice Pups natural 'gravy' for increased nutrition and/or palatability for helping the transition to a new diet.
Wholesome Natural Treats for All Dogs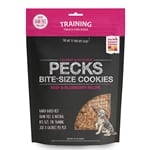 Honest Kitchen Pecks Dog Treats are hand-made, bite-sized buffalo and blueberry cookies for pups of all sizes. Pecks are perfect for training – they're quick to serve and easy to munch, during proactive sessions for obedience, agility and other canine activities.
Smaller than the Smooches and Nuzzles cookies from Honest Kitchen, Pecks are also ideal for Toy and Small Breed Dogs; the new mini, bite-size makes them perfect for small mouths – though big dogs love 'em too!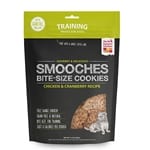 Honest Kitchen Smooches Dog Treats are made with all human grade ingredients and an extra helping of love. Each treat is individually crafted into a little heart so there's no doubt that these really are homemade dog treats! Feed one and you'll have a best friend for life!
These gourmet healthy dog treats are delicious and popular with even the fussiest hounds. Smooches are made by hand at a local bakery, exclusively for Honest Kitchen customers.
All Honest Kitchen dog treats are hand crafted form all natural ingredients and made in the USA. Visit Only Natural Pet for complete nutritional information and lists of ingredients.
Purchase these Honest Kitchen dog treats from Only Natural Pet to help maintain the user-supported Tripawds Community, and don't miss Jerry's recent review of Honest Kitchen foods including rating information from DogFoodAdvisor.com.
Save online at Amazon: