Anti-Cancer diets are a big topic here at Tripawds. Lylee's Mom recently posted in Lylee's blog  about the foods and supplements she's using to fight cancer and we thought it was worth sharing with the entire community for those who missed it. Here's what she said…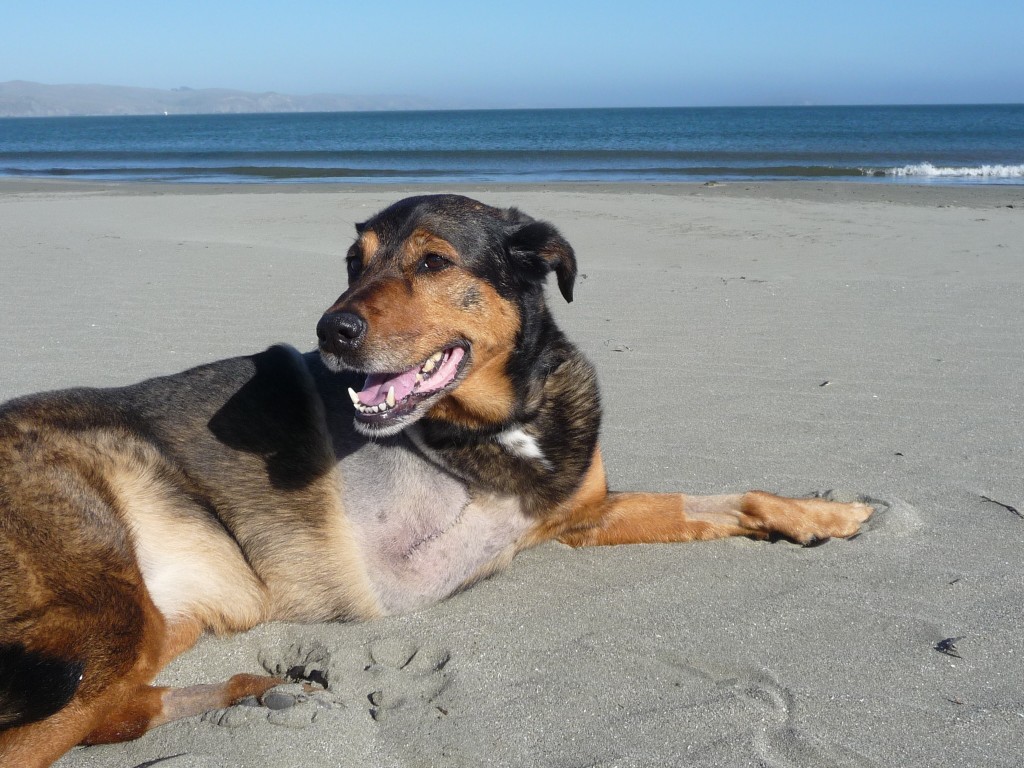 We have our girlie on a 'super duper diet'. Extra yummy! We are trying to follow the high protein/no grain idea.
The Main Dish
She already ate a high protein/no grain kibble supplemented with a freeze dried food that you mix up with water everyday called Grandma Lucy's.
Now we have added to this Honest Kitchen's Embark which is a dehydrated food that one also mixes with water to reconstitute.
And then to finish it all off with a special topping of Evo 95% meat canned food.
So this is the base mixture I create twice a day which is seriously tempting, both to give her a good nutritious meal but also to disguise all the great but not so tasty supplements! We decided to throw everything we got at these cells definitely 'behaving badly'.
Cancer-Fighting Supplements
I researched tons of literature on many health immune enhancing products aimed at supporting the body in fighting off cancer, let me tell you – there are lots and lots 😉 So it came down a lot to a gut or intuitive feel as there are so many potentially wonderful things to take. The Tripawd website was especially helpful – thank you Tripawd genius's.
So this is a list of stuff she is taking right now:

Vitamineral Green and Earth from "Healthforce Nutritionals" I have to put these in capsules as it has a strong green flavour but the Earth is ok in the fud.
Berry Green from New Chapter. Tastes not too bad so into the mix it goes.
Zyflamend; Gingerforce 30Sg; Daily Ginger: all from New Chapter. Zyflamend is a truly potent combo of ten herbs. Ginger is meant to potentiate the chemo and is a good anti nausea agent.
Mushrooms. Yeah baby ~ Lylee is happy. Nah – sorry. Just the regular non-psychedelic medicinal ones from NSI Vitacost.
Fish oil for the omega 3′s. She has 4 grams a day to start.
Multi vitamin, vitamin C + E, (zinc occasionally).
Primadophilus – a probiotic + Saccharomyces Boulardii, occasionally, also a probiotic.
Curamed (Terry's Naturals) Curcumin extract + extra tumeric.
Transfer Factor from Source Naturals.
Artemisinin a la cream cheese – at least 2 hours after dinner. (Doctor's Best brand)
Lamb treats, fresh chicken treats, roast beef & chicken, liver treats……. I mean, what meat treats hasn't she had.
😉
I will also add Pycnogenol when it comes in the mail and maybe AHCC which is supposed to be an incredible immune enhancer from Japan but I'm still researching it.
Oh, and her usual Glucosamine, chondroitin and MSM. Rescue Remedy when needed in her H2O.
And how is she doing with all this fab stuff being integrated into her system. Well, she seems great on it. No runny poo – always a good indicator 😉 – and her energy seems to be coming back nicely from the operation. We also do energy work (Donna Eden inspired) and lots of massages.
Want to share your pup's diet and nutrition plan with Tripawds readers? Submit the details here!