Do you know the difference between an omega-6 and omega-3 EFA? Or which one is more beneficial to include in your pet's diet?
Both humans and animals need an optimal balance of essential fatty acids (EFAs), which primarily consist of omega-3 fatty acids and omega-6 fatty acids. The right balance can reduce inflammation, enhance mood and behavior and keep intracellular communications running smoothly.
Researchers believe the correct ratio of EFAs in the body is:
Four units of omega-6 fatty acids to one unit of omega-3 fatty acids
Attaining this ratio can be a challenge, since a modern human or pet diet contains ratios of up to 16 units of Omega-6 EFAs to one unit of the more beneficial Omega-3 EFAs!
Why Overexposure to Omega-6 EFAs is Harmful
Omega 6 fatty acids are typically found in the fat of vegetable oils and grain-fed animals. Since commercial dog food is made with the meat and fats of these grain-fed animals, it significantly increases a pet's exposure to omega-6 fatty acids.
Both EFAs are necessary in your pet's diet, but Dr. Demian Dressler, author of the Dog Cancer Survival Guide, says that researchers believe over-exposure to omega-6 fatty acids is detrimental to a pet's health, because in human studies Omega-6 EFAs are linked to cardiovascular problems, arthritis, obesity and cancer.
Dr. Dressler says the ideal way to reduce exposure to harmful EFAs is to cook for our animal friends, to ensure the right balance of EFAs is achieved.
"Deliberately reducing the presence of omega-6 fatty acids in your dog's diet, and increasing the amount of omega-3 fatty acids, is a cornerstone of the dog cancer diet."
How do you ingest more omega 3 EFAs? By supplementing our diets with cold-water fish oils from sardines, mackerel and even krill. While some seed-based oils such as flax contain high amounts of omega-3 oils, fish and krill oils have higher amounts.
Learn How to Add Fish Oil to Your Tripawd's Diet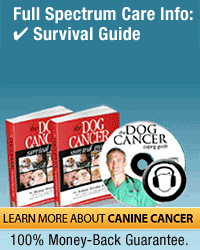 Inthe Dog Cancer Kit, Dr. Dressler urges pet parents to use krill oil before others, such as salmon oil.
Since krill is lower on the food chain than larger fish, there is less risk of exposure to carcinogenic toxins and heavy metals.
Krill Oil Dosages*
Up to 10 pounds: 1,000 – 2,00 mg daily
10.1 – 35 pounds: 3,000 – 4,000 mg daily
25.1 – 60 pounds: 6,000 – 9,000 mg daily
Over 60.1 pounds: 10,000 – 12,00 mg daily
*Use as a guideline only; suggested dosages vary because of formulation differences between brands.
You'll find more instructions for how to give a dog krill oil, by checking out the Dog Cancer Kit, which provides an electronic and print copy of the indispensable "Dog Cancer Survival Guide."
Educate Yourself for a Lifetime with Dressler's Dog Cancer Kit 
Dr. Dressler's Dog Cancer Kit includes everything you need when faced with a dog cancer diagnosis:
The Dog Cancer Survival Guide ebook Instant Download ($24.95 Value)
The Dog Cancer Survival Guide paperback book with FREE Delivery to your door in the United States ($34.95 Value)
The Dog Cancer Coping Guide Audiobook MP3 Instant Download ($19.95 Value)
One LIVE Webinar with Dr. Dressler – Ask questions about your dog. Attend live and/or listen to recording ($27.00 Value)
12 months of recordings from the last year of "Ask the Dog Cancer Vet" Webinars with Dr. Dressler ($195.00 Value)
$30 Instant Cash Coupon good off your first purchase of Apocaps® at Amazon.com ($30.00 Value)
Total Value: $331.85
Your Price: (Regular Price: $147) Now: $97