The "Eating Healthy" Discussion Forum is a great place to learn new tips for stimulating your pet's appetite. For example, last week, Jack & Jill recommended powdered goat's milk to help Miller transition to an anti-cancer diet with high quality food from The Honest Kitchen
.
With Miller being picky, you could try the raw goats milk that Additional makes. I've never seen a dog refuse that. You just put a couple tablespoons over his food.
Has Your Pup Tried Goats Milk?
We had never heard of using goat's milk to perk up a dog's appetite, but after doing a bit of research, it sounds like another great way to get Tripawds eating again.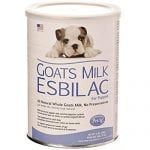 Raw goat milk products such as Goat's Milk Esbilac Powder are great for immune-compromised animals because its small fat molecules make it easily digestable while providing a higher quality of carotene (pro-Vitamin A), which has been studied for it's anti-cancer properties.
Goat's milk is an excellent supplement to your dog's normal diet because it contains:
vitamins
minerals
electrolytes
enzymes
fatty acids
protein
For animals with gastrointestinal challenges, goats milk is a great way to help digest food, because it doesn't produce any acid in the stomach and has better antacid buffering capabilities than over the counter products, cow's milk and soy infant formula. 
Keep instant goat milk on hand for ease of use!
This recipe for dogs with cancer at K9 Medicinals, makers of K9 Immunity cancer supplement, recommends using goats milk as part of a dog's anti-cancer diet:
Recipe for dogs with cancer
(equals a week of raw meat patties for a 50-pound active dog)
Ingredients:
4 lbs. ground meat (can be a combination like chicken and beef)
2 cups raw goat milk or 1 cup yogurt or cottage cheese
3 raw eggs
1 apple
1 glove garlic
2 carrots
1.5 pound mixed vegetables (such as sweet potato, broccoli, zucchini, kale, spinach)
Instructions:
Mix all ingredients in a food processor. Make into patties and freeze. Feed according to your dog's appetite. Each day, dogs typically eat 2% of their body weight. But more active or dogs with a high metabolism may require 3-4%.
We've never tried goats milk but since Tripawds Spokesdog Wyatt Ray has a continuously sensitive belly, you can bet we will order some to have on hand.
Have you tried goats milk to help your Tripawd feel better? If so, how did it work? Share your goat's milk story below, we'd love to hear about your goats milk experience.