While attending the Blog Paws conference, Tripawds Spokespup Wyatt Ray Dawg met some fine folks promoting Rachael Ray Nutrish Naturally Delish Dog Food and Treats. They promised to send him some free samples to try, and we just got 'em!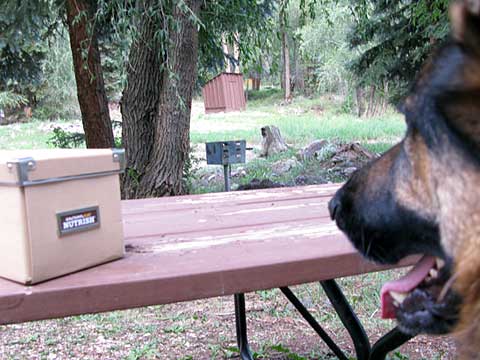 Wyatt may not be a very picky eater, but he does have a very sensitive stomach! Since the Nutrish Naturally Delish line is made with simple, natural ingredients inspired from Rachael Ray's kitchen and contains no corn, wheat, soy or artificial junk, we were more than happy to try it. And so was Wyatt!
Please read on for his review, and for details about how you can win a selection of Rachael Ray Nutrish Naturally Delish for your pup to try…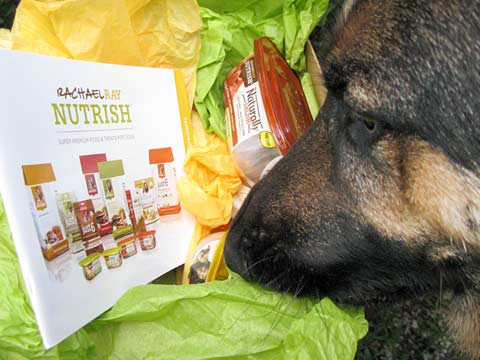 Before we feed Wyatt new food, we carefully inspect ingredients. Since Rachael Ray's Nutrish Naturally Delish home-cooked style wet food gets an above-average rating from Dog Food Advisor, we knew were on to something good.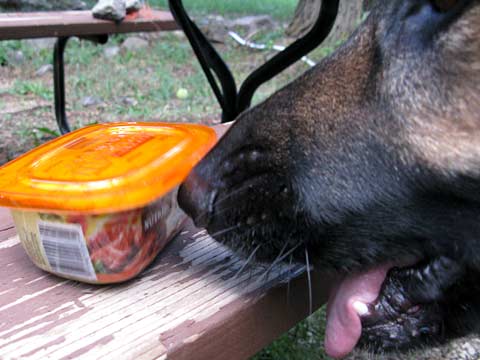 We barely had enough time to read the labels before Wyatt Ray started chomping on the container. With sample meals like Chicken Muttballs with Pasta, Hearty Beef Stew, Savory Lamb Stew and Chicken Paw Pie, we knew this was gonna be good. None of these meals contain anything artificial like preservatives, flavors or colors. Naturally Delish is as close to home cooking as you can get.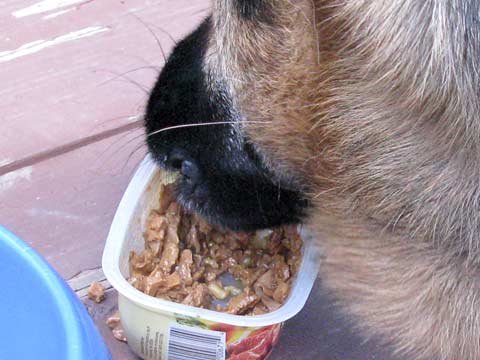 Wyatt tested the Savory Lamb Stew. This meal contains tender morsels of lamb along with carrots, spinach and brown rice. He started to devour the whole package before we could even put it in his bowl!
Keep reading for your chance to win free samples!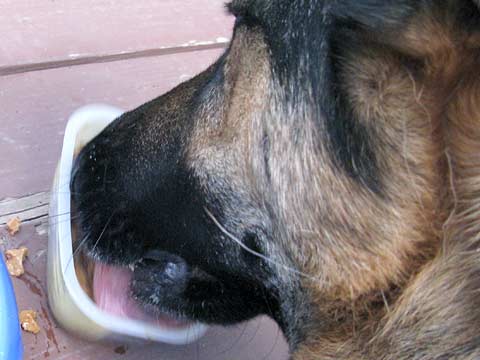 The best part is, even though Wyatt ate an entire package, his belly didn't reprimand him for it. The next day, his poop was bouncy and firm, and he didn't show any signs of gastrointestinal upset from trying something new. That hardly ever happens when he tries a new food. What a relief!
To be honest, our only complaint about the Naturally Delish line is the packaging. For one, the packages are too small as a standalone meal for an 80-pound dog like Wyatt.  Also, the plastic container isn't exactly eco-friendly. We would love to see Rachael Ray package this food in more environmentally responsible containers, like foil pouches.
Otherwise though, we think the Naturally Delish line is a fantastic addition to your dog's diet. If your dog is fighting cancer, be aware that these foods contain ingredients that cancer dogs should avoid, like potatoes and pasta, but for all other dogs, this is a great, healthy meal option!
Feed Your Dog, Help a Dog Charity Too
Oh did, we mention that not only is it great for your dog, but it's also great for dogs in need! A large percentage of proceeds from the Nutrish line is going to Rachel's Rescue, a fund to help animal welfare organizations like the North Shore Animal League and BAD RAP (The Bay Area Doglovers Responsible About Pitbulls), a non-profit organization dedicated to educating the public about this misunderstood breed.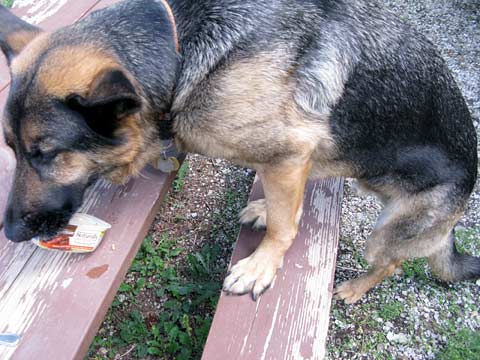 Win a Free Sampler Pack of Rachel Ray Nutrish Dog Food
Would your Tripawd love to try this super premium natural dog food? Click the link below to share this post and reveal your secret question. Then close the pop-up window and leave a comment on this post with your answer.
All comments must be received no later than Friday, August 10 at midnight Pacific time. Wyatt will pick a random winner on Sunday August 12 who will receive a generous selection of Nutrish packaged in a stylish keepsake box.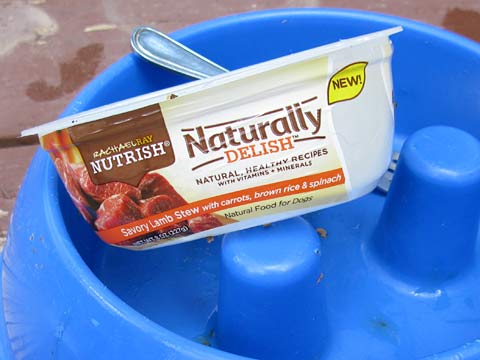 NOTE: This contest has ended.
Save on Nutrish, with the links below!
Can't Wait?
Try Rachel Ray Nutrish dry dog food from these online retailers today!
NationalPetPharmacy.com:
Rachael Ray Nutrish with Real Chicken Dry Dog Food
Rachael Ray Nutrish with Real Beef Dry Dog Food
Rachael Ray Nutrish Healthy Weight Turkey Dry Dog Food
Rachael Ray Nutrish Just 6 Lamb & Rice Dry Dog Food
PetFoodDirect.com:
Rachael Ray Nutrish Just 6 Lamb & Rice Dry Dog Food
Rachael Ray Nutrish Healthy Weight Turkey Dry Dog Food
Rachael Ray Nutrish with Real Beef Dry Dog Food
Rachael Ray Nutrish with Real Chicken Dry Dog Food
Tripawds was provided samples / compensation for this Nutrish review, but the opinions expressed above are all Wyatt Ray Dawg's!