As part of our commitment to finding the best, most nutritious dog foods for Tripawds big and small, we are hoppy to report that Honest Kitchen Zeal dehydrated dog food gets three paws up from Tripawds Spokesdog Wyatt Ray!
Zeal Passes Wyatt's Sensitive Belly Test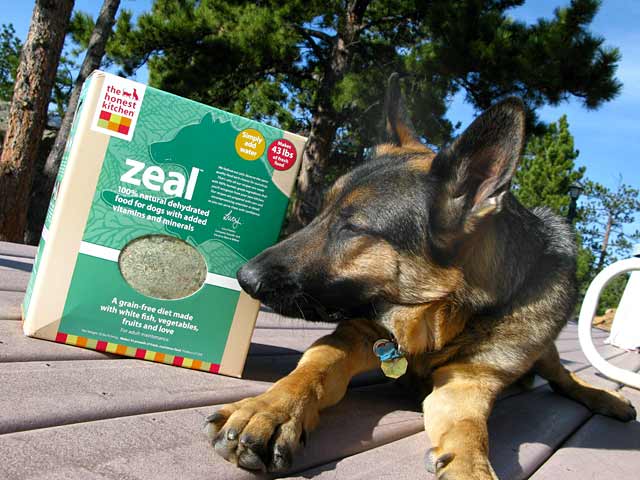 Like many German Shepherds with sensitive bellies, it can be a messy situation when we switch Wyatt Ray's food around. We hesitated to go back and forth between Zeal and Wyatt's other Honest Kitchen food, Embark, so we waited for him to finish his box of Embark.
Once we made the change, we added green clay to his food for a few days and kept up with his probiotics regimen to prepare his intestines for the switcheroo. Then we slowly introduced Zeal as a topping to his Earthborn Holistic Primitive Natural kibble. We waited to any signs of intestinal upset. And waited. And waited.
Lucky for Wyatt and for us, his belly was pleasantly happy and full with Zeal's formula!
What Makes Zeal so Special
The ingredient list for Honest Kitchen Zeal Dehydrated Dog Food reads like something out of an organic restaurant for humans:
Dehydrated white fish (line-caught Haddock, wild Whiting), sweet potatoes, eggs, organic coconut, alfalfa, apples, green beans, parsley, cabbage, bananas,wild Salmon, cranberries, garlic, rosemary, tricalcium phosphate, choline chloride, zinc amino acid chelate, vitamin D3 supplement, vitamin E supplement, potassium iodide, potassium chloride, iron amino acid chelate, copper amino acid chelate.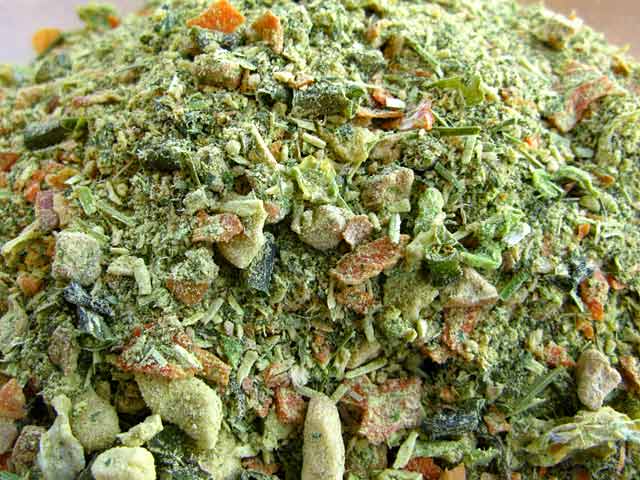 Honest Kitchen says Zeal is made just for sensitive bellies like Wyatt's. There is no corn, soy, rice, beet pulp or wheat. It's grain-free, gluten-free and does not contain flaxseed and white potatoes. Additionally the fish is wild-caught and from one of the most abundant fish stocks in the semi-pelagic water masses of the northeast.
The Finest Nutrition Has a Price
Let's be blunt; Zeal premium dehydrated food may not exactly be easy on the wallet. Each 10 pound box, however, makes 43 pounds of fresh food!
For Wyatt, a growing 80-pound German Shepherd Dog, the box of Zeal lasted two months! During this time we gave it to him in 1 cup increments for breakfast and dinner, so we stretched it really far. Wyatt's box of Embark also lasted two months.
When compared to what we pay for ingredients to make Wyatt his home cooked stews from scratch, the costs are almost identical. Plus, there is no way we could make him a batch comparable to Zeal for that cost.
In our opinion, Honest Kitchen Zeal is a bargain when compared to home cooking!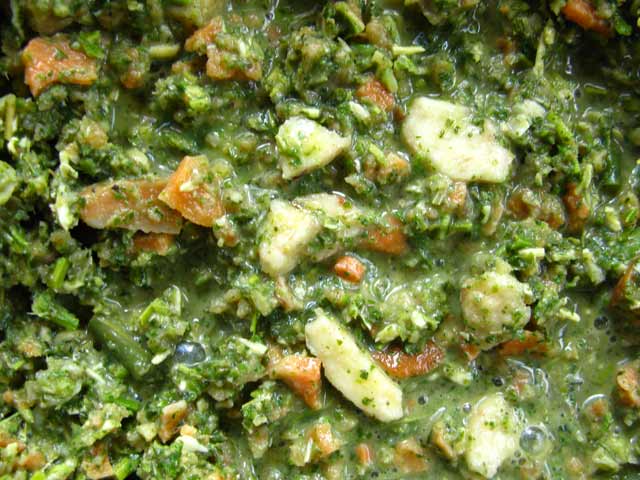 Wyatt's Looking Good
When used in combination with Wyatt's weekly feeding routine of Earthborn Holistic Primitive Natural kibble, several portions of raw chicken, buffalo bones and sometimes sardines throughout the week, his Honest Kitchen Zeal helped his fur look fabulous and shiny. We couldn't be happier with the results.
Tripawds official recommendation is "Three Paws Up!" for Honest Kitchen Zeal!
Tri Honest Kitchen Zeal for Free!
Leave a comment telling us why your pup wants to try Zeal and we'll send you instructions for getting a free sample from Honest Kitchen!
Read all Tripawds Nutrition blog posts about Honest Kitchen dehydrated dog foods and check out all the other yummy flavors available at Only Natural Pet Store.
Can't wait for your free Zeal sample? Get your pup started on this all natural diet today and save with Only Natural Pet Coupon Code CJ15!
UPDATE: Free samples of Honest Kitchen Love are now available instead of Zeal, thanks to all who have commented here.