Can a dog treat help the environment? You bet! These upcycled dog treats by Shameless Pets are reducing carbon paw prints everywhere.
Upcycled Dog Treats for a Better Planet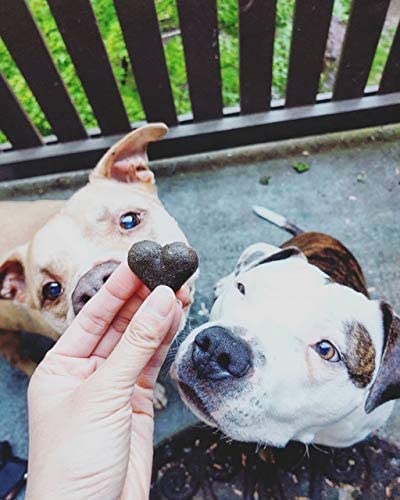 This blog post contains Amazon affiliate links. Click on any of them, buy something, and Tripawds receives a small commission. Thanks for your support!
If you've ever worked in a restaurant or grocery store, you know it's depressing to see food tossed into dumpsters every day. That amounts to $2.5 trillion pounds of food getting tossed away, all around the world, every single year. And that's just a tiny part of the story. If food waste were a country, it would be the third largest contributor of greenhouse gases on the planet.
Since dog treats should only amount to 10% or less of your dog's total calories, we aren't crazy about promoting them during the ongoing pet obesity epidemic. But we think this dog treat company deserves a special mention, and hope you do too. Tripawds Spokesdog Wyatt Ray hasn't tried them yet, but hopes to soon. If your pup has, let us know!
Making a Difference with Rescued Food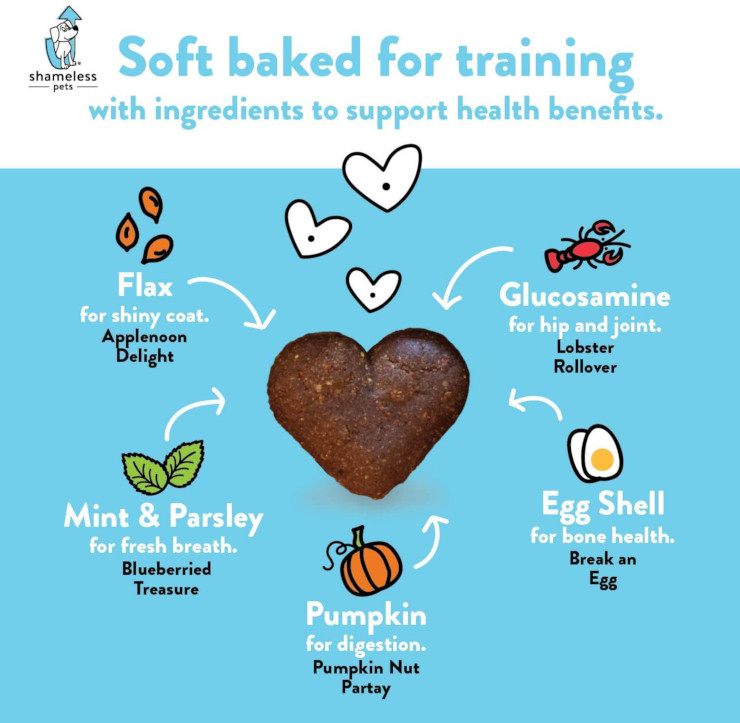 According to the World Resources Institute, the 24% of food  produced in the world that doesn't make it into our mouths "contributes to food insecurity in some developing countries, squanders agricultural land and water resources, and generates roughly one-quarter of all agricultural GHG emissions."
One company in Chicago wants to do something about food waste. Shameless Pets, creators of all natural, grain-free, superfood treats for dogs, is producing treats made from unused food obtained from ingredients that may have otherwise been lost or wasted.
Rescued Pet Treats for Dogs of All Sizes and Ages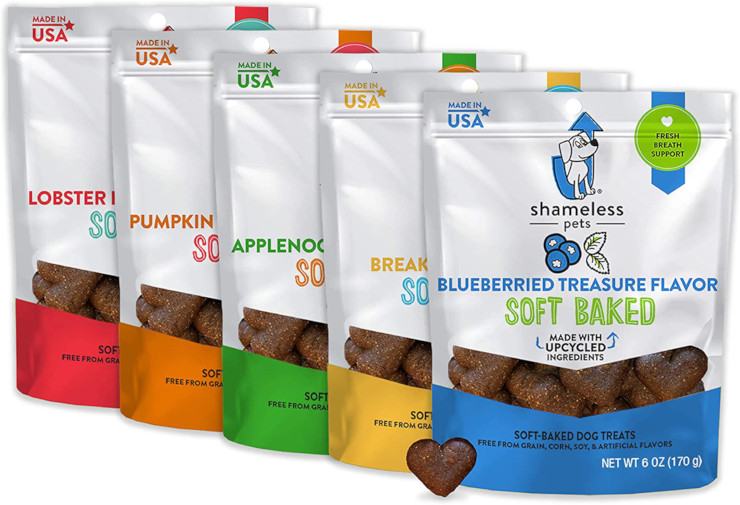 Shameless Pets works with farmers and food processors to rescue safe and nutritious food. They turn it into tasty USA-made treats without artificial flavors, gluten, corn, soy or wheat. Healthy ingredients include:
Calcium from egg, broccoli, and cheese to supports bone health
Turmeric to fight inflammation

C

ollagen for better joint health

Pumpkin to keep the gut happy
Kelp (seaweed), for a soft coat and skin
For Better Dog Health and a Healthier Planet
Shameless Pets' Soft-Baked Dog Treats promote healthy hip, joint, strong bone, fresh breath, skin, coat, and digestive support.
Made for small, medium, and large dogs and puppies of every size. The dog biscuits have a soft, chewy texture. They can be broken into smaller pieces to use for puppy training, teaching tricks, or for older dogs who prefer soft foods.
Every twelve bags of Shameless Pets treats sold saves one pound of food from being wasted. It all adds up!
You'll find these tasty treats at major retailers and of course, on Amazon. If you know of any other cool eco-groovy products, drop us a line so we can share them with the community. Thanks for your support of Tripawds and the planet!