If your Tripawd is just a few pounds overweight, an osteoarthritis diagnosis could be around the corner. According to a recent report by Banfield Pet Hospital, pet obesity and osteoarthritis frequently coincide with each other, even in young animals. What follows is a painful, decreased Tripawd quality of life. Thankfully, you have the power to do something to avoid it.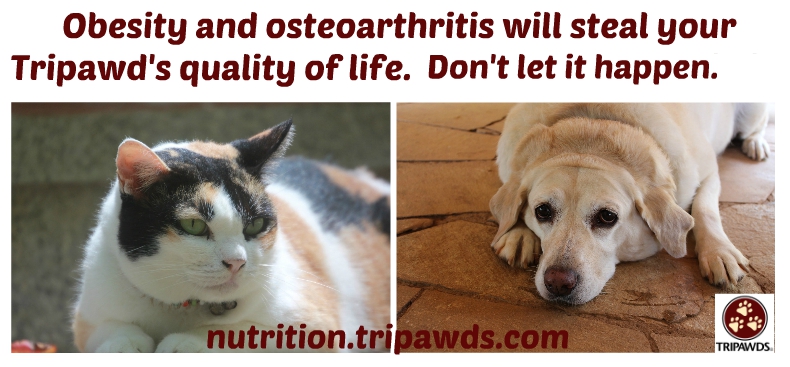 Obesity and Osteoarthritis Steal Tripawd Quality of Life
According to Banfield's 2019 Veterinary Emerging Topics (VET)® Report, the problem of pet obesity is growing larger every year. Vets report they are seeing increasingly overweight, young dogs and cats. What's even worse is they're also suffering from the painful effects of osteoarthritis — a disease that used to only affect older animals.
Osteoarthritis (OA) and excess weight are conditions that commonly occur together, with each condition exacerbating the other. In 2017, of newly diagnosed cases of OA, 51.0% of dogs and 41.0% of cats were considered overweight. — 2019 Veterinary Emerging Topics (VET)® Report by Banfield Pet Hospital
Unlike arthritis, which is a single condition that affects one or multiple joints with high-grade inflammation, osteoarthritis is a combination of different joint diseases that simultaneously affect and erode the entire joint structure, including cartilage and and ligaments.
The report goes on to describe the vicious cycle that happens when a pet is suffering from obesity and osteoarthritis.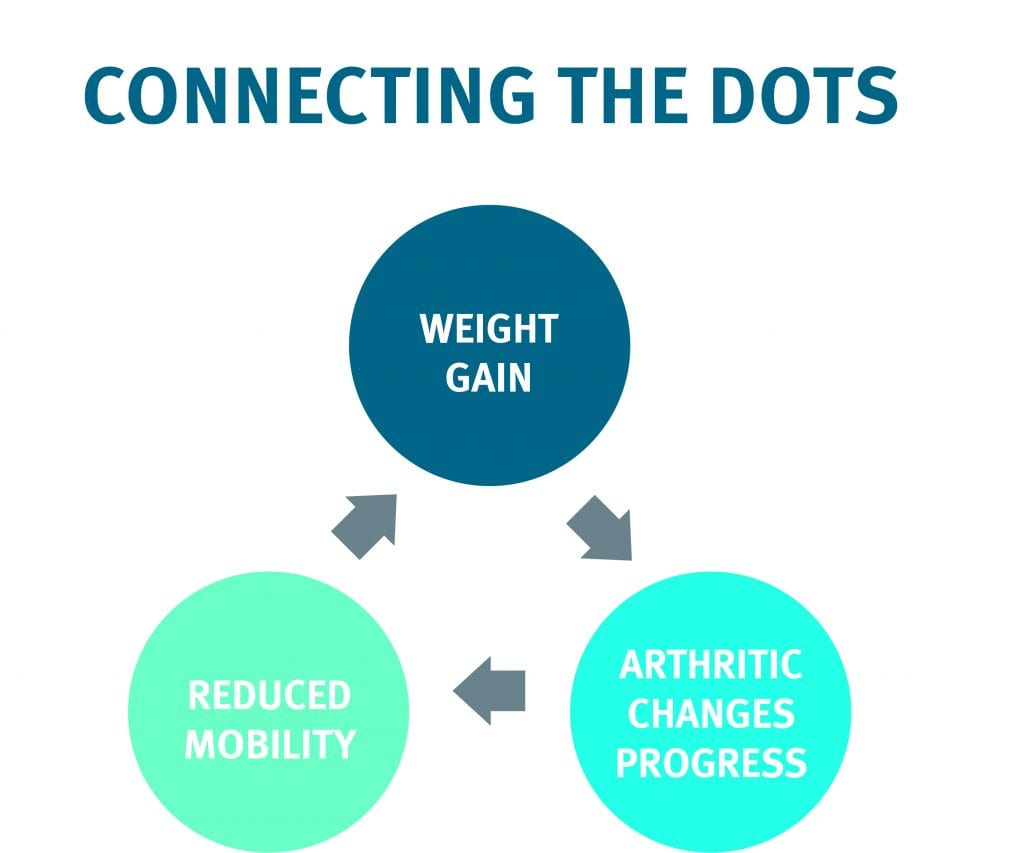 Source: 2019 Veterinary Emerging Topics (VET)® Report, Banfield Pet Hospitals
Excess weight and OA are conditions that serve as risk factors for each other. In most pets, it would be difficult to discern which came first. Joint trauma can progress into OA that can lead to reduced mobility, which can cause weight gain. In some pets, there may be no known initiating joint trauma, but the excess weight contributes to the onset of OA. Along with increased joint load, the excessive adipose tissue in these overweight pets contribute to osteoarthritic inflammation through the release of inflammatory mediators (adipokines). Regardless of which came first, once started and without proper management, a vicious cycle of OA progression, reduced activity from reduced mobility, and weight gain ensues (figure 1).
Finally, the report concludes that veterinarians aren't doing enough to make pet parents aware of the link between obesity and osteoarthritis. Ultimately though, it's up to all of us to work together to find ways to prevent, manage and treat the conditions. Here's how you can do that for your Tripawd and four-legged pets.
How to Help Your Tripawd Avoid Obesity and Osteoarthritis
Step 1: Take an honest look at your Tripawd's weight. It can be hard for us to tell if our dog or cat is overweight. We see them every day and weight gain is a gradual thing. Thankfully, Dr. Alex Avery from OurPetsHealth has great tips in this video, "How to Tell if Your Dog Or Cat is Overweight: 3 Simple Steps."
Ask yourself:
Can I feel my pets ribs?
Do they have a waist from above?
Does my pet have a tummy tuck?
Step 2: Ask yourself "Is my Tripawd in pain?"
Like weight gain, osteoarthritis pain comes on slowly and is hard to recognize. In the following fun video, Dr. Andy Roark describes how to know if your pet is in pain, such as:
Pain sign #1: Poor grooming
Pain sign #2: Grumpy attitude
Pain sign #3: Shallow breathing, panting
Pain sign #4: Not getting around like they used to 
Pain sign #5: Licking and Chewing
Pain sign #6: Restlessness
Pain sign #7: Doesn't want to be picked up
Pain sign #8: Housetraining accidents, potty problems
Observe your Tripawd and take notes. If any of these weight gain or pain signals seem familiar to you, make an appointment with your veterinarian for a wellness check. Your goal is to discuss a weight management plan, and have your Tripawd assessed for osteoarthritis. Together, you can make a great team to help your Tripawd enjoy a pain-free quality of life for many years to come.
Recommended Reading
Pet-to-Human Weight Translators Give a Tripawd Reality Check
Not Sure If You Have an Overweight Tripawd? Here's How to Tell.
#ItsMyHomeToo Asks How to Arthritis Proof Your Home?