Sometimes the go-to remedy of Gabapentin and other treatments don't help phantom pain in Tripawds. That's when it might be time to incorporate another remedy in your post-amputation toolkit, the herb St. John's Wort or its homeopathic version, Hypericum perforatum.
A Natural Remedy to Help Phantom Pain in Tripawds?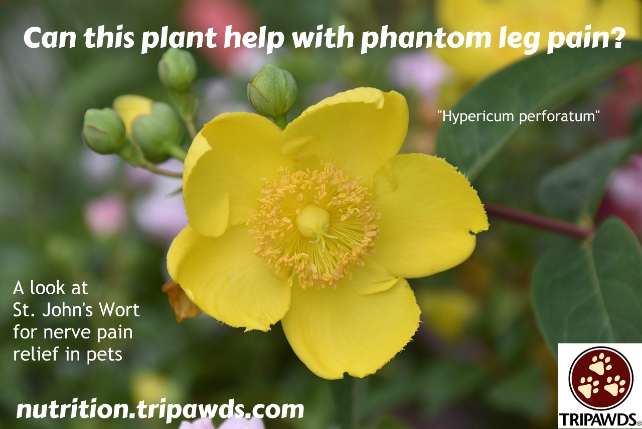 You've probably read about easing phantom leg pain in Tripawds with the prescription drug Gabapentin, or holistic-minded treatments like the Farabloc blanket and the Assisi Loop. St. John's Wort is another option you may want to discuss with your vet.
Thanks to our member blacknwhite we just learned about how the popular herbal remedy St. John's Wort (which comes from the plant Hypericum perforatum) is used for nerve pain. If your Tripawd is feeling phantom leg pain, it's worth looking into.
I used homeopathic vet Dr Charles Loops, he sent us a remedy, hypericum, which worked like magic for phantom pain. — blacknwhite
For years we've known that Dr. Charles Loops, DVM is a world-famous natural medicine vet, so we immediately looked into hypericum. We also consulted with long-time Tripawds friend Gina Snow, a licensed veterinary technician and integrative pet health consultant with over 30 years of natural pet health experience. Here's what we learned about this natural remedy for nerve pain in people and pets alike.
How St. John's Wort Works for Nerve Pain
First, please remember that this information is for informational purposes only. Use it to start a conversation with your veterinarian, but please don't give it to your Tripawd without vet approval. Like many natural remedies, there's a chance that the herb St. John's Wort or the homeopathic version of Hypericum can interfere with some medications.
First, it's important to know that the herbal version (pills and tinctures) of St. John's Wort is not the same as the diluted homeopathic pellet version known as "Hypericum perforatum."
When asked if the homeopathic version of St. John's Wort works better or the same as the herbal remedy, integrative pet health consultant Gina Snow says "Yes, homeopathy always works better IMO but it needs to be chosen appropriately too, (case by case/ individual) where herbs can be used more universally."
St. John's Wort Uses:
St. John's Wort is commonly used to treat anxiety and depression in people and pets.
But it can also help wounds on body parts with lots of nerves. The face, mouth, toes and tail, for example. Examples of helpful uses on wounds include punctures, bites and broken nails.
And according to integrative vets like Dr. Marc Smith, DVM, it can also be used for nervous system problems like "neuralgia, rheumatic pains, arthritic pains, injuries to the nerves, and coccygeal pains" (tailbone or "coccyx" aches). Phantom pain is considered a type of neuralgia.
In a helpful VCA article about St. John's Wort, integrative vets Steve Marsden, Shawn Messonnier and Cheryl Yuill explain that even before its popular use as an anti-depressant, "traditionally, the herb was used to ease the pain of peripheral nerve injuries."
Scientists who study the medical attributes of St. John's Wort tell us that the pretty plant contains a compound that acts similarly to opiates in the body, which can relieve pain like other painkillers such as morphine.
Here's the abstract from a 2017 study examining St. John's Wort's effectiveness in humans:
Hypericum perforatum (St John's wort) beyond depression: A therapeutic perspective for pain conditions.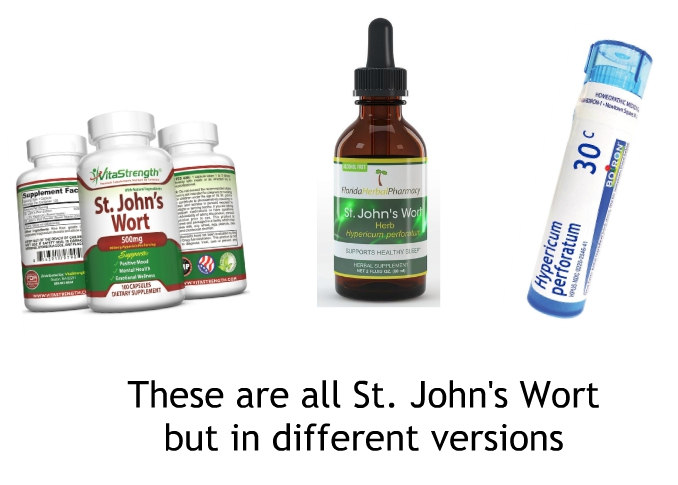 St. John's Wort Dosage for Pets
The dosage for St. John's Wort for dogs and cats varies according to the method of delivery, the patient and the health issue. The homeopathic version is relatively benign but improper dosing doesn't do your pet any favors.
And when using the full-strength herbal version, if you don't know what you're doing it can result in problems, like interfering with medications such as:
Antidepressants
Blood Thinners
Heart Medications
Anticonvulsants
A Hopeful Option for Nerve Pain
Despite the potential perils of St. John's Wort, integrative vets still find it a hopeful remedy. The acclaimed natural medicine veterinarian Dr. Narda Robinson, DO, MS, DVM FAAMA says:
Thus, while clinicians should remain cognizant about the potential for herb-drug interactions, SJW also offers opportunities to treat a range of conditions with far fewer medications and side effects inherent in pharmaceuticals.
Sometimes Gabapentin and other treatments like dry needling acupuncture don't help alleviate nerve pain as much as we would like. That's when it's time to have a conversation with your vet about other remedies. If your regular vet is unfamiliar with St. John's Wort, find a holistic-minded vet to see how it can help with your Tripawd's phantom pain.
More about homeopathy for pets:
The following products contain Amazon affiliate links. Click, shop for any products at all, and your purchase supports the Tripawds community! Thank you!